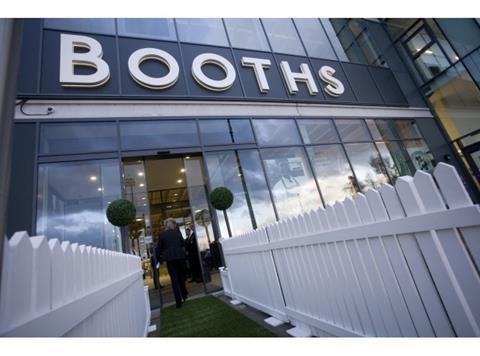 Northern supermarket group Booths has delivered an 11.8% increase in like-for-like sales in the three weeks to Christmas Day.
The upmarket retailer said the uplift was driven by strong performance from its Booths Christmas Book orders, festive products and beers, wines and spirits.
Christmas Book orders were up 66% by value, champagne sales were up 42% and sparkling wine up 39%. The retailer said English wine was up 72%.
There were strong sales of smaller turkey lines, up 23%, while turkey crown sales rose 38% and frozen turkeys were up 50%. Sales of pigs in blankets doubled compared with the same period a year ago.
The week before Christmas was the busiest, with like-for-likes up 16.6%. The retailer has closed its in-store cafés during the coronavirus crisis and said had it not done this, its like-for-like sales would have been 15.7% for the three-week festive period.
"It's been a Christmas like no other at Booths, but we were determined to deliver it safely and with appropriate cheer," said COO Nigel Murray.
"Customer trust in Booths has grown steadily throughout the pandemic and these results reflect on our commitment to quality and service and prioritising the safety of our colleagues and customers. Our customers feel reassured shopping at Booths, and that is a great credit to our teams."
Chairman and CEO Edwin Booth added: "I cannot fully express how proud I am of my colleagues at Booths. The drive and determination they show not only at Christmas, but every day, is remarkable. In the most challenging of conditions, the true spirit of Booths has revealed itself in the cheerful and practical optimism of our teams."
Booths also said its business-to-business and wholesale sales rose by over 40%, boosted by the rise in home delivery options including its continued partnership with Amazon.
News of its strong festive sales comes just days after Booths confirmed plans to close its MediaCity store in Manchester in the coming months following "significant losses" through the Covid-19 pandemic.
It said the store had been severely affected by Covid-induced home-working, which led to a "significant reduction" in footfall and sales over the past nine months in particular.
The decision puts 62 jobs at risk.