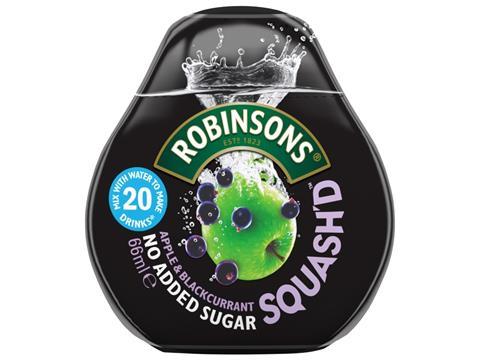 Poor summer weather squeezed performance of Britvic soft drinks in European markets in the fourth quarter, the company has reported in a trading update.
Group revenue in the fourth quarter at constant exchange rates and before exceptionals fell 4% to £344.2m. The same period a year ago saw revenue jump 12.8%.
Like-for-like turnover – adjusted for seven fewer trading days in Ireland – fell 3.1% in the final quarter of this year to 28 September.
Full-year revenue climbed 2.4% to £1.34bn, the company said today in the update ahead of its preliminary results on 26 November.
Britvic, whose brands include, Robinsons, Tango J2O and Fruit Shoot, and which has exclusive agreements for producing and selling PepsiCo brands in Great Britain (GB) and Ireland, said it expected full-year earnings before interest and taxes to be marginally ahead of the top end of its previous guidance range of £148m-£156m, and well ahead of last year.
Revenue in GB fell 2.1% in the fourth quarter but climbed 3% across the year.
Pepsi continued to gain market share with multipack cans and small PET performing particularly well.
GB stills revenue declined 5.8% in the fourth quarter, whilst the category take-home value, excluding water, declined 7.4%.
The company said Britvic's GB revenue performance reflected a volume decline of 14%, partially offset by average realised price (ARP) growth of 9.5%.
The launch of Robinsons Squash'd had a materially positive impact on ARP. The GB stills prior-year revenue growth was particularly strong at +23.2%, across all major brands, said Britvic.
"We have delivered a strong performance despite the poorer summer weather and the continued challenging trading environment," said CEO Simon Litherland.
"We now expect operating profit marginally ahead of the top end of the guidance range we outlined at the start of the year.
"I am especially pleased that we have delivered a strong set of results, with profits well ahead of last year, at the same time as undertaking a significant internal change programme."
He said the company was now set up to take advantage of growth opportunities but anticipated that prevailing challenging market conditions would continue for some time.
"Nevertheless, we look forward with confidence to further earnings growth in 2015, as we realise the full-year benefit of the cost initiatives and execute our extensive innovation and marketing plans for the year. We will share more details of this in our preliminary results in November," Litherland said.