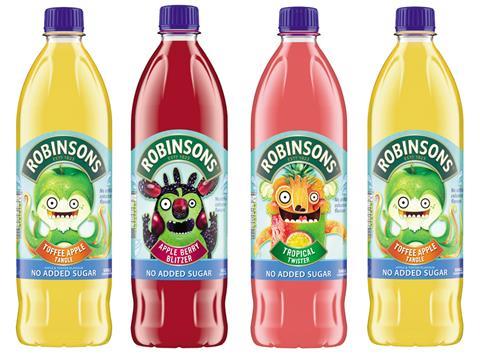 Britvic has announced a 1.4% fall in GB revenues amid "challenging trading conditions", but insists it remains confident of hitting full year profit expectations.
The Robinsons maker's overall group revenue for the twelve weeks to 21 December 2014 was down 0.4% to £304.3m, driven by a marginal volume decline of 0.3%.
GB revenue declined 1.4% in a "notably more competitive promotional environment", the company said. It said the British take-home soft drinks market value declined 0.5%, but that the quarter ended with a stronger performance during the peak Christmas trading period.
Stills revenue declined by 3%, largely due to a volume reduction of 2.8% thanks to falling squash sales, with Robinsons losing marginal share. Carbonates revenue declined by 0.5%, with modest volume and ARP declines of 0.2% and 0.4% respectively
Britvic stated this morning: "Trading in the first quarter of the FY15 financial year reflects the challenging trading conditions in our core markets. However, we remain confident of delivering EBIT in the previously stated guidance range of £164m to £173m, underpinned by our cost saving initiatives."
Overall international revenue declined 3.6% and export volumes fell 8.8%, mainly due to lower volumes in the travel sector combined with lower orders for US concentrate compound.
Simon Litherland, chief executive, said: "Whilst we expect the trading environment to remain challenging, we have strong marketing plans and a significant innovation pipeline in place for 2015. These strong commercial plans, supported by ongoing cost benefits from our major strategic initiatives programme, mean that we remain confident of delivering further profitable growth in 2015 in line with our guidance range."
The sales dip was widely predicted, with Investec analysts writing before the results: "Britvic has already reported a slow start to the year and peer companies have since confirmed that the soft drink market remains subdued.
"We expect Q1 to show a small negative for revenues on a constant currency basis and any growth to be more 2H-driven, on the back of NPD launches and US multipack roll outs."
Q1 Revenue £m
Actual
Actual Exchange Rate
Constant Exchange Rate
GB Carbonates
134.5
-0.50%
-0.50%
GB Stills
73.2
-3.00%
-3.00%
GB Total
207.7
-1.40%
-1.40%
International
10.7
-5.30%
-3.60%
Ireland (£)
32.6
-4.10%
2.80%
France (£)
53.3
-4.50%
2.30%
GROUP (£)
304.3
-2.40%
-0.40%
Average Realised Price ("ARP") PPL
GB Carbonates
46.2
-0.40%
-0.40%
GB Stills
87.8
-0.20%
-0.20%
GB Total
55.5
-0.50%
-0.50%
International
115.1
3.90%
5.80%
Ireland
51.7
-3.90%
2.80%
France
84.3
-7.00%
-0.40%
GROUP
59.9
-1.60%
0.00%
Volume M Litres
GB Carbonates
290.9
-0.20%
-0.20%
GB Stills
83.4
-2.80%
-2.80%
GB Total
374.3
-0.80%
-0.80%
International
9.3
-8.80%
-8.80%
Ireland
51.6
1.40%
1.40%
France
63.2
2.60%
2.60%
GROUP
498.4
-0.30%
-0.30%