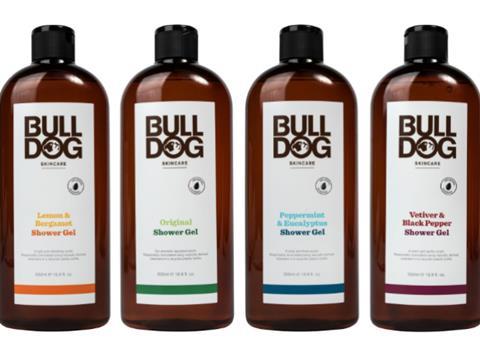 Strong growth has continued at Bulldog Skincare despite the coronavirus outbreak creating uncertainty for the personal care category.
Sales had shifted towards the ecommerce and grocery channels as a result of the lockdown and consumers working from home, Bulldog general manager Caroline Mallet said.
"From what we've observed, it seems men are perhaps experimenting a little more with their personal styles and grooming routines as they have had more time on their hands, no morning commute to contend with and no face-to-face meetings," she added.
The brand experienced "particularly strong" results in the beard and shower categories, with both in double-digit growth.
Bulldog this week revealed an expansion in its selection of sustainable personal care products with a razor made from recycled glass.
Malle said, with these launches and continued strong performance of existing razor and blades, the business had been able to buck the category decline and add 3.2% to the value of its shave range [Nielsen 12 w/e 13 June 2020].
The personal care category has come under pressure during the Covid-19 lockdown, with sales of deodorant, shampoo and other products slumping as grooming took a back seat with consumers no longer commuting to work or socialising.
"While the board are not expecting a significant fall in demand for the company's products, nor supply chain issues, they cannot be certain of the impact and the effect cannot be quantified at this point," the Bulldog accounts for the year ended 30 September 2019 said.
UK sales at the brand jumped 20.2% to £15.6m last year, the newly filed Companies House accounts showed.
Total group revenues were lower than the previous year as a result of a change in how Bulldog's international business trades, with the sales being split between two legal entities. It resulted in overseas sales of about £4m no longer being reported in the UK accounts.
However, a spokesman said the brand continue to record "significant growth" internationally.
Profits in 2019 climbed from £230,000 to £1.1m as operating costs were halved from £4m.
"We continue to see exceptionally strong growth across the entire Bulldog brand," general manager Caroline Mallet said.