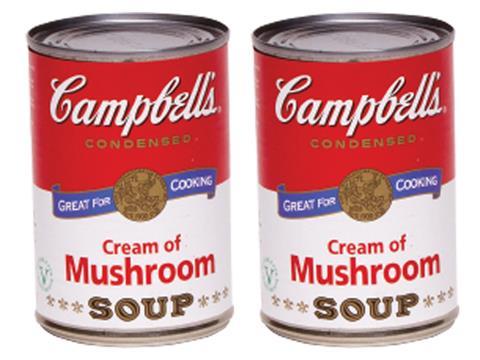 The CEO of Campbell Soup Company has resigned as shares dived following a profit warning as the company announced a loss in its latest quarterly results.
Denise Morrison today announced she has resigned with immediate effect after seven years leading the labouring American giant. The company has announced she will be replaced by company board member Keith McLoughlin.
The soup and snack company has said it will start a strategic review of its business after sharply lowering its profit outlook for the year. It says it plans discuss the outcome of the review of its portfolio in late August.
Shares sank 11.4% to $34.75 per share in morning trading in the US.
The company has seen share prices continue to slide, despite major recent acquisitions including its agreed deal to buy Kettle Chips and Metcalfe's Skinny owner Snyder's-Lance for $4.9bn (£3.7bn) to expand its exposure to the snacking market, in December 2017.
In its results for the third quarter, ending April 29, Campbell's recorded sales growth of 15% to $2.1bn but these revenue increases were largely driven by the acquisition of Snyder's Lance.
Organic sales growth remained flat, and a $619m impairment charge the company took on a Campbell Fresh fresh food unit, meant the company fell to a $393m net loss for the third quarter. For the same period in 2017 it made a $176m net profit.
As a result, Campbell has also altered its earnings per share outlook for 2018, from a decrease between 1% and 3% to a fall between 5% and 6%.
"We are not satisfied with our financial results. Our performance has been impacted by both execution-related and external challenges. We are addressing these challenges with renewed urgency," said Campbell's CFO Anthony DiSilvestro.
"Looking ahead, we will be reviewing all aspects of our strategic plans and portfolio composition. We anticipate that our review, which will take several months to complete, will lead to changes designed to improve our operating performance and create long-term shareholder value."
Speaking about her resignation, Morrison said: "It has been an honour to lead this iconic company and exceptional team, and I am confident that Campbell will enjoy continued success for many years to come."
McLoughlin added: "Having been a Director and observing the company over an extended period of time, I know where Campbell has been and where it's headed, and am excited to lead the company as we continue to work to increase value for all our stakeholders. I am eager to begin working with our talented team as we strive to accelerate our growth strategy, improve our execution and deliver shareholder value."