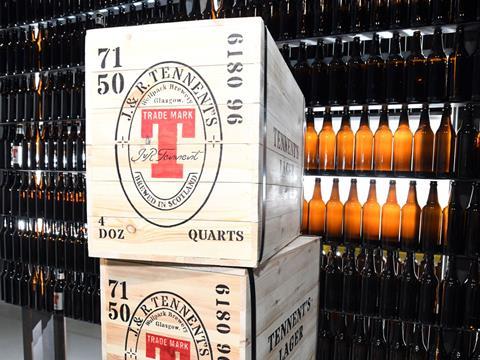 Beer, cider and wine producer and distributer C&C Group fell to a first half operating loss amid a 55% plunge in revenues as the lockdown and shuttering of pubs hit trading.
In the six months to 31 August, net revenue declined 55.4% to €386.7m, which resulted in an operating loss of €11.7m.
It posted revenue growth of 15.6% in off-trade compared to prior year, but on-trade sales were severely affected by the coronavirus lockdown.
Net revenue for the GB division decreased 37.4% to €103.9m in the period driven by the closure of the on-trade and volume moving into the lower margin off-trade channel. As a result, operating profit has reduced by €18.2m to €6.2m.
Ireland was down 24.6% year-on-year driven by volume decline in the on-trade, which has resulted in an operating profit of €1.6m down from €25.7m last year.
Its distribution arm Matthew Clark and Bibendum saw net revenue plunge 68%, principally driven by reduced volume from the impact of COVID-19 on the on-trade restrictions, resulting in an operating loss of €19.5m.
The group also took £6.8m of exceptional charges during the period to reflect financing costs relating to COVID-19 covenant waivers, operational costs incurred relating to uplifting stock from customers and our share of Admiral Taverns' exceptional COVID-19 provisions.
However, C&C said it returned to profitability in July and August, albeit the near term outlook for the on-trade sector remains challenging and uncertain, with the key Christmas trading period likely to be impacted by continuing restrictions across the hospitality industry.
Interim executive chairman Stewart Gilliland commented: "Driven by strong demand in the off-trade and the gradual reopening of the on-trade in our core markets, the business returned to profit generation in July through to September.
"The outbreak of COVID-19 coincided with our financial year end and has meant that the entire six month performance being reported today, was impacted. Although we expect the pace of recovery will continue to vary, as the largest independent alcohol distributor across the UK and Ireland, our business is structurally integral to the markets we serve.
"Our near term focus is securing our position and enhancing the performance of the business, while positioning C&C to deliver for customers and shareholders over the long term."