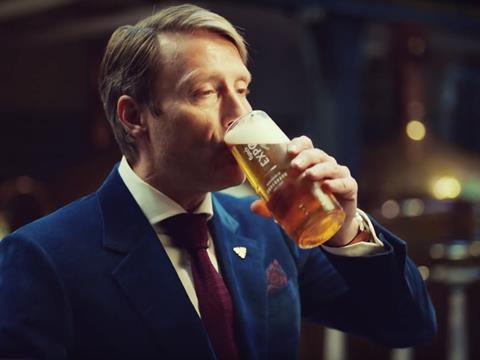 Carlsberg lifted its profits expectations for the year thanks to its massive cost-cutting strategy.
The Danish brewer said in a third quarter trading update that its 'Funding the Journey' programme was progressing well and total benefits would be about DKK 2bn (£236m).
Carlsberg announced the radical restructuring at the tail end of 2015 to combat problems in its Russian business and decline in the UK after Tesco delisted the brand. The move included axing 2,000 staff – 4% of its total global workforce – including hundreds in the UK, and was expectd to save between DKK 1.5bn and DKK 2bn by 2018.
Carlsberg raised its forecast organic operating profit growth from mid-single digits to 7-8% thanks to the fastest-than-expected delivery of the benefits from slashing costs.
The brewer also expected positive currency translation to benefit the business by about DKK 75m in the year rather than DKK +50m previously estimated.
It comes as net organic revenues decline 1% in the third quarter to DKK 16.7bn (£2bn) as higher beer prices offset a 4% slump in volumes.
The group said it saw "good growth" for its international premium brands: Tuborg +5%, Carlsberg +1%, Grimbergen +7% and 1664 Blanc +42%. And craft & speciality volumes soared 34% in Western Europe, along with a 14% rise for alcohol-free beer volumes.
"Funding the Journey is progressing very well and we feel confident about delivering benefits of around DKK 2bn," CEO Cees 't Hart said. "Consequently, we're able to adjust our earnings outlook upwards.
"In the third quarter, our premiumisation efforts continued to deliver a solid price/mix development, while volumes, as expected, were impacted by the PET downsizing in Russia, tough comparables in Eastern Europe and poor weather in Western Europe."
The business in Western European was hit by poor weather during the summer, with organic net revenue down 4% as volumes declined by the same amount and prices were flat.