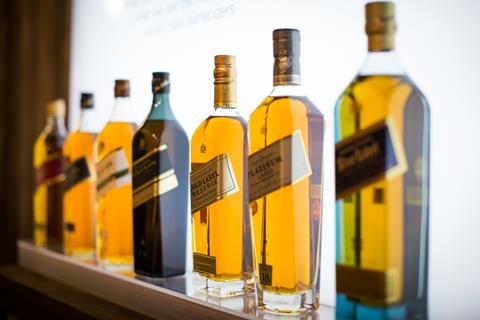 Shares in the world's largest spirits group Diageo came under pressure this week as its annual results undershot meagre expectations and it took £1.3bn of coronavirus-driven writedowns.
The Guinness owner posted an 8.7% decline in reported net sales to £1.8bn for the year to 30 June, with organic net sales down 8.4% amid an organic sales volume drop of 11.2%. Modest growth in North America was more than offset by significant declines in other regions as widespread closures of pubs and restaurants, the cancellation of sporting events and a plunge in travel retail hit global sales.
Reported operating profit slumped 47.1% to £2.1bn as Diageo took hefty impairments of £1.3bn, related to its Indian, Korean, Nigeria and Ethiopian businesses, as a result of the damage wrought by the coronavirus pandemic.
The spirits giant did maintain its final dividend at 42.3p per share, while CEO Ivan Menezes insisted the group had a "solid foundation to respond to the impacts of the pandemic" despite the "year of two halves".
However, the worse-than-anticipated organic sales, huge writedowns and a plunge in yearly cashflow saw Diageo shares drop 5.6% on Tuesday to 2,721p and continue falling to 2,587.5p by Thursday – their lowest level since April.
Jefferies suggested the outlook for Diageo remained "murky" and that its shares could come under further pressure if it was forced to revise profit expectations, having declined to provide an outlook with its results this week.
But a more upbeat William Ryder at Hargreaves Lansdown said: "The hit to earnings should be short-lived provided the global economy doesn't take too long to recover… The group will continue to do well long term, but management will have to focus more on debt reduction than they probably would have liked."
Elsewhere, GB Coke bottler Coca-Cola European Partners was counting the cost of the shutdown of out-of-home food outlets on Thursday after announcing a 26% second quarter revenue slump and a 48% drop in first-half profits.
CCEP said comparable volumes were down 22% in its second quarter, driven by the impact of the pandemic across its key markets in Europe with away from home consumption plunging by 50% in the quarter. The shares fell 2.7% in early trading in New York to $39.36 and remain down by about 23% since the start of 2020.