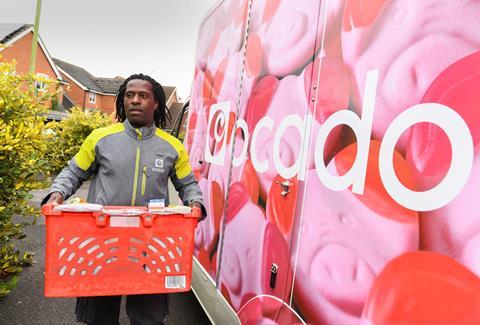 Ocado's market capitalisation broke through the £20bn barrier this week after yet another share price surge – this time on even better-than-expected third-quarter sales growth and bullish words on the early days of its tie-up with M&S.
The retail joint venture between Ocado and Marks & Spencer posted soaring sales growth of 52% in the 13 weeks to 30 August – the period immediately prior to its switch from Waitrose products to those of M&S.
Retail revenues were up to £587.3m in the quarter from £386.4m in the corresponding period last year, with order numbers per week up 9.6% to 345,000 as average order size began to normalise to £141.
Ocado also insisted customers had "responded positively" to the switchover to M&S, with Ocado Retail's CFO Duncan Tatton-Brown saying the company had seen "practically no sign of any loss of customers" to Waitrose or elsewhere. The company said the weighting of M&S products in the average basket was higher than Waitrose prior to the switchover.
The positive sales momentum means that the retail joint venture expects to report full-year EBITDA of "at least" £40m, up from £35m last year, though it will still be limited by capacity constraints until 2021.
Share Centre analyst Helal Miah commented: "Given the importance of the new joint venture, the encouraging early signs are very positive for investors… Today's figures also suggest that the switch made by many people to online grocery deliveries during the lockdown has been sustained so far."
Ocado shares jumped 10.7% on Tuesday to a new all-time high of 2,608p and had risen further by Thursday afternoon to 2,703p to value the group at an extraordinary £20.2bn.
However, Hargreaves Lansdown noted that having sold 50% of the retail business to M&S "there's only so much juice to be squeezed from this orange". "The headline act for Ocado is still the Solutions business, news of which was noticeably absent from the trading statement," it added.
Numis suggested the figures still augured well for the wider business, commenting: "Whilst the equity debate for Ocado is largely focussed on the international solutions business, evidence of continued demand, successful execution and better earnings in the UK helps validate the model, encouraging for the investors and partners."
M&S shares were also up 4.4% on Tuesday to 109.2p.