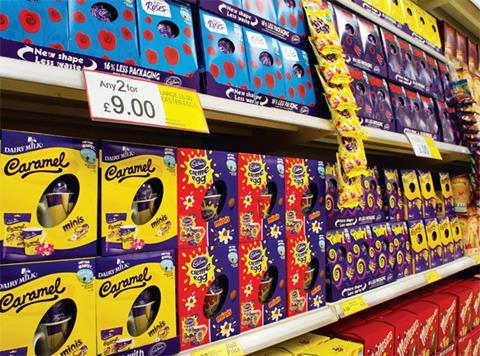 The earlier Easter hit Premier Foods' first-quarter revenues, but analysts were nevertheless upbeat about trading figures that marked another important step of progress in the firm's turnaround.

Sales in the 13 weeks to 4 July fell 1.6%, with branded sales falling 1.4%, amid "challenging" market conditions, and non-branded sales dropping 3.1%. However, the timing of Easter was responsible for wiping out around 1.5% of branded sales, meaning sales of its key brands would otherwise have been broadly flat.

Jefferies analyst Martin Deboo said the 1.6% sales drop was ahead of his expectations of a 3% fall, commenting: "This was an underlying flat to positive quarter to our eyes, the second such quarter in sequence and a marked improvement on calendar 2014's mid-single digit shrinkage. Such is the measure of progress in the Killing Fields that are UK grocery."

Shore Capital's Clive Black added: "We believe Premier is reasonably soundly positioned, boosted by the creeping growth in NPD and marketing activity, plus the group expects to be a net beneficiary of ongoing SKU rationalisation." Investors reacted with more caution, with Premier shares trading flat at 42.5p by Thursday lunchtime, but still up 32% since the start of the year.

Unilever's first-half trading beat consensus expectations on Thursday, which it attributed to "sharpened strategies" and a "step-up" in its innovation. First-half turnover rose 12% to €27bn (£19bn), with a 10% helping hand from currency movements, and underlying sales were up 2.9%. Operating profit in the first half fell 13% to €3.8bn, reflecting profits on disposals in 2014. Unilever shares were up 2.1% in morning trading on Thursday to 2,920p and are 11% up so far in 2015.

The acquisitions and trading updates of Nichols and Britvic received differing market receptions. Nichols was up 3.2% to 1,372p after reporting flat first-half revenues and its Feel Good acquisition.Britvic was down 2.2% to 718.5p after reporting a 1% rise in third quarter revenues to £322.3m and its deal to buy Brazilian drinks firm Ebba.