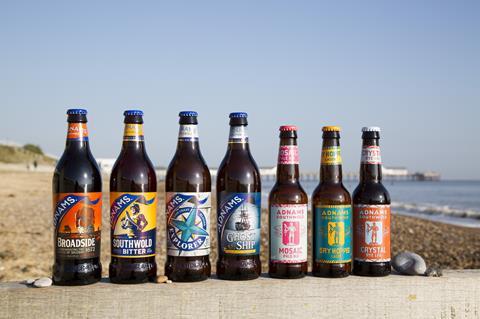 Top story
Adnams has reported beer volumes ahead of the market for the first six months of the year, showing a 2% increase against a market fall of 1%.
Interim pre-tax losses widened from £840,000 to £1.2m in the six months to 30 June on turnover down from £35.5m to £34.7m.
Operating loss rose from £557,000 to £783,000 as costs increased to deal with changes in the business.
Jonathan Adnams, chairman, said: "The last, and vital, plank of this investment has been renewal of our core systems, the previous system having been in place for towards thirty years."
He said the new system went live at the end of March and had unarguably been a major distraction during the past year.
"However, the process of change is easing, and we are starting to be able to remove the additional costs required to facilitate and embed our new processes."
Gin volumes fell in the first half of 2019. "We noted in our 2018 accounts that the UK has seen a huge boom in small distilleries in the last few years and the market has fragmented as new flavours of drink have been launched," said Adnams.
"Demand has continued to grow, but it has been spread over an ever greater range of products and producers and supermarkets are stocking fewer traditional gins as they cater for the ever-growing range of new flavours. We have launched special edition gin flavours in 2019 with Orange and Sea Buckthorn in March and Lemon and Tamarind in June."
Recent trends in the drinks market had been towards premiumisation, healthy lifestyles, authenticity and experience. Adnams' strategy played strongly to these trends, he said.
The company reported that its shops performed well in the first half of 2019, with results ahead of 2018 with an unchanged estate.
The shops had an important role in helping to display the brand to a wider audience, in acting as a launch pad for new products, and in providing a valuable sales channel through which it could directly sell product that it made or branded itself, the company said.
Morning update
Arabian Food Ind. Co Domty, Egypt's largest cheese manufacturer by market share, reported second quarter net profit of EGP37.5m from EGP57.7m year on year on net sales down from EGP693.4m to EGP646.8m.
EBITDA fell from EGP 111.2m to EGP82.5m.
Ahmed Elkattan, Domty chief executive – commercial affairs, said: "The company started to reap the benefits of the implementation of the structural changes and policy adjustments in local sales, export, logistics and marketing, which led to an increase in the net profit margin by 31% compared to 1Q2019 and by 63% compared to 4Q2018."
He said the company achieved a sales growth in all cheese categories such as carton pack cheese (Tetra Pak), fresh cheese, creamy cheese and mozzarella compared with 2Q2018.
The exception was the sale of Tetra Pak cheese to the government sector, which fell 22%, negatively impacted the overall sales growth.
The business started to implement a plan to change its juice packaging and it was preparing to launch a 100%juice with no added sugar product under the brand name "Slim", to meet the needs of a large segment of consumers inside and outside Egypt.
Domty continued to take successful steps in the bakery segment where it was able to achieve sales targets in 2Q2019 which represented 91% of sales achieved in 1Q2019 despite the holy month of Ramadan which negatively affected the demand on the baked goods in the local market, because of the seasonality effect, Elkattan said.
Regional REIT has secured a new letting to Costa Coffee on three combined units at Commercial Street and Wellington Arcade in Brighouse, West Yorkshire.
Costa has signed a new 10 year-deal to combine the units. Work is scheduled to start within the coming weeks.
On the markets this morning, the FTSE 100 climbed 0.2% to 2,624.7pts in early trading.
Early risers include Glanbia (GLB), up 1.1% to €11.5, Hotel Chocolat Group (HOTC), up 0.8% to 270p, Kerry Group (KYGA), up 0.7% to €108.9 and Marston's (MARS), up 0.7% to 107.7p.
Fallers so far today include DS Smith (SMDS), down 1.6% to 327.8p, Cranswick (CWK), off 1.1% at 2,592.6p, Associated British Foods (ABF), down 0.8% to 2,286p and PayPoint (PAY), off 0.7% at 911p.
Yesterday in the City
The FTSE 100 closed up 0.3% yesterday at 7,250.9p on the back of a surge in US stocks as President Trump's White House delayed or cancelled some of its looming tariffs targeted at China.
FTSE 100 fallers included Majestic Wine (WINE), down 3.3% to 278p, Greggs (GRG), off 3.32% at 2,040p, PureCircle (PURE), down 2.2% to 257.3p, Marks and Spencer Group (MKS), down 2% at 184.2p, Devro (DVO), fell 1.9% to 195p and Premier Foods (PFD) closed down 1.7% at 32p.
Stocks on the up included Hilton Food Group (HFG), up 3.8% to 959p, Fevertree Drinks (FEVR), up 2.3% to 2,2100p, Wynnstay Group (WYN), up 1.8% to 280p, Marston's (MARS), up 1.8% to 107p and Nichols (NICL), up 1.6% to 1,880p.