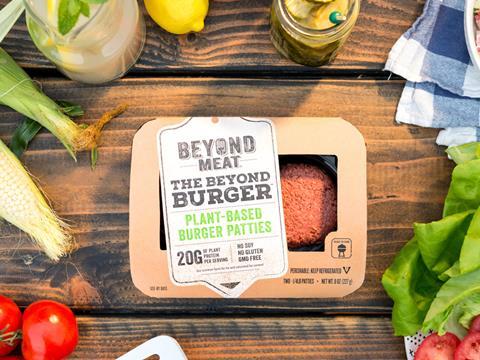 Top story
Beyond Meat has posted its first quarterly profit as sales of its plant-based meat alternatives jumped 250% in the third quarter.
Net revenues in the three months to 28 September surged to $92m from $26.3m in the corresponding period last year..
Growth was primarily due to an increase in sales volumes of products in Beyond Meat's fresh platform across retail, restaurant and foodservice channels, driven by expansion in the number of points of distribution, including new strategic customers, international customers, and greater demand from existing customers.
Gross profit was $32.8m, or 35.6% of net revenues, in the third quarter of 2019, compared to $5m, or 19.2% of net revenues, in the year-ago period.
The increase in gross profit and gross margin was primarily due to an increase in the volume of products sold, resulting in operating leverage and production efficiency improvements.
The improvement in gross profit margins meant net income in the quarter was $4.1m in the third quarter of 2019 compared to a net loss of $9.3m.
Income from operations in the third quarter of 2019 was $3.6m compared to a loss from operations of $8m in the same quarter last year.
The improvement in gross profits was somewhat mitigated by higher operating expenses to support its expanded manufacturing and supply chain operations and higher administration costs related to being a public company.
CEO Ethan Brown commented: "We are very pleased with our third quarter results which reflect continued momentum across our business and mark an important milestone as we achieved our first ever quarter of net income."
"We remain focused on expanding our distribution footprint, both domestically and abroad, building our brand, introducing new innovative products into the marketplace, and bolstering our infrastructure and internal capabilities to fuel our future growth."
For the full year period net revenues are expected to be between $265m-$275m, which represents an upgrade from previous expectations of $240m. Adjusted EBITDA is expected to be approximately $20m.
Beyond Meat shares fell back 10.2% in after hours trading to $94.66 given the lofty expectations around the stock and the share price surge since listing earlier this year.
Morning update
German consumer group Beiersdorf has posted a 6% rise in headline sales and a 4.3% rise in organic sales despite a "very challenging and competitive market".
Group sales climbed organically by 4.3%. to €5.7bn, while nominal sales were up 6% on the previous year's figure of €5.4bn.
Consumer nominal sales were up 6.6% and up 5.1% on an organic basis.
Its key Nivea brand increased its sales by 3.0%. The Derma business unit, which includes the Eucerin and Aquaphor brands, ended the first nine months of the year with sales up by 7.5%.
The Healthcare business unit, mainly comprising the plaster business, also showed above-market growth of 4.2%. La Prairie continued the previous year's strong results and achieved growth of 22.7%.
The group's Tesa division posted nominal sales growth of 3.4% and organic sales growth of 1.2%
The group also confirmed full year guidance remains unchanged.
CEO Stefan De Loecker commented: "In times of a challenging and very competitive market environment, it is more important than ever to adapt our business model to new economic and technological conditions.
"The results of the first nine months show that we have the answer to the new market dynamics with the realignment of our business strategy and a greater willingness to invest. We have tapped new growth markets and business areas and further expanded our global position as skin care expert.
"With the acquisition of Coppertone and the divestment of the SLEK hair care business, we have strengthened our portfolio. Although we still have a lot to do and some challenges ahead of us, the needle is moving in the right direction."
The FTSE 100 has slipped 0.4% to 7,301.4pts so far this morning.
Early fallers include Glanbia (GLB), down 3.9% to €10.97, FeverTree (FEVR), down 1.8% to 2,008p and Imperial Brands (IMB), down 1.6% to 1,752p.
Risers so far today include Stock Spirits (STCK), up 1.2% to 206p, Naked Wines (WINE), up 1% to 258.4p and Coca Cola HBC (CCH), up 0.7% to 2,316p.
Yesterday in the City
The FTSE 100 started the week on the front foot, edging up a further 0.1% to cement last week's gains at 7,331.3pts.
Risers yesterday included Glanbia (GLB), up 7.2% to €11.41, Devro (DVO), up 3.7% to 167p and Marston's (MARS), up 2.4% to 122.9p.
A number of retail names were also amongst the stronger risers, with Marks & Spencer (MKS) up 2.1% to 187.1p, Hotel Chocolat (HOTC) up 2% to 441p, Ocado (OCDO), up 1.9% to 1,350.5p and SSP Group (SSPG) up 1.6% to 645p.
Fallers included a number of FTSE 100 names, with Imperial Brands (IMB), down 2.2% to 1,779.6p, Unilever (ULVR), down 1.6% to 4,557.5p and Coca-Cola HBC (CCH) down 1.2% to 2,299p.
Other fallers included Bakkavor, down 2.4% to 122.4p, FeverTree (FEVR), down 2.2% to 2,045p, Pets at Home (PETS), down 1.3% to 210p, and Science in Sport (SIS), down 1% to 50p.