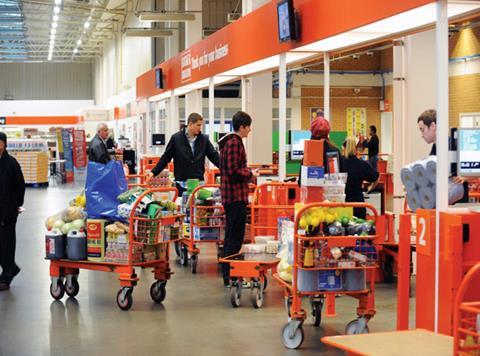 Top story
Booker Group (BOK) has a reported a strong end to the year, with non-tobacco group like-for-like sales up 4.7% in the final quarter ahead of its £3.7bn buyout by Tesco.
Group non tobacco sales rose by 4.5% in the 12 weeks to 24 March, with non tobacco like-for-likes up 4.7%.
Group tobacco sales declined by 7.9% with tobacco like-for-likes down 7.5% as tobacco sales continue to be impacted by the display ban and new plain packaging restrictions.
Total sales for the quarter were up 0.5% and like-for-likes were up 0.7%.
Booker said both its catering and retail businesses made "good progress" in the quarter, with non tobacco sales in Premier continuing to grow and Budgens and Londis "performing well".
For the 52 weeks to 24 March 2017, total sales were £5.3bn, up by 6.7% compared to last year. Like-for-like non-tobacco sales increased by 2.8%, and like-for-like tobacco sales reduced by 4.6%. Like-for-like sales to caterers rose by 4.4%, while like-for-like sales to retailers reduced by 0.6% primarily due to the tobacco display ban and plain packaging restrictions.
Chief executive Charles Wilson said: ""Overall, 2016/17 was a good year. Customer satisfaction was good and sales were the best we have ever achieved. Booker Group remains on track to Focus, Drive and Broaden the business.
"On 27 January we announced the planned merger with Tesco. We are excited about the benefits the enlarged Group will bring to consumers, our customers, suppliers, colleagues and shareholders. The merger is going through the competition process. Meanwhile it is business as usual as we continue to improve choice, prices and service for our retail, catering and small business customers."
Booker shares have edged up 0.3% to 199.6p on this morning's trading update.
Morning update
Imperial Brands (IMB) has issued a trading update ahead of its close period on 1 April 2017, telling the market it remains on track to meet earnings expectations for the half year results at both constant currency and reported exchange rates.
The tobacco company said it is driving "an even sharper focus behind our four strategic priorities to further strengthen the business". To support this, it is investing an additional £300m in 2017 behind its 'growth' and 'specialist brands' and in key markets to drive revenue growth over the medium-term. The early results of this investment programme are "encouraging", with improved market share trends in many priority markets.
First half revenues and earnings per share are expected to be up strongly at actual exchange rates, driven by the benefit of currency translation. Imperial will benefit from a currency translation benefit on net revenue and profit of about 13-14%, at current exchange rates.
As expected, the phasing of the £300m increased investment is biased to the first half, resulting in lower revenue and profit on a constant currency basis, with a stronger second half performance.
The half year results to 31 March will be announced on 3 May.
Meat packaging firm Hilton Food Group (HFG) has announced its full-year results for the year to 1 January.
The Tesco supplier said performance had been "strong" in 2016, boosted by favourable currency movements.
Volumes grew by 7.4% in the year and by 8.9% on a like-for-like 52 week basis. Underlying volume increases were seen in the UK, Ireland, Holland and Australia with lower volumes in Denmark and Central Europe.
Revenue increased 12.8% and by 7.2% on a like-for-like 52 week constant currency basis driven by the higher volumes and the new meat trading business.
Operating profit was 18.4% up to £34.3m and 11.7% higher on a like-for-like 52 week constant currency basis. The operating profit margin in 2016 improved to 2.8% from 2.6%, primarily reflecting higher Australia volumes and the operating profit per kilogram of packed meat sold rose to 12.5p from 11.3p.
Chief Executive Robert Watson said: "2016 was a very strong year as Hilton continued to make good progress with volume and profit growth, range extension and the launch of a meat trading business despite competitive market conditions.
"The conclusion of a joint venture in Portugal and the development of a further factory in Australia demonstrates our geographical and operational growth and we continue to explore further expansion opportunities."
Carr's Group (CARR), the agriculture and engineering firm, has issued a profits warning ahead of announcing its first half results for the 26-week period ended 4 March 2017.
It said that, as a result of a delay to a significant contract in the UK Manufacturing business, together with a slower than anticipated recovery in USA cattle prices, the group's performance for the current financial year will be "significantly below the board's existing expectations".
It said volumes and margins in its USA feed block business have been under pressure as a result of falling cattle prices for producers. Carr's said today that this pressure continued for a longer period than originally forecast and although cattle prices have begun to increase, the recovery in that market is now expected to be slower than anticipated.
"Consequently, this will result in significantly reduced profitability in our USA feed block business as the market recovers in the short to medium term," the group stated.
It did claim to have seen "encouraging signs of returning customer confidence" in the UK market, driven by improving returns for dairy farmers. It said its UK agriculture business is expected to exceed expectations for the current financial year.
Carr's will issue its interim results on 12 April.
On the markets this morning, the FTSE 100 has crept up another 0.1% to 7,383.1pts.
Imperial Brands is up 0.6% to 3,847p, Hilton Food Groupup 2% to 653.8p, but Carr's has lost 20.3% of its value in the opening minutes of trading today dropping from to 148.3p to 120p.
Elsewhere, Morrisons (MRW) is one of the key early risers, climbing 2.1% to 242.1p. Total Produce (TOT) is up 2.4% to 170p and Devro (DVO) is up 2.1% to 186p.
Fallers include Marks & Spencer (MKS), down 1% to 332p, Real Good Food (RGD), down 1.7% to 28p and Glanbia (GLB), down 1% to €17.80.
Yesterday in the City
The FTSE 100 defied any economic fears over the impact of the UK triggering Article 50 yesterday, rising 0.4% to 7,373.7pts.
The pound also held steady, dipping marginally against the dollar but edging up against the euro after the delivery of Prime Minister Theresa May letter to kick off the process to leave the EU.
Most major grocery and fmcg firms were on the up yesterday, led by British American Tobacco (BATS), up 1.9% to 5,318p. Also rising were Britvic (BVIC), up 1.6% to 652.5p, Associated British Foods (ABF), up 1.4% to 2,649p and Cranswick (CWK), up 1.1% to 2,580p.
Other risers included Hotel Chocolat Group (HOTC), up 3.1% to 304p, Majestic Wine (WINE), up 2.9% to 330.3p, Nichols (NCLS), up 2.2% to 1,871p and FeverTree (FEVR) up 2.1% to 1,509p.
Amongst the few fallers were Tesco (TSCO), down 0.5% back to 190.3p as the market absorbed the impact of its fine and shareholder compensation scheme relating to its 2014 profits misstating scandal.
Elsewhere, Stock Spirits Group fell 1.7% to 186.8p, Hilton Food Group (HFG) was 1.2% down ahead of today's annual results to 641p, Convivialty (CVR) fell 1.1% to 267p and Tate & Lyle (TATE) dropped 0.8% to 776.5p.