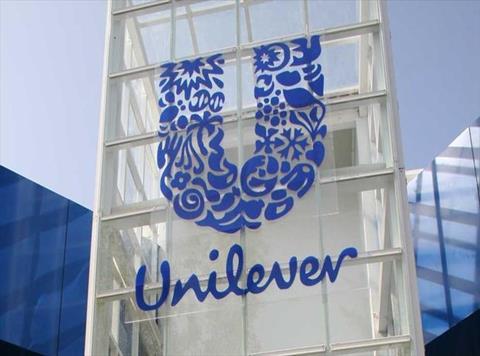 Top story
Unilever (ULVR) has posted underlying sales growth of 2.5% in the first half of the year after organic growth slowed to 1.9% in the second quarter, excluding its spreads business.
Excluding the spreads business it sold for £6bn to KKR in December 2017, Unilever posted first half underlying sales growth of 2.7%, with volumes up 2.5% and price up 0.2%.
Unilever said this figure was dragged back by 0.6 percentage points by the truckers strike in Brazil, which hampered growth by 1.2 percentage points in the second quarter.
On a statutory basis, sales dropped 5% to €26.4bn in the first half, due to a negative currency impact of 8.9% in the period, mitigate by a 1.9% boost from acquisitions net of disposals.
Emerging markets grew by 4.1% with an improved contribution from volume of 3.3%, while price growth was modest in a lower inflation environment.
Sales in developed markets were slightly up as volume growth was mostly offset by continued competitive price deflation in Europe and North America.
Developed markets, excluding spreads, were up 0.5% on an underlying basis in the first half, with Europe up 0.6% and North American 0.9%. Emerging markets were up 3.1% in the second quarter.
Underlying operating margin was up 80bps in the first half to 18.6% driven by increased gross margin and further reduced overheads.
In its food and refreshments division it said it continued to build its presence in emerging markets and modernise its portfolio by "responding to consumer needs in fast-growing segments such as organic, natural, vegan, health and wellness".
It said ice cream delivered strong growth driven by innovations supporting its premium brands. In leaf tea, volume-led growth continued to be driven by strong innovations in India, but growth was held back by a decline of its black tea business.
In foods, Knorr grew ahead of the group average, Hellmann's continued to communicate "strong natural claims", but sales in dressings were slightly down in an "intense promotional environment".
Beauty & Personal Care continued to grow through innovations behind global and local brands, while expanding its portfolio. Home Care increased its strong emerging market footprint with its proven market development model and benefit-led innovations. Growth was broad-based with the exception of Latin America.
CEO Paul Polman commented: "Our first half results show solid volume-driven growth across all three divisions, which was achieved despite the effects of an extended truckers' strike in Brazil, one of our biggest markets. Growth was driven by strong innovation and continued expansion in future growth markets. The margin improvement was of high quality and in line with our strategy, driven by further gross margin progression, increased investment behind our brands and strong savings delivery.
"The Connected 4 Growth change programme, which makes our organisation more agile and resilient, is driving the step-up in our innovation and savings programmes. As part of the continued portfolio evolution, we have completed the exit from spreads on 2 July 2018. In anticipation of the disposal proceeds, we have already returned €3bnas part of our €6bn share buyback programme that will complete before the end of the year. We have also signed an agreement to acquire a 75% stake in the Italian personal care business Equilibra.
"Our expectation for the full year is unchanged. We expect underlying sales growth in the 3% - 5% range, an improvement in underlying operating margin and strong cash flow. We remain on track for our 2020 goals."
Morning update
Vimto owner Nichols (NICL) has reported a 2.3% rise in group revenues in the first six months of 2018, driven by a strong performance from the UK business.
UK sales were up 13.2% in the period to £53.8m, with the Vimto brand "significantly outperforming" the market.
Year to date sales of the Vimto brand were up 9% compared to the total UK market which increased by 3.7%.
Elsewhere in the UK, out of home revenue increased by 13.6%, with the growth coming from both dispense and frozen product sales. The UK growth was delivered in both the Still and Carbonate segments.
Total international sales dropped by £4.8m to £11.2m as a results of lower sales to the Middle East. This drop was due to the ongoing conflict in Yemen and the timing of shipments to Saudi Arabia. Sales to Africa fell 3.7% to £6.8m, though Nichols said full year sales to this region should deliver year on year growth.
Group operating profit and profit before tax were both up 2.7% to £13.1m, with EBITDA up 6.2% to £14m. The group's operating profit margin edged up to 20.1% from 20%.
Nichols said, supported by a new Vimto marketing campaign launched in May, its expects to maintain the positive UK sales performance into the second half of the year. Full year sales to the Middle East will be lower when compared to the prior year, but it expects a stronger second half year for its international business.
Chairman John Nichols said: "Nichols has delivered a solid performance in the first half of 2018 with growth in revenue, profit before tax and earnings per share. The Board is pleased to announce an 11.9% increase in the dividend reflecting the performance as well as its confidence in the Group's outlook.
"The performance during the first half is testament to the benefits of Nichols' diversified business model. The strong sales performance in the UK was driven by the strength of the Vimto brand, which continues to outperform the wider market, and we expect this momentum to continue following the launch of an exciting new marketing campaign in May."
Tesco meat supplier Hilton Food Group (HFG) has issued a trading update for the 28 weeks ended 15th July 2018.
It said that during the period the company continued to growthe business through additional volumes and "close cooperation with our retail partners".
In Western Europe, it made "good progress in a number of markets". In the UK, turnover has continued to grow relative to last year, reflecting higher volumes, whilst its Irish business has experienced encouraging top-line growth in the first half.
Holland's turnover is lower than in 2017 though more stable.
Portugal is continuing to "show good progress", it extended its partnership with Coop Danmark in Denmark, Cetral Europe saw "good" turnover growth and Australia has delivered double-digit sales growth in the first half.
Its Seachill acquisition is contributing to the growth of the group in line with expectations and it is also developing strategic options for expanding the fish division.
Sports nutrition specialist Science in Sport (SIS) has also announced a trading update for the six months ended 30 June 2018.
Sales for the period grew 20% year on year to £9.94m, underpinned by a strong performance in international markets, with 53% improvement to £3.4m as it continued to invest in the USA, Italy and Australia.
Despite the impact of this investment in a new e-commerce platform affecting two months, online channels grew 25% in the period and finished strongly. It saw 44% growth for June and its scienceinsport.com business grew at 63% in the month, with all key trading metrics well ahead of last year.
However, tough trading conditions in UK retail resulted in a 3% decline year-on-year, although its gained new customers and distribution towards the end of the period, giving the group confidence for the second half.
On the markets this morning, the FTSE 100 is down 0.2% to 7,661.8pts so far today.
Unilever shares are down 0.5% to 4,182.5p, Nichols is up 0.5% to 1,495p, Hilton Food Group is up 1.8% to 988p and Science in Sport is down 1.3% to 74.5p.
Other risers include Greene King (GNK), up 2.7% to 540.4p, Premier Foods (PFD), up 1.3% to 45.5p, C&C Group (CCR), up 1% to €3.44 and Marks & Spencer (MKS), up 0.9% to 314p.
Fallers include AG Barr (BAG), down 2% to 696p, Majestic WINE (WINE), down 1.4% to 453.5p, Kerry Group (KYGA), down 1.4% to €92.55 and Hotel Chocolat (HOTC), down 1.4% to 345.2p.
Yesterday in the City
The FTSE 100 ended the day on the front foot, rising 0.7% to 7,676.3pts.
In the grocery sector the big story was the AGM of Premier Foods (AGM), which saw the narrow re-election of CEO Gavin Darby despite a concerted shareholder campaign to oust him. Premier shares ended the day down 4.3% back to 44.9p, but remain higher than in the period prior to the activist shareholder campaign on hopes of a strategy shift. Premier also issued second quarter results yesterday that showed growth of 1.7% compared to 7% in the first quarter.
Hotel Chocolat (HOTC) was up 1.2% to 350p after announced it had grown revenues by 12% to £166m in the 52 weeks to 1 July 2018.
Elsewhere, risers included McBride (MCB), up 4.1% to 133p, Majestic Wine (WINE), up 3.7% to 460p, AG Barr (BAG), up 3.7% to 710p, Hilton Food Group (HFG), up 2.3% to 972p and SSP Group (SSPG), up 1.7% to 690p.
Fallers included Dairy Crest (DCG), down 3.1% to 469p and Ocado (OCDO), down 2.2% to 1,048.5p both after strong rises earlier in the week.
Other fallers included PZ Cussons (PZC), down 2% to 222.6p, WH Smith (SMWH), down 1.9% to 1,952p, TATE & Lyle (TATE), down 1.5% to 625.4p, Sainsbury's (SBRY), down 1.3% to 324.4p and Greencore (GNC), down 1.2% to 174.8p.