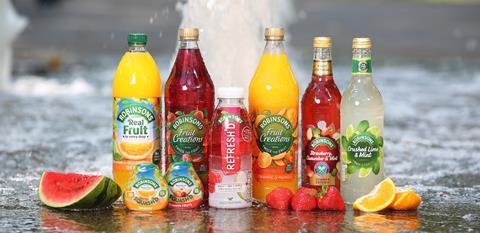 Top story
Brtivic's boss has pledged to be at the forefront of the recovery in a soft drinks category slammed by the coronavirus pandemic after revenues and profits slumped at the group.
Simon Litherland said the past eight months had been "without doubt" the most difficult he had experienced in his working life as the outbreak unfolded.
Changing buying behaviours, restrictions on the hospitality sector and reduced movement of people affecting the tourism industry have all taken a toll on the soft drinks market, which relies heavily on out-of-home consumption.
Revenues at Britvic declined 6.8% to £1.4bn in the year ended 30 September, falling 8.6% when taking exchange rate movements into account.
After a strong start to the year, with a 2.6% sales increase in the first quarter, Britvic began to struggle as the effects of Covid kicked in, with turnover slumping 16.3% in the third quarter as the full impact of lockdown restrictions were felt and 11.3% in the final quarter.
However, the business reported market share gains for the in-home channel for its portfolio of brands, including Pepsi, 7Up, Tango and Robinsons, but increased demand for larger pack formats squeezed margins.
Adjusted EBIT for the year declined 21.9% to £165.8m.
"While none of us would have wished for the challenging circumstances 2020 has brought, I am very proud of how we have responded as a business and delivered on the priorities we set ourselves at the start of the pandemic," Litherland said.
"Our determined and dedicated people, portfolio of trusted brands, strong commercial relationships and operational agility mean we have performed strongly where we have been able to compete.
"We also continue to navigate the changing landscape successfully. So, even though out-of-home trading has inevitably been impacted, we have continued to gain market share in our key growth markets of GB and Brazil, and we have successfully protected cash and our overall financial strength."
In Great Britain, the at-home channel gained market share, growing value by 11.3% compared with 1.5% for the category overall. Robinsons increased retail market value by 9.4% to £204m in the year despite the cancellation of Wimbledon, which traditionally drives awareness for the brand.
Britvic said shoppers tunred to brands they trusted during lockdown, with an additional 1.3 million new customers buying Robinsons during the lockdown peak in spring.
Litherland added: "While 2021 will bring continued uncertainty, it also presents real opportunity for Britvic to capitalise on the trends which have accelerated as a result of the pandemic.
"We are confident that we will continue to react with agility and pace as events unfold. Soft drinks has repeatedly proved itself to be a highly resilient category, and we fully intend to be at the forefront of its recovery."
Investors reacted positively to the results statement, with shares in Britvic up 1.8% to 825p as markets opened.
Morning update
PZ Cussons has appointed Sarah Pollard as chief financial officer, with effect from 4 January 2021.
Pollard joins the Imperial Leather manufacturer from frozen food giant Nomad Foods, where she most recently served as deputy CFO.
She is a chartered management accountant and prior to Nomad, she held senior finance positions in Diageo, Tesco and Unilever.
Alan Bergin, currently interim chief financial officer at PZ Cussons, will continue in his current role until January and then through a handover period.
PZ Cussons chairman Caroline Silver said: "We are excited to welcome Sarah to PZ Cussons. She will be an excellent addition to the executive team and brings a breadth and depth of experience in the consumer goods sector that will be highly valuable to the company."
CEO Jonathan Myers added: "I would like to thank Alan for the significant impact he has had on the business during his tenure both before my arrival and during my time as chief executive officer. His professionalism, energy and support have helped steer PZ Cussons through very challenging times.
"I welcome Sarah to the company who joins the business at an exciting phase in its development, and look forward to working closely with her to continue PZ Cussons' progress and growth."
Shares in the business jumped 1.8% to 229p this morning.
Property investor LXi REIT has purchased 11 food stores and two discount sites from five different sellers and developers for £61m.
The tenant base at the stores include Aldi, Lidl, Waitrose, Co-op, Iceland, B&M and The Range.
The Aldi store in Berwick-upon-Tweed in Northumberland has yet to be developed, but with anchor the development with a 19,000 sq ft shop.
The other stores bought include a 26,800 sq ft Lidl in Hampshire, a 25,000 sq ft Waitrose in Cheshire, a portfolio of seven Co-op shops in Blackpool, Glasgow, Pontypridd, Sandbach, Southport, Wallasey and Wrexham, and B&M and The Range in Bradford.
"The acquisitions reflect the company's yield-disciplined focus on smaller sized foodstores which are currently the primary focus for our grocery tenants being right-sized for their preferred product range, but also offering online fulfilment through either or both of home delivery and click & collect," the group said.
The FTSE 100 started the day on the back foot, down 0.5% to 6,360.46pts, as the UK awaits to hear what tier each area will be placed in following the end of the second lockdown.
Pets at Home, WH Smith and SSP have all opened in the red, falling 2.9% to 394.3p, 2.7% to 1,458.8p and 2.1% to 342.6p respectively.
McColl's has shot up 7% to 30.4p, with Reckitt Benckiser and Devro also among the early risers, up 2.5% to 6,603.4p and 2.3% to 158.6p respectively.
Yesterday in the City
The FTSE 100 sank into the red after a positive start to the day after Chancellor Rishi Sunak warned in his spending review that the economic emergency had only just begun.
London's blue-chip index ended the day down 0.6% to 6,391.09pts.
Greencore tumbled 6.6% to 116.4p after positive movement following its results and a placing on Tuesday. Other losers including Pets at Home, down 3.9% to 404.7p, M&S, down 3.4% to 135.5p, and B&M European Value Retail, down 2.3% to 457.3p.
Unilever jumped 5.3% to 4,570p, with McColl's Retail Group also up 5.2% to 28.2p, Naked Wines up 5% to 527p and C&C Group rose 2.3% to 225.5p.