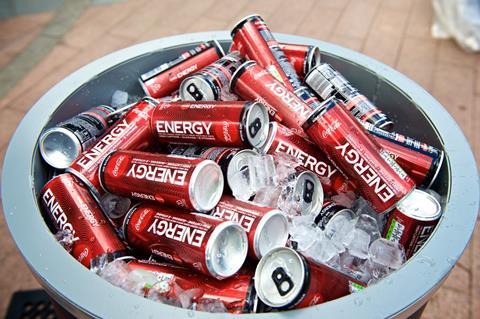 Top Story
Coca-Cola European Partners has posted a "good" rise in first half sales volumes, revenues and profits despite poor weather in the second quarter of the year.
The Coke bottler for Great Britain, Germany, Spain and a number of other European territories posted revenue growth of 7% in the first half of the year to €5.8bn.
Comparable volumes were up 3%, which the company said reflected "solid execution" though was partly offset by the impact of last year's soft drinks tax changes in the UK.
Revenue per unit case was up 4.5%, benefiting from favourable underlying price and package mix, such as higher sales of smaller cans.
In Great Britain revenues were up 4.5% excluding the impact of incremental soft drinks taxes and by 10.5% on a foreign exchange neutral basis to €1.2bn.
GB saw good volume growth supported by Light Colas, Fanta, Schweppes & Monster, partially offset by unfavourable weather in the second quarter. Revenues were supported by price and high sales of small packs – small cans were up 28.5% in the peiod driven by Schweppes mixers, Appletiser & Coca-Cola.
Revenues were up 6% in France, while it experienced "good" volume growth in Germany and "solid" volume growth in Iberia as the weather hampered performance.
Comparable operating profit rose 10.5% to €770m, reflecting revenue growth and merger synergies of €55m.
During the period, the bottler returned further €550m (11.6m shares) via its previously announced €1.5bn share buyback programme, which has now returned €1.05bn to shareholders.
CCEP reaffirmed full year guidance, with revenue growth in the low single digit range excluding te impact of soft drinks taxes of around 1% and operating profit growth of 6%-7%.
CEO Damian Gammell commented: "We have delivered a good first-half performance, reflecting our continued focus on driving profitable revenue growth through price and mix realisation and solid in market execution, alongside the successful closure of our merger commitments. We remain focused on building this momentum, albeit following a strong third quarter last year, including scaling up on some of our exciting innovations like Coke Energy and the recently launched Costa ready-to-drink coffee in Great Britain.
"We are fortunate to have the world's best non-alcoholic ready-to-drink brands where we have a leading position within our dynamic and growing market. We are taking the decisions today to invest in the capabilities that we know we will need to win tomorrow. All underpinned by an aligned relationship with The Coca-Cola Company and a strong sustainability agenda, particularly around packaging, where we are taking action and leading innovation."
Morning update
Fellow European Coke bottler Coca-Cola HBC (CCH) has posted first half currency neutral sales growth of 3.4% to €3.4bn despite the "exceptionally strong" comparable period in the second quarter of 2018.
CCH said that unseasonably wet and cold weather conditions in the second quarter were a headwind to revenue growth in all segments, though the warmer weather in the second half of June drove stronger performance towards the end of the period.
Currency-neutral revenue per case was up 1.2% in the first half and showed an improvement in the second quarter driven by Europe, with positive contributions from pricing, as well as category and package mix.
Overall volumes were up 2.2% in the first half, with 2.4% growth in carbonated drinks.
Volume in the established markets increased by a more modest 0.4% with encouraging performance in Italy, developing markets volumes grew by 1.4% and emerging markets volumes were up by 3.4%.
The cycling of its heft 2018 FIFA World Cup investments resulted in a 50 basis point improvement in comparable operating expenses as a percentage of net sales revenue.
Therefore, comparable operating profit margin was up 10 basis points to 9.7% while comparable operating profit increased by 4.7% to €325.1m.
CEO Zoran Bogdanovic commented: "We are pleased with this solid first half given the challenging combination of tough comparators and unseasonably cold and wet weather.
"We are driving growth in some of our most important categories including Sparkling, Water and Energy and we are progressing with preparations to launch Costa Coffee in 10 of our markets in 2020.
"We made good progress in the period on our packaging initiatives with three of our water brands now being bottled in 100% recycled plastic. Looking forward, we expect to deliver FX-neutral revenue growth within the range of 5-6%, with another year of margin expansion."
Elsewhere, Irish food group Kerry Group (KYGA) has reported a 10.7% sales jump in the first half, driven by volume growth and acquisitions.
The sales growth reflected volume growth of 3.3%, flat pricing, contribution from acquisitions of 4.7%, and a favourable translation currency impact of 2.7%.
In Taste & Nutrition, reported revenue increased by 13.0% to €2.9bn, including volume growth of 3.8%, neutral pricing, a positive translation currency impact of 3.3% and contribution from business acquisitions of 5.9%.
Its Consumer Foods division reported revenue increased by a more modest 0.6% to €689m, including volume growth of 0.6%, a 0.3% pricing decline and a positive translation currency impact of 0.3%.
Kerry said its consumer foods division was hit by a "challenged market landscape" in the period.
"Lower consumer confidence was reflected through a more cautious consumer, while structural changes across the retail environment continue to drive change along the end-to-end supply chain."
Group trading margin increased by 20bps, reflecting good growth driven by operating leverage, portfolio enhancement, efficiencies, impact of foreign currency and acquisitions. However these were partially offset by Brexit risk management costs, investments for growth and increased net investment on the KerryExcel programme.
Group trading profit increased by 12.6% to €382.9m. Constant currency adjusted earnings per share increased by 8.4% to 164.1 cents.
CEO Edmond Scanlon said: "We are pleased with business performance in the period, as the Group continued to deliver volume growth ahead of the market while expanding trading margins in line with expectations.
"While heightened consumer pricing and uncertainty impacted market volume growth rates in some developed markets, our unique and industry-leading business model and integrated taste and nutrition positioning continued to deliver significant value for our customers in meeting rapidly evolving consumer needs.
"We are excited by the ongoing enhancement of our product mix and the development of our innovation pipeline. Good progress has been made on the integration of recent acquisitions, which are performing very well. We are updating our guidance and expect to achieve growth in adjusted earnings per share of 7% to 9% in constant currency."
On the markets this morning, the FTSE 100 has recovered a further 0.2% to 7,213.5pts so far today.
CCH shares are down 1.3% to 2,792.8p on its earnings release, while Kerry Group is up 3.2% to €106.80.
Risers include Bakkavor, up 2% to 102.8, Glanbia (GLB), up 1.5% to €11.16 and Ocado (OCDO), up 1.5% to 1,175.5p.
Fallers include Greene King (GNK), down 3.6% to 575.8p, Stock Spirits (STCK), down 2.9% to 233p ad McBride (MCB), down 2.8% to 64.7p.
Yesterday in the City
The FTSE 100 recovered 0.4% after a torrid start to the week to end Wednesday at 7,198.7pts.
Just Eat (JE) shares jumped 6.8% to 789.8p on hopes that its merger with Takeaway.com will flush out a better offer or force its Dutch merger partner to up its offer.
Other risers yesterday included Stock Spirits (STCK), up 6.7% to 240p, Nichols (NICL), up 3.7% to 1,815p, Coca-Cola HBC, up 2.3% to 2830p ahead of this morning's interim results and Ocado (OCDO), up 1.9% to 1,158p.
Fallers yesterday included PureCircle (PURE), down 5.1% to 260.5p, Domino's Pizza Group, down 3.4% to 229.7p, Devro, down 3.2% to 199.4p, Tate & Lyle (TATE), down 2.3% to 715.6p and FeverTree (FEVR), down 2.2% to 2,211p.
Forecourt operator Applegreen was down 0.7% to 482p after confirming news of its latest expansion into North America yesterday.