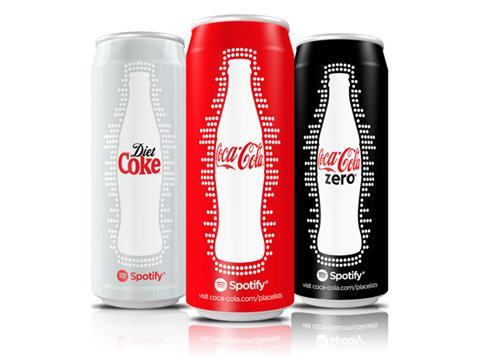 Top story
Coca-Cola has slowed its declining revenues in third quarter as easing lockdown restrictions across the world allowed consumers visit cafes and restaurants again.
The fizzy drinks giant relies on the out-of-home market for a large proportion of sales of Coke, Fanta, Sprite and water brands, but has been hit hard this year during the pandemic as hospitality businesses were forced to close.
Net revenues fell 9% to $4.7bn in the three months ended 30 September, with organic sales down 6%, which represented a big improvement on 26% slump in the second quarter.
Coke said the improved performance was driven by sustained growth in consumers buying its products to drink at home, but it warned the out-of-home channel was still under ongoing pressure depending on how different countries were coping with the Covid crisis.
It added conditions were continuing to get better, with the percentage decline in global unit case volumes for October in low single digits.
"While the company is pleased with the sequential improvement, given the uncertainty remaining surrounding the coronavirus pandemic including a resurgence in various markets, the ultimate impact on its near-term results is unknown. Importantly, the company's balance sheet remains strong, and the company is confident in its liquidity position as it continues to navigate through the crisis.
"The recent strategic actions of portfolio optimization, disciplined innovation, increased marketing effectiveness and efficiency, enhanced system collaboration and evolving the organizational structure have given the company increased confidence in emerging stronger.
Despite improvements, the group refused to provide any guidance for the rest of the year."
"As the coronavirus pandemic continues to evolve, there is uncertainty around its ultimate impact; therefore, the company's full year financial and operating results cannot be reasonably estimated at this time."
During the third quarter, Coca-Cola's sparkling soft drinks division declined 1%, with trademark Coke growing 1% and Coke Zero up 7%.
Juice, dairy and plant-based beverages fell 6% as a "solid" performance of Simply and Fairlife in North America was more than offset by pressures in the Asia-Pacific and Latin American regions.
Water, enhanced water and sports drinks slumped 11% in the period, primarily the result of a decline in the lower margin water brands.
Morning update
Revenues of the UK's biggest 150 food and drink suppliers exceeded £70bn in 2019 as they enjoyed the "peak of a cycle" before the coronavirus outbreak hit, as well as disruption caused by the forthcoming exit from the EU.
The OC&C Top 150 report of the UK's biggest food and drink producers found total aggregate revenues rose by 1.9% in 2019 to a collective £70.3bn.
This was down on the 4.3% growth rate posted in 2018, and remained significantly below the long-term industry average of 4.9%.
However, underlying inflation fell significantly last year to just 0.9%, meaning the gap between food and drink industry growth and overall inflation rose to 1 percentage point, up from 0.7% percentage points in 2018.
"While 2019 wasn't spectacular for food and drink companies in the UK, it was relatively stable – something which has been elusive to the top 150 for quite some time," said OC&C UK managing partner Will Hayllar.
See this week's magazine for the full story and feature, or check out thegrocer.co.uk/finance later today.
Elsewhere this morning, consumer confidence plunged again this month as Covid cases increased across the country and new restrictions started to kick in.
The GFK Consumer Confidence index slumped to -31 in October, compared with -25 level recorded last month. The index is still not as low as June when it fell to -36 and has not yet reached the record low of -39 seen in July 2008 during the financial crash.
However, polling for the index is done between the 1 and 14 October, which is before Wales announced another full lockdown and other parts of the UK went into Tier 3.
GfK client strategy director Joe Staton said: "There's a worrying threat of a double-dip in consumer confidence as concerns for our personal financial situation and even deeper fears over the state of the UK economy drag the index down six points this month.
"The prospect of rising unemployment is severely depressing our outlook. Worryingly, this data was collected before the new restrictions came into force and the end of the furlough scheme, so this will negatively impact the index in the run-up to Christmas."
Shoppers have provided a boost to retailers in September despite worries over the coronavirus, with supermarkets continuing to lead the way.
Retail sales volumes increased 1.5% in September compared with the previous month, the fifth consecutive month of growth, according to the latest figures from the Office for National Statistics. It resulted in an increase of 5.5% when compared with February's pre-pandemic level.
The ONS said that while food sales had done well in recent months as people have eaten out less, non-food store sales had now made a recovery at 1.7% above their February levels.
In the three months to September, retail sales volumes increased by 17.4% when compared with the previous three months, which is the biggest quarterly increase on record as sales picked up from record-low levels experienced earlier in the year at the height of the pandemic.
However, fuel sales volumes were still 8.6% below February last month, with reduced travel as many continued to work from home, and clothing sales volumes were still 12.7% below February.
Home improvement sales continued to do well in September, with increased sales in household goods and garden items within "other" non-food stores.
The proportion of online sales was at 27.5%, compared with 20.1% reported in February, despite small monthly declines across most of the retail sector.
Jonathan Athow, deputy national statistician for economic statistics, said: "Food stores and online retailers have fared particularly well in recent months, and most other store types have now recovered to pre-pandemic levels too after being subject to temporary closures during restrictions in the spring. Spending on home improvement and gardening items in particular have boosted sales.
"Clothing store sales have been slower to recover and fuel sales remain subdued as people continue to work from home and have reduced the amount they travel."
When compared with February, volume sales at food stores were 3.7% higher in September. Supermarkets saw sales peak in March as shopper stockpiled goods ahead of the first lockdown, with growth slowing in the months that followed. However, the end of the government's Eat Out to Help Out scheme and tightening restrictions for hospitality at the end of September have encouraged spending in food stores once again.
Aled Patchett, head of retail and consumer at Lloyds Bank, said: "While retailers will stop short of calling this month's figures 'Christmas come early', consumer spending continues to defy the economic gloom as shoppers invest further in home comforts, and, in some cases, stockpile precautionary essentials for the winter ahead.
"Retailers are now hopeful of a more positive golden quarter than expected but many are still concerned about the impact of the new tiered lockdown system and what it'll mean for shoppers. Trends we have seen accelerate since the start of the pandemic – including spending migrating to online – are now firmly entrenched and retailers will need to continue adapting their models or risk a torrid winter."
British Retail Consortium CEO Helen Dickinson said: "The retail recovery remains fragile as the industry enters the all-important Christmas period, with November and December typically accounting for over a fifth of annual sales. While food and online retail continued to show strong growth, high street shopping has struggled in recent months, with footfall still down by over a third. Tighter government restrictions have taken their toll on fashion and beauty sales, while home office and computing equipment has benefitted.
"Retailers have spent hundreds of millions to make stores Covid-secure and keep staff and customers safe. Furthermore, they are encouraging the public to shop early for Christmas and prevent the last minute rush, so that everyone – from shoppers to warehouse workers - have the space they need to stay safe and well. Retail has proven itself to be a responsible industry during this pandemic, and government should not risk the retail recovery by closing stores during the all-important run up to Christmas."
Yesterday in the City
The FTSE 100 poked it head above water at yesterday's close after spending the majority of the day in the red again. London's blue-chip index finished the day up 0.2% to 5,787.65pts.
Despite beating third-quarter expectations, investors struggled to get excited about Unilever. Continued heightened demand for its home hygiene products such as Domestos bleach and Dove soap, as well as grocery brands such as Hellmann's and Ben & Jerry's, delivered a 4.4% jump in revenues in the three months to the end of September. Shares in the fmcg giant rose 0.3% to 4,716p.
Risers in the world of food and drink included Nichols, up a healthy 5.7% to 1,099p, SSP Group, up 3.6% to 187.9p, and Naked Wines, up 3.5% to 473p.
Bakkavor, Ocado and Hotel Chocolat all ended the day in the red, down 4.3% to 58.4p, 3.7% to 2,335.6p and 1.4% to 365p respectively.