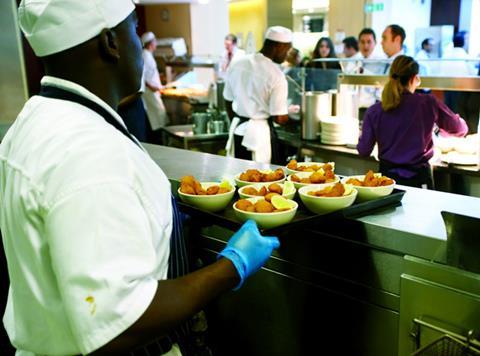 Top story
Global catering giant Compass Group (CPG) expects the spread of the coronavirus to hits its bottom line by up to 30% and reduce profits by £225m.
It said its organic revenue growth for the five months ending 29 February 2020 was 6% while operating margin increased 10 basis points as measures to contain the virus in its Asia Pacific region did not materially impact our business.
However, the acceleration of containment measures adopted by governments and clients in Continental Europe and North America have affected our expectations for its full half year period.
Compass said "the vast majority" of its sports, leisure and education businesses in these regions have been closed, and its business and industry volumes have also been severely impacted.
The company said its current expectations are that half year 2020 organic revenue growth should be between 0-2%. Despite "significant mitigation plans" to manage our costs, at this stage expect its expects the drop-through impact of the lost revenue to be between 25%-30% across the business with first half profit between £125m-£225m lower than expected.
"We continue to monitor the situation closely and will provide a further update with our 2020 Half Year results announcement on 13 May 2020."
Morning update
Spirits distiller The British Honey Company has announced that it has received permission from HMRC to produce denatured alcohol and will now utilise its excess capacity to produce alcohol sanitisers at its distillery following a national shortage of alcohol based sanitiser products caused by the spread of Covid-19, coronavirus.
Additional capacity at the BHC distillery in Worminghall, Buckinghamshire, will be immediately used to make the alcohol sanitiser, with products expected to be available this week. It said its specially formulated product is made with 70% alcohol and extracts of British Honey and Green Tea.
Michael Williams, CEO of BHC, commented: "An alcohol based sanitiser is vodka or gin at 70 percent ABV made from denatured alcohol. Following approval of our application to HMRC to produce denatured alcohol, our expert distillery team have been working alongside our in-house microbiologist and an Oxford University chemist to develop and manufacture this new product.
"The Company will continue to produce its vodka, gin and rum products as the alcohol market moves to online sales in the current environment. BHC is making the product available online. Being able to produce such an in demand product within our existing capabilities enhances our existing business model at the same time as assisting with the efforts to combat the spread of Covid-19."
Bakkavor has completed a £455m refinancing of its core group bank facilities, agreeing new term loan and revolving credit facilities.
The new facilities are due to mature in March 2024, with an option to extend the tenure by a further two years. They replace the Group's existing £410m term loan A and revolving credit of facilities, which were due to mature in June 2021.
In line with the Group's Corporate Responsibility strategy, the margin on the facilities is also linked to two of the Group's CR targets: its performance against food waste reduction and greenhouse gas emission targets.
The facilities have been provided by ten banks (including three new banks) and were co-ordinated by HSBC UK Bank plc and Rabobank London.
Retail technology firm Eagle Eye Solutions posted a "strong performance" in the six months to 31 December, with growth in sales and its customer base.
Revenue increased by 26% to £10.1m, whilst revenue relating to its key AIR platform grew by 28% to £9.6m.
It said this growth has been driven by several significant customer contracts moving to the transactional phase following successful implementations, and increased revenues from existing customers, demonstrating their growing use of the AIR platform.
The period also saw the addition of several new customers, including its first US and New Zealand clients. Both contracts have now entered the implementation phase and should contribute to continued revenue growth in future periods.
It said customer churn levels remained extremely low "demonstrating the continued value of the AIR platform to retailers, who use it to create a meaningful digital connection with their customers".
Growth in revenues, investment and a continued focus on managing the cost base resulted in a significant improvement at the adjusted EBITDA level.
The group generated adjusted EBITDA of £1.3m compared to an adjusted EBITDA loss of £0.3m in the comparable period of the prior year.
The company said it is monitoring the impact of COVID-19 and is reviewing and updating its business continuity plans accordingly, with the operations well set up to facilitate remote working.
CEO Tim Mason commented: ""This has been a positive trading period for the Group, in which we have proven the applicability of the AIR platform to retailers in new geographies, successfully taken several tier 1 customer implementations live and generated a growing pipeline of opportunities. We remain convinced that these successes are just the beginning for Eagle Eye. Our opportunity is significant and we are confident that the adoption of digital is only going to increase in the years ahead.
"While we continue to monitor the evolving situation with COVID-19 closely, our growing recurring revenues, low levels of customer churn and expanding customer base, means we look to the long-term success of Eagle Eye with confidence."
On the markets this morning, the FTSE 100 has fallen another 1.4% to 5,081.6pts after a brief early rally.
Risers include Bakkavor, up 7.7% to 63.1p, Ocado (OCDO), up 4.2% to 1,285p, AG Barr (BAG), up 3.7% to 473.5p and Reckitt Benckiser (RB), up 3.5% to 5,485p.
Fallers so far include Compass Group, down 17.1% to 930p, Marston's (MARS), down 15.6% to 24p, WH Smith (SMWH), down 10.5% to 925p and SSP Group (SSPG), down 7.3% to 292.5p.
Yesterday in the City
The FTSE 100 fell back a further 4% to 5,151.1 but recovered somewhat from deep early losses that had sent the market tumbling below 5,000pts for the first time in eight years.
Pub and leisure group's were savaged yesterday, with Restaurant Group down 46.5% in a single day back to 26.6p, Marston's (MARS) down 45.2% to 28.4p, Mitchells & Butlers (MAB) down 32.5% to 153p and Young's down 25.7% to 910p.
Other fallers included convenience chain McColl's (MCLS), down 29.6% to 15.5p, sandwich makers Greencore (GNC) and Bakkavor, down 25.7% to 104.5p and 24.7% to 58.6p respectively, Applegreen (APGN), down 16.9% to 270p, Nichols (NICL), down 15.6% to 1,097.5p, Coca Cola HBC (CCH), down 15% to 1,574p and Hotel Chocolat (HOTC), down 14.2% to 281p.
Food retailers generally outperformed the market again, with Ocado and Sainsbury's amongst the day's tiny handful of risers, up 4.2% to 1,233p and 0.5% to 180p respectively.
Other modest fallers included Marks & Spencer (MKS), down 0.5% to 96.9p, Carr's Grouop (CARR), down 1.1% to 91p, DS Smith (SMDS), down 1.1% to 272.9p, Imperial Brands (IMB), down 1.1% to 1,363p and PZ Cussons (PZC), down 1.2% to 162p.