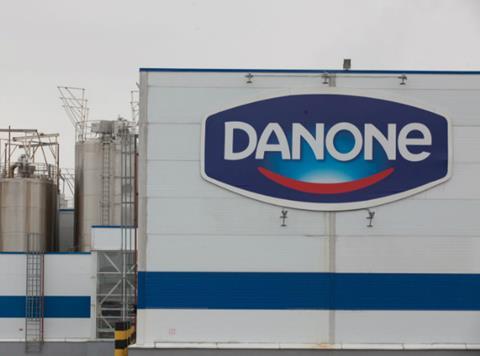 Top story
Danone (BN) has reported a strong start to the year with a 4.9% increase in like-for-like sales growth in the first quarter.
Consolidated sales climbed 10.8% to €6.09bn (£5.27bn), with a particularly strong performance from Specialised Nutrition and ongoing recovery of Essential Diary and Plant-Based activities.
Europe posted what Danone said were "encouraging" results and continued its improving trend with slightly negative sales growth.
Notably, Activia continued its recovery supported by innovation plans, especially in France, Spain, the UK and Italy.
Alpro maintained its high-single-digit growth, increasing in its core markets while proceeding with geographical expansion in France and Spain and product diversification such as ice creams, organic beverages and coffee drinks.
Continued growth in young and local brands, notably Light and Free in the UK and Les Deux Vaches in France, was driven by investment in product innovations and brand support.
In the CIS region, Danone posted strong sales growth, continuing to benefit from the enhancement of its brand and product mix. Growth was overall slightly positive in the other regions, despite the expected double-digit sales decline in Brazil.
Emmanuel Faber, chairman and chief executive, said he was "very pleased".
With organic growth of almost 5%, this start to the year confirmed the strength of its portfolio, reflected its "relentless" focus on execution and delivery, and its continued investment in brands and innovations.
"We have achieved further progress in developing a more sustainable platform of growth and in the premiumisation of our offering in Early Life Nutrition in China, broad-based growth in Waters, and gradual improvement in our Essential Dairy and Plant-Based activities.
"With the issuance of the first social bond by a multinational company and the B Corp certification of its subsidiaries in North America, Danone has also reached in the first quarter important milestones in its ambition to lead the way in creating and sharing value for all.
"We are reaffirming our confidence in the agility of our model to navigate a volatile environment to deliver our 2018 guidance and to accelerate towards our 2020 ambition," Faber said.
Danone shares have jumped 3% in early trading to €68.06.
Morning update
Rémy Cointreau generated sales of €1.3bn in financial year 2017-18, achieving reported growth of 2.9%. Sales climbed 7.2% in organic terms, attributed to an "excellent fourth-quarter momentum" – up 12.8%.
Growth acceleration in the full year was driven by the group brands up 9.2% on an organic basis, particularly by the House of Rémy Martin, up 13.2%, which delivered a strong performance across all geographical areas.
Liqueurs and spirits, adjusted for the deconsolidation of Passoa, delivered 4% organic sales growth, with a contribution from all brands.
The organic 10.4% decline in Partner Brands was driven by the end of third-party distribution contracts, with marginal impact on the group's current operating profit.
The group confirmed its guidance of growth in current operating profit for the financial year 2017/18, assuming constant exchange rates and consolidation scope.
Heineken Holding NV (HEIA) has reported consolidated beer volume up 4.3% organically in the first quarter, with growth in Asia Pacific, Americas, and Africa, Middle East & Eastern Europe more than offsetting lower volume in Europe.
Heineken volume increase 8.1%. Key markets contributing to this growth included Brazil, South Africa, Russia, Nigeria, Italy, Mexico and Vietnam. This more than offset lower volumes in the US, the Netherlands and China.
Reported net profit in the quarter was $260m, down from €293m in the comparable period last year.
On the markets this morning, the FTSE 100 rose 0.3% at 7,246.9pts.
Early risers include Devro (DVO), up 1.36% ad 224p, Sainsbury's (SBRY), up 1.1% at 260p, Premier Foods (PFD), up 1.7% at 38.5p and Stock Sprits Group (STCK), up 1% at 252.5p.
Fallers so far today include Whitbread (WTB), down 1.3% at 4,147p, Coca Cola HBC (CCH), off 1.6% at 2,476p, Associated British Foods (ABF), down 0.7% at 2,672p and C&C Group (CCR), down 1.1%% at €3.14.
Rémy Cointreau is down 2% to €113.40 this morning, while Heineken is down 2.1% to €87.74.
Yesterday in the City
The Office for National Statistics released the latest labour market data, showing the UK unemployment rate for the three months to February was 4.2% – the lowest since 1975.
The employment rate was at a record high during the same time period, at 75.4%.
The ONS reported the highest-recorded employment for 50-64-year-olds, which increased by 28,000 on the quarter to 8.9m.
The FTSE 100 perked up 0.4% by the close to 7,226.1pts.
Broker Credit Suisse downgraded global fmcg giant Reckitt Benckiser (RB) to underperform and cut its price target from 6,300p to 5,550p.
The broker argued that analysis of its top-line growth over the last two years suggested RB had pursued a strategy where higher selling prices were offsetting sales volume.
Credit Suisse warned: "We are particularly concerned about RB's OTC consumer health business, noting fewer science-based innovations and increased pressure from generics… Our analysis suggests that RB will be forced to reset pricing/increase investment to restore competitiveness and revive volume growth in developed markets."
Reckitt led the market fallers after the downgrade, falling down 3.2% to 5,806p.
Other fallers included Greggs (GRG), off 1.6% at 1.251p and Hilton Food Group (HFG), down 1.2% at 842p.
Stocks on the up included Associated British Foods (ABF), up 4.1% to 2,690p, Ocado Group (OCDO), up 3% at 525.4p, Fevertree Drinks (FEVR), up 2.4% at 2,753p, PJSC Magnit GDR (MGNT), up 2.34% at $19.15, Marks & Spencer (MKS), up 1.9% at 281.7p, McColl's (MCLS) up 2.6% at 238p and Carr's Group (CARR), up 3.5% at 148p.