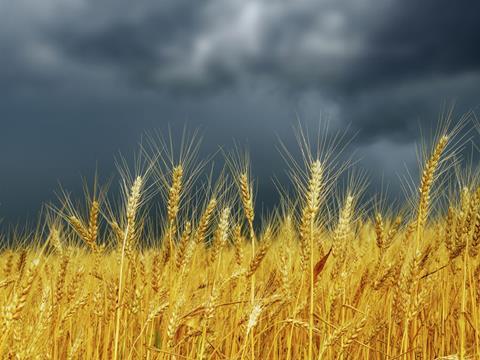 Top story
International agri-services group Origin Enterprises has experiences a double-digit revenue drop in the first quarter as delayed harvests hit revenues.
The group said it had experienced a slow start to the seasonally quiet first quarter of the financial year in the three months to 31 October due to delayed harvests and dry planting conditions in key geographies.
Group revenues fell 14.3% to €318.3m compared to €371.2m in the corresponding period last year – a 10.7% decline on an underlying constant currency basis.
The drop reflected an underlying volume reduction of 3.3% in sales of seed, crop protection and fertiliser in the period, together with the movement of fertiliser prices compared to the same period last year.
It said the planted area for autumn and winter crops is expected to be broadly in line with the prior year, with an increased cropping area in the UK, offset by reduced cropping in Continental Europe.
The improved level of autumn plantings in the UK is expected to deliver increased agronomy services, seed and crop protection volumes this year compared to its 2020 financial year, which should have a positive impact on group operating profits.
Ireland and the UK recorded a decrease in underlying agronomy services and crop input volumes of 3.3% in the period. A delayed harvest contributed to the ongoing reduction in the area of oil seed rape planted in the UK, with plantings expected to be down 12.2% on the prior year at 0.3 million hectares. This, together with a carryover of stock on-farm, impacted crop input volumes in Q1, it said.
Continental Europe recorded an underlying volume reduction in agronomy services and crop inputs, excluding crop marketing volumes, of 7.0% in the period.
Business-to-business agri-inputs had a "satisfactory" start to the financial year, recording fertiliser and animal feed ingredients volumes broadly in line with last year.
Digital agricultural services has maintained the positive momentum of last year, with over 1.4 million hectares on-boarded to the group's digital platform, compared to 1.0 million hectares in Q1 last year.
Looking forward, with the normalisation of crop plantings following an extremely challenging weather year in 2020, the group expects improved agronomy services and crop input volumes and a return to operating profit growth in 2021.
"Weaker emerging market currencies, the continued possibility of Brexit without a trade deal on 31 December 2020 and the ongoing COVID-19 pandemic still represent challenges for the group," it stated.
"Our scalable business model, diversified market positions, prudent risk management and capital allocation strategy, leave us well positioned to address these challenges."
Morning update
Agriculture supply group Wynnstay has upgraded full year profit expectations after stronger than expected trading in recent months.
Updating the market on trading for the financial year ended 31 October 2020, it said overall trading since June, when the group reported interim results, has been stronger than anticipated, especially in September and October.
As a result, the Board now expects that underlying Group pre-tax profit for its 2020 financial year will be significantly ahead of current market forecasts.
It said that, while the anticipated difficulties in its arable activities materialised in the second half of the financial year, trading across other activities has been resilient.
The poor planting conditions in autumn 2019 resulted in a historically low yield from the 2020 UK cereal harvest. Wheat volumes declined by an estimated 40% on the previous year, limiting volumes available for the group's grain trading operation.
Seed sales were also lower, with farmers using last year's unplanted product.
However, the group has benefited from better-than-expected feed sales in September and October. Sales from the specialist agricultural merchanting depot network also performed well, helped by a stronger red meat sector.
More generally, the board said it believes that the outlook for agriculture and farm commodities in the UK remains positive despite uncertainties around Brexit and that the group is well placed to take advantage of the opportunities that are expected to present themselves.
Meanwhile, the company is making a number of structural changes to support future growth and investment plans.
The new organisational structure will not include the board position of Agricultural Director. Andrew Evans will therefore step down from the board with effect from 1 December 2020 to take up his new role of group operations and feed director and lead the reorganisation at senior executive level.
FTSE 100 property giant British Land has reported a 14.9% drop in the value of it retail estate as it posted a first half loss of £730m.
It said financial performance for the period has been significantly impacted by Covid-19 and an already challenged retail environment.
Underlying Profit decreased by £45m (29.6%), primarily due to provisions for outstanding rent, service charge and rent deferrals made in light of Covid-19 and like for like decline in income.
Its overall portofolio valuation decreased by 7.3% to £10.3bn, with offices down 3.1% and retail down 14.9%.
Simon Carter, incoming CEO said: "I take on the role of CEO at a unique time, but what I've seen since returning to British Land, especially over the last six months, reinforces my belief in the strength of our business and gives me confidence in the future.
"Our first half results naturally reflect the challenges in retail. Against this backdrop, we remain focused on active asset management, working to maximise rent collection and keeping our units occupied with successful retailers. There is a clear preference from shoppers and retailers for out of town, open air retail parks. Our approach and attractive asset mix means that prior to the November lockdown, we were delivering significant outperformance on footfall and retailer sales and a steady improvement in rent collection levels.
"Going forward, we have four clear priorities for our business: realising the potential of mixed use; progressing value accretive development; addressing the challenges in retail; and active capital recycling."
It said retail will continue to be "tough", with occupiers continuing to be under pressure.
British Land said it will continue to be pragmatic in its approach to maximise occupancy and improve the sustainability of rents, which it expects longer term to restore investor confidence in the asset class.
It said this is more easily achieved at retail parks, which are aligned to retailers' online and reopening strategies, and where operational performance is ahead of market. Retail parks account for 48% of its retail portfolio.
"We will continue to engage proactively but pragmatically with occupiers, to maximise occupancy, deliver sustainable cashflows and progress our strategy of reducing our retail exposure," it stated.
On the markets this morning, the FTSE 100 has dropped another 0.3% to 6,348.4pts this morning.
Wynnstay has surged 14.5% to 345.8p so far this morning, with other risers including Science in Sport, up 4.8% to 33p and Stock Spirits, up 2.8% to 237.5p.
Fallers include Hotel Chocolat, down 2.8% to 345p, SSP Group, down 1.8% to 339.6p and Greggs, down 1.4% to 1,696p.
Yesterday in the City
Global markets lost some of their Monday gains yesterday, with the FTSE sliding back to close 0.8% down at 6,365.3pts.
Imperial Brands was one of the FTSE 100's strongest risers, jumping 7.3% to 1,505p after it revealed a rise in annual revenues and profits as the coronavirus outbreak has boosted in-home tobacco consumption in key geographies.
Elsewhere, there was something of a reset of Monday's gains, with strong gainers at the start of the week falling back yesterday including SSP Group, down 6.2% to 345.8p, Greencore, down 4.2% to 121.9p, WH Smith, down 3.5% to 1,432p and Compass Group, down 1.8% to 1,390.5p.
Also falling were DS Smith, down 2.4% to 332.8p, Kerry Group, down 2.2% to 118.7p, Premier Foods, down 2.2% to 89.1p, and Reckitt Benckiser, down 2.1% to 6,688p.
The day's risers included Applegreen, up 6.7% to 320p, Coca-Cola European Partners, up 6.5% to €35.78, Naked Wines, up 5.7% to 510p, Bakkavor, up 4.4% to 82.3p, Finsbury Food Group, up 4.1% to 63p and FeverTree, up 4% to 2,469p.