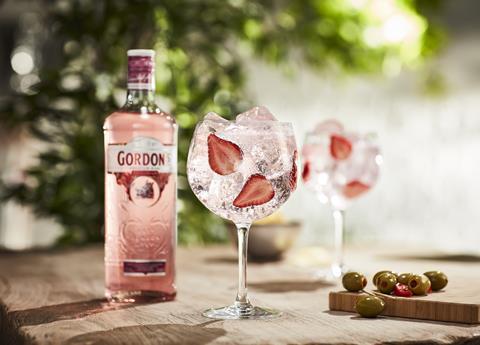 Top story
Diageo has raised its outlook for the first half on the back of a good start to its new financial year, with the US business performing ahead of expectations.
The drinks giant highlighted the US business in particular in a trading update ahead of its AGM.
Chief executive Ivan Menezes said it reflected resilient consumer demand in the US and the spirits category continuing to gain share within the total beverage alcohol market.
Increased retailer confidence is resulting in some re-stocking in the off-trade channel and the on-trade channel is now open in all states, with some capacity restrictions.
In Europe, off-trade demand remained robust and the on-trade channel was largely re-opened with the easing of lockdown measures in most countries. However, Menezes added the risk of additional restrictions remained where infection rates were worsening.
In China, the on-trade channel also continued to recover, although larger banqueting occasions were returning more slowly, the boss of the Guinness and Smirnoff maker said. While the on-trade began to re-open in Africa, India and Latin America and the Caribbean, Diageo expected the pace of recovery in those markets to be more gradual.
Menezes added that retail outlets in airports and travel sites remained "severely impacted".
"Our outlook for the first half of fiscal 21 has improved since the year-end, reflecting the good start to the year, particularly for our US business," he said.
"We continue to expect sequential improvement in organic net sales and operating profit compared to the second half of fiscal 20. Compared to the first half of fiscal 20, we still expect lower organic net sales and margin dilution.
"I am pleased with the resilient performance of our business in the current challenging operating environment and encouraged by our progress. While the pace of recovery is uncertain, I am confident in our strategy, the long-term fundamentals of our business and Diageo's ability to emerge stronger."
Shares in Diageo leapt 5.5% higher to 2,661.5p as markets opened this morning.
Morning update
Imperial Brands has delayed the timetable for the completion of its €1.2bn disposal of its worldwide premium cigar businesses as a result of the challenges of the coronavirus crisis.
The group will use €1.1bn of the cash to reduce its debt.
Imperial has agreed to complete both transactions on 29 October 2020, slightly delayed from the original timetable.
Gemstone Investment Holding and Allied Cigar Corporation have made a non-refundable down payment of €91.7m to Imperial.
In addition, the purchasers have agreed to pay a further non-refundable down payment of approximately €85m to Imperial by 7 October.
Imperial has also agreed to provide a six-month vendor loan at completion of up to €250m while the purchasers finalise long-term financing arrangements. All other terms remain in line with the announcement of 27 April.
The FTSE 100 got off to a positive start this week after Asian markets rose overnight. London's blue-chip index opened 1.5% higher to 5,929.42pts.
Risers this morning, aside from Diageo, include Just Eat, up 2.8% to 8,837p, Associated British Foods, up 1.4% to 1,869p, and Compass Group, up 1.4% to 1,201p.
Early fallers include Applegreen, down 3.3% to 300p, Naked Wines, down 2% to 434.1p, and Marston's, down 0.9% to 43.3p.
This week in the City
We'll get a sense of how the high street is coping in different categories tomorrow, with up-market chocolatier Hotel Chocolat reporting its full-year results and Greggs providing a trading update.
On Wednesday, there be some sense of the pain being felt in the hospitality world with a trading statement from catering giant Compass. There is also the latest BRC shop price index on Wednesday.
And Friday will see a trading update from logistics group Wincanton.
In the US, food ingredients group McCormick has its latest quarterly results on Tuesday, with PepsiCo and wine-to-beer group Constellation Brands to follow on Thursday.
In wider retail, this week also brings interims for Card Factory and Boohoo, with finals from ScS and a pre-close update from Topps Tiles.