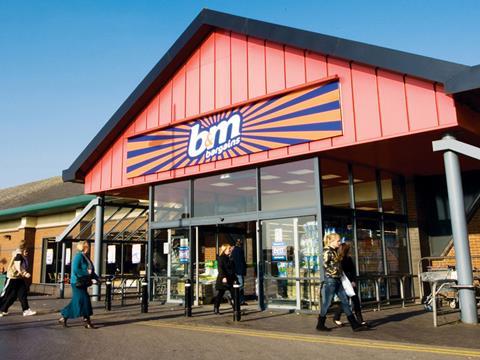 Top story
B&M European Value Retail has announced today it has seen a double digit jump in like for like sales during the lockdown period, despite a "significant fall" in customer numbers.
Announcing a trading update relating to the fourth quarter of its 2019/20 financial year and the first eight weeks of its new financial year to 23 May, the B&M Bargains owner said it continued to see "strong revenue growth" despite lockdown measures.
Fourth quarter trading was boosted by an exceptionally strong March performance on grocery, with B&M UK fascia like for like revenues of 6.6% over the quarter
B&M UK fascia LFL revenues have soared 22.7% in the first eight weeks of its new financial year, driven by exceptionally strong DIY and Gardening categories and despite a significant fall in customer count
B&M said this DIY and Gardening revenue growth represents a significant pull-forward of demand in those categories caused by warm dry weather and customers being at home during the lockdown, and the closure of most DIY and gardening retailers
If DIY and Gardening categories are excluded, the B&M UK fascia LFL over that 8 week period was 10.3%
However, the B&M UK business is experiencing higher than normal operating costs in distribution and at stores resulting from the application of social distancing measures put in place to protect our customers and colleagues, as well as the payment of premium wage rates during the Covid-19 peak period
It said 49 B&M UK fascia stores which had previously been temporarily closed have all now re-opened
It also reported a "strong" performance from Heron Foods in both the fourth quarter and the early weeks of the new financial year
B&M and Babou stores in France closed from 15 March and all but two re-opened on 11 May.
CEO Simon Arora commented: "We have encountered exceptionally strong demand in our UK business over recent weeks. Customers have been coming to our stores much less frequently through the lockdown but their average spend has been much higher than normal. I would like to thank them for their patience and consideration in observing social distancing inside and outside our stores during this period.
"Their safety, and that of our colleagues and customers, has been of paramount importance to us and that is why we have put a range of measures in place to minimise the risks of infection, including screened checkouts, distanced queuing and a frequent cleaning regime across the business… B&M is doing its bit in terms of keeping our customers supplied with the things they need week-in, week out during this period of enormous disruption to the normal operation of the business."
"We have seen a significant bring-forward of demand in some key categories and the remarkably warm Spring weather in the UK has been a major factor behind this during recent weeks. We are not expecting this current level of trading to continue as normal shopping patterns resume. Clearly, there is also considerable uncertainty in relation to both the progression of Covid-19 and the economic outlook and it is therefore hard to predict future trading levels."
B&M shares are up 3.5% to 382.2p so far this morning on the news.
Morning update
In this week's edition of The Grocer, there is analysis on how three of the big four supermarkets are growing faster than Aldi, who could pick up the sandwich business of stricken Adelie, DTC specialist Farmdrop's losses mount amid its need for continued investment and more.
Check out thegrocer.co.uk/finance for all the details later this morning.
Elsewhere, retail technology group Eagle Eye has posted a trading update for the year to 30 June 2020.
It said its business is responding as anticipated to the COVID-19 lock-down, with supermarket customers remaining extremely active, with associated revenue resilient, and all large customer implementations and projects progressing to plan.
However, its food & beverage, leisure and retail (non-grocery) clients have been impacted, representing a 10% decrease in monthly group revenue during COVID-19 lock-down period
To mitigate this Eagle Eye has taken cost management actions, including a reduction in ad hoc spend, travel costs and variable overheads related to Food & Beverage.
It said its sales pipeline continues to develop, but as anticipated new contract signings taking longer.
It has announce an extension of its contracts with Sainsbury's, to support the Nectar rewards programme, and Asda, for variety of digital promotions to customers and staff.
Adjusted EBITDA for the year ending 30 June 2020 expected to be at least £0.5m ahead of market expectations
It also said its current funding position is secure and sufficient headroom remains within the group's £5m banking facility to support existing growth plans
CEO Tim Mason commented: "For many of our clients, this has been a period of intense activity and change, requiring the implementation of new business models and customer engagement methods. I am proud of how our teams in the UK and internationally have responded to the situation, providing a high level of client support and continued innovation of our offering to support these changing dynamics, during challenging circumstances for us all.
"We are conscious we are only at the start of the impact of COVID-19 on the economy and the retail sector in particular and, therefore, while we believe digital, personalised connections with customers will continue to grow in relevance, we will maintain our strong focus to ensure we successfully navigate these challenging times for all."
Brewer and pubco Young's has announced details of its refinancing plan, while pulling its full year dividend in light of current market conditions.
Young's said that all its lending banks have now replaced the company's financial covenant tests at June, September and December this year and at March next year with an additional monthly £20m available liquidity test through to and including June 2021. They have also waived any technical 'cessation of business' breach resulting from the group's pubs being closed due to the coronavirus pandemic.
It has also entered into its new £50m syndicated term loan facility with NatWest and HSBC. This facility has been drawn and used to repay in full the £50m syndicated facility with RBS and Barclays that was due to expire in March 2021.
Additionally, it has entered into its new £20m bilateral revolving credit facility with NatWest. Young's does not now intend to draw on this facility but instead retain it as available liquidity to help the company meet various liquidity tests. This new facility matures next May, and the company has the option early next year to request an extension of its maturity date by six months and can do the same again later next year.
Meanwhile, in view of the ongoing closure of the company's pubs, the expected lower levels of trade when they re-open and the terms of the new revolving credit facility, Young's will not be paying an interim dividend for the current financial year ending 29 March 2021.
"The company's board is very mindful of the importance of dividends to Young's shareholders and intends resuming dividend payments as soon as is practicable, but no decisions have been made about when that will be," it stated.
On the markets this morning, the FTSE 100 has opened down 1% to 6,156.7pts as the international situation in Hong Kong weighs on global shares.
Early fallers include Compass Group, down 3.8% to 1,231p, Diageo, down 3.1% to 2,862.5p and SSP Group, down 2.6% to 290.5p.
Risers include Applegreen, up 5.7% to 336p, Wynnstay, up 5.4% to 295p and PayPoint, up 1.8% to 741.2p.
Yesterday in the City
The FTSE 100 continued its recovery yesterday as UK lockdown measures continue to ease, with the index ending the day up 1.2% to 6,218.8pts – its highest level since early March.
Food to go stalwart Greggs was one of the day's key risers, climbing 6.2% to 1,896p, while fellow retailer Hotel Chocolat gained 3.8% to 332p and FeverTree (FEVR) was up 3.7% to 2,079p on hopes pubs and bars will soon reopen.
A number of FTSE 100 names were amongst the strong risers – including grocery stocks Sainsbury's, up 3.3% to 192.2p and Ocado, up 3.2% to 2,102p. Other FTSE 100 risers included Unilever, up 3.1% to 4,330p, Coca-Cola HBC, up 2.9% to 2,080, and Reckitt Benckiser, up 2.7% to 7,136p.
The day's few fallers included Greencore, which fell 4.1% to 137.1p after a share price surge on Wednesday due to the collapse of rival Adelie.
Other fallers included Devro, down 1.6% to 160.6p and Britvic, down 1.2% to 754p after its first half results on Wednesday.