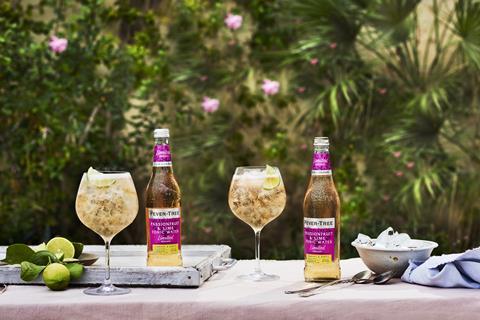 Top story
Fever-Tree has said it has made a "solid" start to its financial year, trading in-line with expectations despite logistics disruption and inflationary pressures.
In an announcement ahead of its AGM later this morning, Fever-Tree said on-trade sales have continued to build month-on-month after being hit in the UK by Omicron at the start of the year.
In the US and across key European and RoW markets, on-trade sales have been strong and are already well above pre-pandemic levels.
"As we look ahead to the summer months our brand strength, growing presence, and the close relationships we have built with our partners puts us in a strong position to take advantage of the consumer appetite to return to social occasions out of home," it said.
In the off-trade, the UK has continued to "rebalance" as the on-trade re-emerges and it laps last year's lockdowns. However, it said it remains well placed ahead of the key summer period.
Elsewhere, US consumer demand remains very strong and Fever-Tree's off-trade sales continue to show strong growth, with an increase of over 150% since pre-pandemic levels in 2019.
In Europe, the brand's strong sales and value share gains across our key markets remain "encouraging", and in Australia and Canada its category leader position is "enabling us to capitalise on and drive the trends in long mixed drinks".
The group continues to invest in innovation, with a number of product launches in the UK and Europe so far this year and more planned.
Meanwhile, it remains focused on scaling production in the US with its local bottling partner. The West Coast bottling line is operational whilst the East Coast line is gradually ramping up during the first half of this year, and once fully operational, will add further capacity and flexibility to its network
The group notes that it continues to operate "against an industry-wide backdrop of logistics disruption, most notably in relation to the shipping of product to the US, and inflationary cost pressures".
The ramping up of US East Coast production will help to mitigate these cost pressures, it said, through this year and more so into 2023.
"Against this backdrop our team remains focused on supplying our customers and maintaining our strong top line growth.
"We are not only confident in the long-term prospects for the brand, but also of delivering another good performance this year and are trading in line with the board's expectations."
Fever-Tree previously announced it expected full year revenue for the year to 31 December 2022 to be between £355m-£365m and EBITDA of between £63m-£66m.
The group's shares are up 2.8% to 1,566p so far this morning.
Morning update
Pub group Young's has seen a strong rebound in the year to 28 March as it bounced back into profit.
Total revenue for the period from continuing operations was £309m, up 251.1% against the prior year.
Despite battling against varying levels of restrictions and Christmas trade being significantly impacted by the Omicron variant, managed house sales were up 2.9% on a two-year (2020) comparative basis.
During the year, the group invested £73.7m, including £24.7m in its existing managed estate and £36.8m adding nine new pubs, including the acquisition of six pubs and hotels from the Lucky Onion group in February.
Total group adjusted operating profit from continuing operations was back up to £51.4m from a £33.2m loss last year, supported by the reduction in VAT.
Net debt reduced by £74.9 million to £173.m and, with adjusted EBITDA of £82.5m, net debt to EBITDA moved back to a "conservative" 2.1 times.
Sales since the end of its financial year have "performed extremely well", with managed house revenue for the last 13 weeks, against the pre-pandemic levels of 2019, up 17% and for the last 5 weeks versus a year ago up 38.5%.
CEO Patrick Dardis commented: "We have found ourselves navigating challenges at nearly every turn, whether it be storms, floods and tube strikes, or the unwelcome arrival of the Omicron variant which hampered our Christmas trading. I am delighted to announce a strong set of results that marks a return to normalised profitability with unrestricted trading towards the end of the year."
"It's been a great start to the new financial year, for the last 13 weeks revenue was up 17.0% versus pre-pandemic levels of 2019 and up 38.5% for the last 5 weeks against 2021. The Easter sunshine was a real boost, with some record weeks. We are looking forward to the extended Jubilee weekend where we hope to break more records. Young's are firmly back in business, with the firepower to deliver further growth."
"Having announced my intention to step down as Chief Executive after six years in the role, I am pleased to hand over the reins to my successor, Simon Dodd and the rest of the executive team, at the coming AGM in July. Simon was recruited three years ago with succession planning in mind, his excellent leadership skills, vision and operational experience will be great assets to Young's."
On the markets this morning, the FTSE 100 has slumped 1.7% back to 7,311.9pts.
Fallers include Tesco, down 5% to 252.8p, Deliveroo, down 3.9% to 88.6p, C&C Group, down 3.8% to 199.8p and Unilever, down 3.5% to 3,498p.
The few risers include Bakkavor, up 3.4% to 103.8p, Just Eat Takeaway.com, up 0.2% to 1,596.4p and Ocado, up 0.2% to 729.4p.
Yesterday in the City
The FTSE 100 ended the day down 1.1% back to 7,438.1pts yesterday, undoing the gains of Monday and Tuesday.
Premier Foods jumped 10.1% to 117.4p as it outperformed forecasts for trading profits in the year ended 2 April 2022 as it continued to gain market share and grow its brands faster than rivals across categories.
Pub group Marston's fell back 7.2% to 58p as like-for-like sales in the first half to 2 April remained below 2019 levels, with the Omicron variant hitting trading over the festive season.
Other movers included Hotel Chocoat, up 7.7% to 358p and Finsbury Food Group, up 2.9% to 71.5p.
Fallers included Nichols, falling 6.7% to 1,330p, Glanbia was down 4% to €11.31 and Bakkavor was down 4.3% to 101.4p.