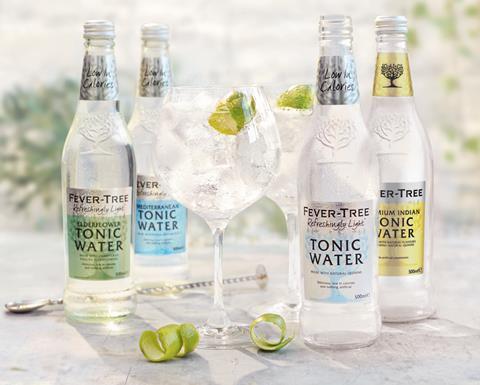 Top story
Revenues at premium mixer brand Fever-Tree Drinks have jumped 23% to £311.1m despite Covid restrictions hampering on-trade activity as shoppers enjoyed more cocktails at home.
However, margins at the company were squeezed in 2021 as a result of logistic challenges affecting global supply chains. Fever-Tree also warned a dramatic increase in commodity prices in recent weeks caused by the war in Ukraine had created uncertainty in relation to input costs for the year ahead.
Despite the reduction in margin, the group still managed to grow adjusted EBITDA by 11% to £130.9m in the 12 months ended 31 December 2021, with pre-tax profits £4m higher at £55.6m.
Off-trade sales remained ahead of 2019 levels in 2021, even as the on-trade reopened in the second half of the year, with Fever-Tree expecting changes in consumer habits to stick in the long term.
The group forecast revenues growth of between 14-17% to £355m-£365m in 2022 as it continued to benefit from demand in retailers, as well as the first full-year of trading in the on-trade for two years.
CEO and co-founder Tim Warrillow said the company had delivered "a great set of results" with "impressive" revenue growth in all the key markets despite another year of uncertainty and disruption.
"Whilst the tragic situation in Ukraine has resulted in significant uncertainty in relation to our input costs in the short term, the long-term global opportunity for Fever-Tree remains substantial and we are as confident as ever in the brand's ability to capitalise on this," he added.
"We are excited by the growing interest in the long-mixed drink category from retailers, spirits brands and consumers, especially given the increasing focus on premium segments, which places Fever-Tree, as the largest global premium mixer brand, at the centre of these trends."
The brand's growth in the UK during 2021 was slower than in overseas markets, with revenues up 15% to £118.3m, compared with a rise of 33% in the US to £77.9m and 35% in Europe.
While it maintained its number-one position in the UK off-trade, with almost 40% share, on-trade sales remained at 62% of pre-pandemic levels, with activity in the channel taking a hit at the end of the year as the Omicron variant slowed Christmas sales.
However, growth in the US was ahead of expectations and the brand surpassed Goslings and Schweppes to become the number one brand in ginger beer and tonic water in retail.
"This is a significant achievement and matches the position we have held in the UK, as well as several European markets, for a number of years," Warrillow said.
Shares in the group slumped 3.2% to 1,574.5p as investors reacted to warnings over short-term cost pressures.
Morning update
Alcoholic drinks supplier C&C Group has warned profits will be lower than forecast as the Omicron variant disrupted trading over Christmas.
The Bulmers and Tenants maker this morning guided operating profits expectations down to €45m-€47m, compared to €50m-€55m previously, as the Covid impact hit sales.
However, the group highlighted a return to "positive" trading in the on-trade as restrictions were lifted in January across the UK and Ireland.
C&C said it was back trading with 81% of direct delivered outlets in February versus the same month two years ago, with corresponding volumes at 68% and momentum building as outlets continued to reopen.
The trading update added: "We are operating in an evolving inflationary cost environment. Howevere we are afforded a degree of protection through our successfully executed €18m cost reduction plan, our recent price increases and input cost hedging.
"Over and above effective management of both operating and input costs, our well invested network and technology-led system continues to provide the platform for C&C to be the pre-eminent brand led drinks distributor in the UK and Ireland."
The group will announce its full-year results on 17 May.
Markets reacted positively to the news despite the profits warning, with shares jumping 4.7% to 199.7p.
Revenues have soared 40% at digital tech firm Eagle Eye Solutions to £15.1m in the six months ended 31 December 2021.
The group said it had experienced growth across all major geographical regions of North America, UK & Europe and Australia & New Zealand, winning new contracts with Halfords and other retailers.
Eagle Eye works with the likes of Asda, Tesco, Sainsbury's, Waitrose, Greggs and Pret a Manger on digital marketing through coupons, loyalty programmes, apps, subscriptions and gift services.
Adjusted EBITDA increased 50% in the half to £3.1m as a result of its growing sales.
Chief executive Tim Mason said: "With the pandemic having accelerated the digital strategies of retailers around the world, personalised digital engagement with consumers is more relevant than ever.
"The strong revenue and profit performance in the period, growth of our international customer base and continued successful consolidation in the UK, demonstrates our ability to execute on this opportunity.
"Our multi-year contracts and successful record of expansion with customers provides a growing recurring revenue base which, coupled with a record new business pipeline and supportive market drivers, underpins the board's confidence in another year of growth and the long-term success of Eagle Eye."
Shares in Eagle Eye soared 8% to 434p this morning.
Elsewhere, the FTSE 100 bounced back 1.2% to 7,261.64pts after US markets rallied overnight.
Early risers included McColl's Retail Group, up 9% to 2.2p, Just Eat Takeaway, up 7.7% to 2,654p, Deliveroo, up 6.7% to 114.7p, THG, up 6.2% to 87.7p, and Naked Wines, back up 6% to 369.4p.
Virgin Wines UK, British American Tobacco and Imperial Brands were among the morning's fallers, down 1.6%to 132.9p, 1.2% to 3,051p and 0.7% to 1,546.5p respectively.
Yesterday in the City
The FTSE 100 fell 0.3% to 7,175.70pts yesterday.
Virgin Wines UK fell back 0.7% to 134p following its interims, which showed revenues in line with a year ago despite the trading environment becoming more challenging.
Shares in rival Naked Wines plunged 11% to 348.5p, putting the stock down 23% in the past month and more than 40% since the start of the year. The business has become a target for shortsellers, who have low confidence in retail stocks in the current inflationary environment.
Other fallers yesterday included Vimto makers Nichols, down 7.1% to 1,300p, McBride, down 6% to 43.9p, and THG, down 5.4% to 82.6p.
Risers included Greencore, up 3.9% to 125p, British American Tobacco, up 2% to 3,086.5p, and Fever-Tree Drinks, up 1.7% to 1,627p.