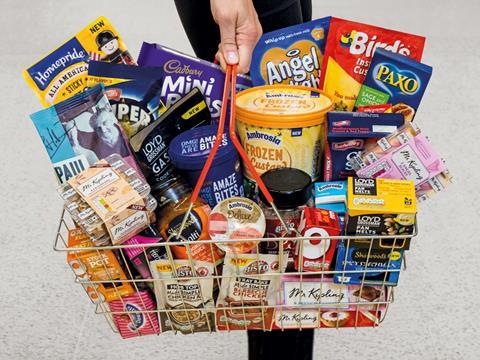 Morning update
Premier Foods (PFD) increased group sales by 1.1% in the first quarter of the year, driven by 2.9% growth in branded sales with standout performances from Ambrosia, Sharwood's, Bisto and Cadbury cakes.

Total UK sales grew 2.6% and branded sales 4.9% in its home country as both grocery and sweet treats delivered market share gains.
Its grocery division saw sales of £123.1m in the quarter, up 1.3% year on year. The flavourings & seasonings category grew more than 10%.
Bisto and Paxo both delivered strong revenue growth and market share gains in the quarter.
Bisto will launch a new range of convenient ready to use Gravy pots in the second quarter. Ambrosia benefitted from relatively cooler weather in June, gaining share in a growing category.
Sharwood's and Loyd Grossman in the cooking sauces category enjoyed double-digit growth, reflecting improved promotional plans, distribution gains and range expansion of curry pastes, the company reported.
The group saw growth in the quick meals, snacks and soups category: Nissin Soba noodles continued their strong trajectory from last year, more than doubling sales and volumes, but Batchelors sales were slightly lower because of the phasing of promotional activity.
Non-branded grocery sales grew 2.2% as contract wins in cooking sauces and stuffing were partly offset by Knighton Foods which saw some contract exits and customer de-stocking.
In sweet treats, sales increased 0.6% against the same period a year ago with branded sales up 7.1%.
Mr Kipling continued to deliver strong growth, with group sales up 10% and benefitting from the brand relaunch it received during 2018 but also further television advertising in the first quarter this year.
A new premium range of 'Signature' cakes is poised for launch in the second quarter to support Mr Kipling growth through the remainder of the year.
Cadbury cake sales grew in the UK because the later timing of Easter and improved seasonal ranges for the Easter period.
The group also launched a range of new Cadbury Dairy Milk slices in the quarter. Non-branded sweet treats – representing 9% of sweet treats sales value – fell 37.2% in the period because of the exit of lower margin cake contracts.
International sales were held back mainly because of slower sales in Ireland and were 18% down compared to the same period the previous year.
This was attributed to the "unwind" of Brexit-related stock in Irish customers' supply chains, the company said.
However, Premier said it expected the international business to return to sales growth.
Alastair Murray, acting chief executive, said he was pleased to report an encouraging start to the year with group sales up 1.1% and ahead 2.6% in the UK.
"As we previously noted, we are increasing our consumer marketing investment this year and both Mr Kipling and Batchelors have already benefitted from TV advertising campaigns in the first quarter.
"Many of our largest brands have built on strong category positions and grown market share, and we achieved branded growth in the quarter of nearly 3%. These figures provide evidence that the company's strategy is delivering results. Our expectations for the full year remain unchanged."
Morning update
Vimto producer Nichols (NICL) has announced that total group revenues in the half year to 30 June rose 10.2% to £71.6m as both stills and carbonates showed strong.
Revenue from Still products was up by 11.6% to £33.9m driven by Vimto dilute in the UK and Vimto concentrate sales to the Middle East.
Sales of carbonates products grew by 8.4% to £37.7m as a result of good performance in Africa performance and out of home growth.
In the UK, revenue increased by 6.2% to £57.1m as sales of Vimto grew by 4%, against "very strong" prior year comparatives. Elsewhere in the UK business, OoH sales increased by 11.8% to £21.5m.
Nichols said sales were strong in international markets, albeit against softer prior year comparatives.
International revenues totalled £14.5m in the period compared to £11.2m in the prior year, with sales to the Middle East in line with expectations at £4.6m. Sales to Africa grew by 12.6% to £7.6m, driven by strong execution in its core markets.
Earnings before interest, tax, depreciation and amortisation (EBITDA) increased by 9.7% to £15.3m.
Nichols said it had invested in infrastructure in the period to support trading growth, while administrative expenses include the retranslation cost of US Dollar and Euro currency balances reflecting adverse forex movements.
Therefore reported profit before tax at the half year was up a more modest 2% to £13.3m.
The company said UK trading conditions were expected to remain challenging but it was confident full-year earnings would be in line with its expectations thanks to the group's diversified business model and sales momentum.
Chairman John Nichols commented: "Nichols has delivered another good trading performance in the first half of 2019, with growth across both the UK and international markets.
"As a result, revenue, profit before tax and earnings per share have all increased during the period, and we have increased the interim dividend by 9.7%."
Nichols also announced that Tim Croston, who has been chief financial officer for 10 years, will step down by the end of next June.
Andrew Milne, who has been group commercial director since January 2016, has been promoted to group chief operating officer with immediate effect.
Hotel Chocolat (HOTC) has announced a trading update for the year to the end of June which saw revenues climb 14% to £132m.
The group opened 16 Hotel Chocolat locations in the year contributing 5% to group sales year-on-year.
Two of the new openings were in the USA. The group also entered into a joint venture in Japan which opened two locations in Tokyo.
Angus Thirwell, co-founder and chief executive, said: "I'm really pleased with our performance this year, delivering strong growth across all parts of the Hotel Chocolat multi-channel, direct-to-consumer model.
"New activities in the year included openings in the US and Japan; the launch of the Velvetiser - our in-home drinking chocolate system; and the introduction of our VIP ME rewards card scheme, all of which present substantial future growth opportunities."
The company's pace of innovation was "relentless", he said. "In our drinks and ices range we are seeing the most prolific new product Instagramming in our history, with Billionaire's Sundaes, Choc Shakes and Vegan Chocolate-Dipped Lollies generating lots of excitement."
The group's preliminary full-year results are scheduled for 24 September.
Tate & Lyle (TATE) has announced that Joan Braca, president, food & beverage solutions will leave on 30 August to take up a new role as sector chief executive, clear air, at Johnson Matthey.
Chapel Down Group (CDGP) has appointed Samantha Wren, who is chief executive of IPGL (Holdings) to the board as a non-executive director with immediate effect.
On the markets this morning, the FTSE 100 fell 0.2% to 7,565.5pts in early trading
Early risers include Devro (DVO), up 2.9% at 210p, McBride (MCB), up 1.9% at 68.3p, PayPoint (PAY), up 1.9% at 919p and Greggs (GRG), up 0.7% at 2,490p.
Fallers so far today include WH Smith (SMWH), down 1.4% to 2,056p, Premier Foods (PFD) fell 1.2% to 37p after reporting first-quarter results, Britvic (BVIC) fell 1.1% to 859p and AG Barr (BAG) slipped 0.6% to 618.9p following yesterday's 28.3% nosedive in the wake of its profits warning.
Yesterday in the City
The FTSE 100 closed up 0.6% at 7,577.2pts.
Johnson & Johnson (JNJ) has posted a 1.3% fall in second-quarter sales to $20.6bn.
It reported operational growth of 1.6% and adjusted operational growth of 3.7%
Alex Gorsky, chairman and chief executive, said: "We delivered solid second-quarter underlying sales growth and strong earnings growth that enables us to make investments in innovation to accelerate performance in each of our businesses.
"Our pipelines continue to progress with the launch of new products and several regulatory submissions and approvals, which positions us well to deliver the next wave of transformational products and solutions."
AG Barr (BAG) crashed 28.3% to close at 623p after issuing a shock profits warning. Nichols (NICL) fell 3.6% to 1,630p ahead of today's interims. Premier Foods (PFD), which publishes a first-quarter update this morning, fell 2.5% to 37.45p, Britvic (BVIC) fell 1.8% to 869p.
Stocks on the up included McBride (MCB), up 2.8% to 67p, Applegreen (APGN), up 2.4% at 488p, Reckitt Benckiser Group (RB), up 1.4% at 6,639p and Unilever (ULVR), up 1.3% at 5,091p.