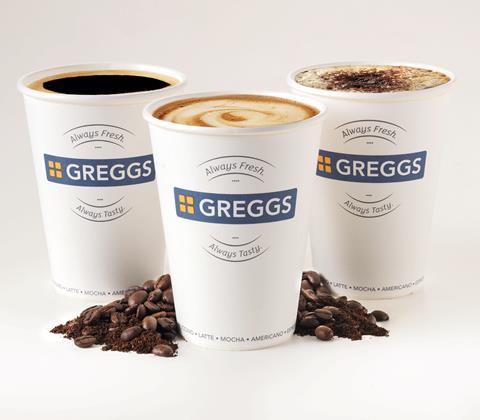 Top story
Bakery and food to go group Greggs (GRG) has posted an 8.6% rise in total sales for the 13 weeks to 30 September, driven by strong like-for-like growth and new store openings.
Like-for-like sales at company-managed shops were up 5% during the period.
Total sales have grown by 7.8% in the first three quarters of the year and like-for-like sales have increased by 3.9% so far.
A net figure of 66 stores were opened in the first three quarters – with 98 new shops opened and 32 closures.
The 98 new shops include 37 franchised units, predominantly in transport locations. It has 1,830 shops at the end of the period, including 194 franchised units.
Greggs has also completed 120 refits of existing shops year-to-date.
Greggs said investment in a new forecasting and replenishment system "is resulting in greater product availability for customers". Additionally, seasonal product range changes and the further development of its "balanced choice" menus options continue to drive increase sales.
Looking forward to the fourth quarter, Greggs has launched an autumn/winter menu including a new 'all day breakfast' wrap and added Thai chicken soup to its balanced choice range.
It added: "Work on our supply chain investment plan is progressing with the focus on redeveloping our Leeds bakery to consolidate manufacturing of small cakes and muffins. Alongside this we will trial our new SAP supply chain system in two sites ahead of broader deployment next year."
"Our investment in greater product availability and service has benefitted recent trading. As we have previously indicated, food ingredient cost pressures are a headwind, although we continue to expect that the rate of increase will begin to ease towards the end of the year. Accordingly, our expectations for the full year outturn remain unchanged."
Greggs is up 0.7% to 1,259p in early trading.
Morning update
Dutch bottling group Refresco (RFRG) has announced it has received a new unsolicited €1.6bn takeover proposal from PAI Partners.
The proposal regards a possible offer to acquire all 81.2 million issued shares in the company for €19.75 per share, representing an aggregate cash consideration of €1.6bn. The offer includes Cott's bottling activities, Refresco's latest acquisition which is expected to see completion before year-end.
Refresco said it is "carefully reviewing the proposal, taking into account the interests of all Refresco's stakeholders".
Refesco shares yesterday closed at €17.34, but are already 8.7% up to €18.84 in morning trading.
Britvic (BVIC) has announced this morning it will close its Norwich manufacturing site and shift production of Robinsons and Fruit Shoot to other UK factories, affecting 242 employees.
The decision was reached "following a detailed review of our manufacturing sites and distribution network" and production will now move to its manufacturing sites in East London, Leeds and Rugby.
Britvic said the move would "improve the efficiency and productivity of our manufacturing operations"
The site will close towards the end of 2019. Unilever, who co-own the site with Britvic, have been informed of the proposals.
Britvic has 242 employees on site that are affected by this decision. It said: "Every impacted employee will be offered a comprehensive package of support, including redeployment opportunities at other sites and outplacement services to help find alternative employment."
In November 2015 Britvic announced a 3-year business capability programme, investing a net £240m of capital in our GB manufacturing operations. It said it remains committed to this programme and the proposed closure does not affect the previously stated guidance.
Simon Litherland, CEO said: "Britvic is proud to be a British manufacturer and Norwich has been an important site for our business for many years. This is not a proposal that we make lightly and we know this is upsetting news for our colleagues."
"The changes we are proposing today present significant productivity and efficiency savings in our manufacturing operations, deliver environmental benefits and, coupled with our ongoing investment programme in our GB manufacturing operations, ensure that we have the flexibility and capability we need to respond to changing consumer trends faster and more efficiently. No decisions will be made prior to full and proper consultation with employees and our focus is on ensuring we offer our colleagues on-going support and assistance throughout this difficult time."
Elsewhere this morning, Coca-Cola HBC (CCH) has announced its CEO Dimitris Lois died yesterday.
CCH announced Lois was taking an illness-related leave of absence in mid-September.
Chairman Anastassis David commented this morning: ""We are deeply saddened by the news of Dimitris's death. It was a great privilege to know him personally and to work alongside him for so many years. Dimitris will always be remembered for his dedication to our people and for the values he stood for."
Michalis Imellos will continue in the role of Acting CEO. Further announcements will be made in due course.
Lindt & Sprüngli has announced that the CEO of its Switzerland business Kamillo Kitzmantel has decided to retire and will leave the Lindt & Sprüngli Group by end of December 2017.
As of January 1 2018 he will be replaced by Marco Peter who has been with Lindt & Sprüngli since the beginning of 2014, currently in the role as country manager of the Italian subsidiary Caffarel.
The company stated: "In his key role as CEO of Lindt & Sprüngli Switzerland, he successfully led the organization and turned the company into a dynamic, growing and profitable business unit in a challenging environment."
Dieter Weisskopf, CEO of the Lindt & Sprüngli Group, said: "I would like to take the opportunity to thank Kamillo Kitzmantel for his dedicated, strong commitment and outstanding contributions for the success of the company during all these years and wish him all the best for the future."
On the markets this morning, the FTSE 100 is flat at 7,440pts.
Britvic is down 0.3% to 748.5p on this morning's news, while Coca-Cola HBC has lost 1.7% to 2,513p.
Other movers include Real Good Food (RGD), up 4.4% to 24p, McBride (MCB), up 4.1% to 215.5p, Applegreen (APGN), up 2.3% to 547.4p and Hotel Chocolat (HOTC), up 2.2% to 311.8p.
Fallers include McColl's Retail Group (MCLS), down 3.3% to 275.7p, Premier Foods (PFD), down 1.7% to 40.3p and Conviviality (CVR), down 1.2% to 414p.
Yesterday in the City
The FTSE 100 opened the week up 0.9% to 7,438.8pts yesterday as a fall in the value of the pound boosted large listed companies once more.
FTSE 100 consumer stocks benefitting yesterday included Unilever (ULVR), up 1.4% to 4,379p and Coca-Cola HBC (CCH), up 1.3% to 2,557p.
Other grocery/fmcg risers included McColl's (MCLS), up 5.5% to 285p, Hilton Food Group (HFG), up 3.4% to 751p, WH Smith (SMWH), up 1.9% to 2,060p, Cranswick (CWK), up 1.3% to 2,990p, SSP Group (SSPG), up 1.2% to 544p and B&M European Value Retail (BME), up 1.1% to 391.9p
Monday proved another tough day for under-pressure Greencore (GNC), which slumped another 7.2% back to 182p as worries over its US business continued – this time related to a recall on some products in the country over a listeria scare. The share price represented the group's lowest level since 2013.
Elsewhere, PayPoint (PAY), fell 1.3% to 942p, McBride (MCB) was 1.7% down to 207p, Premier Foods (PFD), dropped 2.4% back to 41p and PureCircle (PURE) fell 3.7% to 475p.