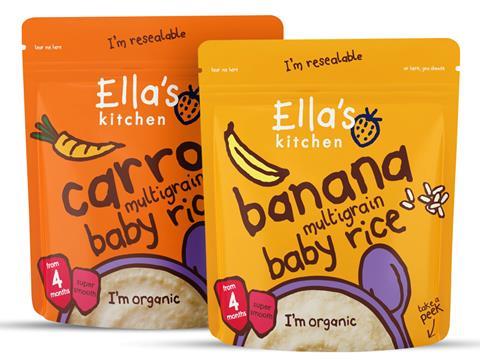 Top story
US food giant Hain Celestial (HAIN) has hired former Hershey executive Javier Idrovo to take over as CFO as it grapples with falling sales and investor pressure to divest international businesses.
Idrovo, who has nearly 30 years of experience in executive leadership, will join the business next month replacing current CFO James Langrock after just over two years in the role.
This was an "ideal time" as the company accelerated efforts to "simplify our organisation, standardise key processes and eliminate inefficient spending", CEO Mark Schiller said.
The restructuring, announced in February, will see the business refocus on its US operations after a "poor and unsuccessful" acquisition programme left it riddled with debt and with a mishmash of non-complementary brands, City sources told The Grocer last month.
The news of Idrovo's appointment came as Hain Celestial reported a further sales slump, with first quarter revenues down 7% year on year to $482.1m.
On an adjusted basis, excluding the impact of foreign exchange rates and divestitures, sales were down 1% in the three months to September 30.
In August, Hain sold UK rice brand Tilda for £280m and more recently there has been speculation in the market of a possible wholesale sell-off of UK subsidiary Hain Daniels to private equity giant PAI Partners.
This would fit within Hain Celestial strategy to simplify its portfolio and strengthen capabilities, as part of its strategic plan which Schiller described as "on track".
The company's International business, including its UK operations, saw sales fall 7% in the three-month period to $210.4m.
Gross profits dropped 10% to $35.5m, while margins decreased by 40 basis points to 16.9%.
Hain Celestial North America division saw sales decrease by 7% to $271.7m though profits increased 26% to $62.4m.
Overall the company remained in the red, posting a net loss from continuing operations of $5m. A year ago, Hain's net loss amounted to $23.1m.
Morning update
In this week's issue of The Grocer, read about Imperial Brands change of strategy, HelloFresh hopeful outlook and the crowdfunding effort of nutrition business Nutri-genetix looking to raise £100k to launch a genetically personalised nutrition shake.
Visit https://www.thegrocer.co.uk/finance for more details.
The FTSE 100 opened 0.4% lower at 7,377.62pts.
Risers included British American Tobacco (BATS) up 0.6% at 2,881p, Associated British Foods (ABF) up 0.4% at 2,441p and Nichols (NICL) up 0.5% at 1,557p.
Tesco (TSCO) began the day down 0.5% at 240.80p, Imperial Brands (IMB) down 0.5% at 1,763p, Ocado (OCDO) down 0.3% at 1,277p and Morrisons (MRW) down 0.5% at 199.04p.
Yesterday in the City
The FTSE 100 ended the day rising 0.1% to close at 7,406.41pts.
Risers saw Tesco (TSCO) close 1.8% higher at 241.60p, Marks & Spencer (MKS) up 5.4% at 191.85p, Tate & Lyle (TATE) up 5.2% at 698p and Fevertree (FEVR) up 2.6% at 1,810.50p.
Among the fallers, Unilever (ULVR) closed 0.9% lower at 4,648.50p, Imperial Brands (IMB) down 1.1% at 1,771p, Ocado (OCDO) down 3.2% at 1,285p and Greggs (GRG) down 1.1% at 1,778p.