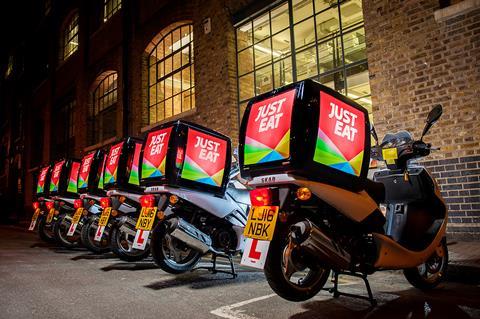 Top story
Takeaway giant Just Eat has enjoyed a 46% surge in global sales in the third quarter as the coronavirus pandemic kept consumers at home.
The group reported revenues of £151.4m in the three months from July to September, taking sales in the year to date to £408.3m, a rise of £110m, or 37%.
In the UK, sales were up 43% to £46.4m in the third quarter despite the government's Eat Out to Help Out scheme sending customers flocking to restaurants across the country in August. Revenues in the UK are up 27% so far this year to £123.2m.
CEO Jitse Groen said: "Order growth at Just Eat Takeaway.com further accelerated, consequently widening the gap to competitors in our key markets. We have continued to generate strong adjusted EBITDA, while investing aggressively, and are well-positioned for autumn and winter, our traditional growth season."
Order growth accelerated compared with the prior quarter, leading to a widening gap to competition in key countries, including the UK and Canada. Australia was the fastest-growing country, delivering market share gains with triple-digit order growth in the quarter.
Just Eat Takeaway.com added it had started an aggressive investment programme in the legacy Just Eat countries to strengthen its competitive positions, significantly increasing spending on marketing and sales. This programme has delivered accelerated growth while maintaining strong adjusted EBITDA.
The company continued to enhance its restaurant selection, driven by several new partnerships, including the roll-out of approximately 800 McDonald's restaurants and 300 Greggs locations in the UK.
The integration of Just Eat and Takeaway.com was also on track, the business said.
On 7 October, the acquisition of Grubhub was approved by the Just Eat extraordinary general meeting. Subject to satisfaction of conditions, completion of the transaction is expected to occur in the first half of 2021.
Shares in Just Eat soared 5.7% to 9,344p as the markets opened this morning.
Morning update
Bakkavor's chief financial officer Pete Gates is leaving the food manufacturer after ten years with the company.
Gates, who is also an executive director at Bakkavor, told the board he wanted to retire at the end of the year.
Ben Waldron, the current president of the business' US division, will take over as CFO on 27 December 2020.
Waldron joined Bakkavor as group financial controller in 2011 and then became head of strategic development, supporting the group's IPO in 2017 and leading the acquisition of Haydens Bakery, and the disposal of non-core business in the UK and Europe. In January 2019, he took on responsibility for the US business. The company said he had "successfully transformed" the US operations.
He will be replaced as president of Bakkavor USA by Pete Laport, who joins the company on 19 October 2020. Laport has held management, operational and commercial roles at PepsiCo and Nestle and led the global supply chain for Dunkin' Donuts and Baskin-Robbins ice cream and for fresh prepared salad producer Ready Pac. His most recent role was with Revlon as global chief supply chain and manufacturing officer.
In addition to the changes, the board also announced that in recognition of the importance of Mike Edward's role in leading the UK business as chief operating officer, he has been appointed as an executive director, effective 27 December. Edward joined Bakkavor in 2001, becoming chief operating officer in 2014.
The board is also making progress with a search for an additional independent non-executive director.
Bakkavor chairman Simon Burke said: "It has been a pleasure for us all to work with Peter and he has played a most important role, especially in steering Bakkavor through its IPO and establishing us in the public market. He will be greatly missed. On behalf of the board and shareholders, I want to thank him for this and to wish him well in retirement.
"Equally, I am delighted that Ben Waldron will be joining the board as our new CFO. Ben was the outstanding candidate in what was a broadly-based search, and his very successful term at our US business means he will bring strong operational insight to the role."
Bakkavor CEO Agust Gudmundsson added: "I would like to add my sincere thanks to Peter. During his ten years with the group, he has played a major part in our development, growth and success and has supported me immensely in creating the business that we are today. I want to extend my thanks to him for his contribution, loyalty, professionalism and sound advice and wish him the very best for his future retirement.
"I am also delighted with Ben's appointment as CFO. Ben has made a major impact in the US, successfully transforming our operations and I am confident in his capability to strengthen our finance function as our new CFO.
"Mike has excelled during the pressures and uncertainty surrounding Brexit and more recently during our response to the Covid-19 pandemic, maintaining continued high service levels and technical standards and further strengthening our customer relationships. This appointment reflects his success and the significant contribution he has made to the group."
Pete Gates joined Bakkavor as interim group treasurer and was appointed CFO in November 2010. During his career with the company, he has supported its development from a private group through to a public company, simplifying the group's ownership structure and strengthening its financial position. He also supported the drive to refocus the international expansion to concentrate on the US and China, has overseen several acquisitions and disposals, and led the company's IPO process.
Devro, which manufacturers collagen products for the food industry, has appointed Rohan Cummings as chief financial officer and a new member of the board.
He will join the business on 1 December 2020 and Jackie Callaway will step down as executive director and CFO on 30 November.
Cummings is currently the CFO of Asahi International, part of Asahi Group Holdings, the Japanese global beer, spirits, soft drinks and food business group. From 2002 until 2016, he spent 14 years at SABMiller in a range of finance roles and in that period lived and worked in Italy, Slovakia, Switzerland, Russia, the UK and South Africa.
Devro said Cummings played an important role in the carve out of the businesses acquired by Asahi Group in 2016 as part of the AB InBev acquisition of SABMiller.
Devro CEO Rutger Helbing said: "I am delighted to welcome Rohan to Devro. With his broad finance and international background, as well as his strong track record of helping businesses to grow, I look forward to Rohan using that experience to contribute towards delivering Devro's 3Cs strategy and growth ambition.
"I would also like to thank Jackie for her contribution over the last few years and wish her well in her future endeavours."
Stock Spirits Group, owner and producer of branded spirits and liqueurs principally sold in Central and Eastern Europe and Italy, has issued a trading update for the year ended 30 September 2020.
The business said overall trading for the year was ahead of expectations, with the impact of Covid-19 less than expected in the second half thanks to a strong off-trade performance as hospitality was locked down. Earlier relaxation of restrictions in its markets than forecast also helped the group, as well as its brands benefitting from the trend towards staycations.
The Polish and Czech spirits markets, which together deliver almost three-quarters of group revenues, continued to show growth in both volume and value terms despite excise increases during the year and the subsequent Covid-19 impact.
"We are pleased with the strong performance of our Polish and Czech businesses, both of which achieved volume and value growth," Stock said in the update.
The Polish business outperformed the total vodka market, with a strong performance from the flavoured vodka portfolio, where innovation helped gain both volume and value share.
The Czech business also grew absolute retail value sales more than any other spirits competitor in the market.
Results will be announced for the year ended 30 September 2020 on 2 December.
Nestlé has completed its acquisition of Aimmune Therapeutics. The business will join Nestlé Health Science (NHSc) as a stand-alone business unit called Aimmune Therapeutics.
"Nestlé Health Science's acquisition of Aimmune Therapeutics marks an important milestone in our constant pursuit of innovative, science-based nutritional solutions to support healthier lives," said Greg Behar, CEO of NHSc.
"Aimmune's Palforzia, the first medication approved for treating peanut allergy, is a game-changer and it's only the beginning. Aimmune's pharmaceutical expertise and infrastructure will complement our existing research and development to further drive growth globally."
Aimmune will continue to be run from Brisbane, California. Andrew Oxtoby has been named as Aimmune's president and CEO, along with a new executive leadership team. Oxtoby was previously Aimmune's chief commercial officer.
The development program for Aimmune – which consists of the potential use of Palforzia in toddlers and adults, multiple clinical development programs in other allergies, and the development of the monoclonal antibody AlMab7195 – will proceed as planned.
Yesterday in the City
The FTSE 100 drifted down another 0.5% to 5,969.71pts yesterday as the unemployment figures for the UK jumped.
Supermarket stocks all recorded good days after the latest Kantar and Nielsen figures showed shoppers once again stocking up cupboards in September and online sales booming.
Ocado, which has seen its stock value soar this year, was highlighted by Kantar as a particular winner last month as its new partnership with M&S gave its latest figures a boost. Its shares rose 0.8% to 2,462p yesterday.
M&S was not so lucky, with its shares plummeting another 2.8% to 94.8p as fears over its high street exposure and struggling clothing business weighed on market sentiment.
Tesco increased 1.5% to 222.4p, Morrisons was up 1.3% to 174.6p and Sainsbury's climbed 1.2% to 202.5p.
Other risers yesterday, included Applegreen, up 3.3% to 310p, Hotel Chocolat Group, up 3.3% to 357.5p, and Naked Wines, up 2.1% to 439p.
SSP Group among the fallers, down another 5.2% to 187.3p as worries about a winter of more lockdowns hit the beleaguered Upper Crust owner. Devro was also down 4.5% to 165p, as was Real Good Food, which was down 4.5% and is worth just 4.3p a share.