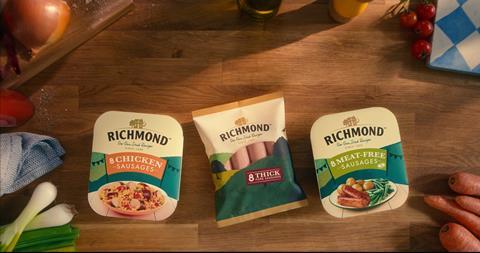 Top story
Irish food and ingredients giants Kerry Group (KYGA) has posted a double-digit rise in annual profits on the back of solid volume growth and the contribution of acquisitions.
The group posted a 9.6% increase in revenues to €7.2bn in 2019, reflecting volume growth of 2.8%, flat overall pricing, a 4.7% boost from M&A and a further 2.1% contribution from currency fluctuations.
Growth was primarily driven by its Taste & Nutrition division, which achieved good volume growth in the Americas, a solid performance in Europe and continued strong growth in APMEA.
The division's revenues increased by 12.5% to €6bn, reflecting volume growth of 4%, pricing increase of 0.1% related to raw material movements, translation currency impact of 2.6% and contribution from business acquisitions of 5.8%.
Consumer Foods delivered a solid underlying performance versus the market, offset by the impact of the ready meals contract exit previously announced.
Consumer Foods sales decreased by 2.4% to €1.3bn, reflecting volume decline of 2.2%, pricing decrease of 0.5% related to raw material pricing pass-through and market pricing, and positive translation currency impact of 0.3%
Kerry said it delivered a "robust performance in the context of a subdued UK marketplace", where lower consumer confidence impacted overall market volumes.
The Richmond chilled sausage range delivered a solid performance, led by growth in chicken sausages and the new plant-based sausage which was launched at the end of September, along with a range of meat-free products under the Naked Glory brand.
Chilled meals continued to be impacted by reduced promotional activity, while frozen meals had a good performance across the range.
Group trading profit increased by 12.1% (9.5% in constant currency) to €903m, reflecting growth and the contribution from business acquisitions.
Group trading margin increased by 30bps, reflecting portfolio enhancement, operating leverage, efficiencies and acquisitions, partially offset by Brexit risk management costs, investments for growth and net investment on the KerryExcel programme.
Kerry's industry-leading research and development expenditure increased to €291m (from €275m in 2018) due to additional investment in Taste & Nutrition.
CEO Edmond Scanlon commented: "We are pleased with the business performance and the strategic development of the Group in 2019. Taste & Nutrition delivered good volume growth, particularly against the backdrop of softer market volumes in some developed markets. We also enhanced our trading profit margin and achieved growth in adjusted earnings per share of 8.3% in constant currency.
"Significant progress was made right across our strategic growth priorities of taste, nutrition, foodservice and developing markets. We successfully integrated a number of strategic acquisitions, expanded our strategic footprint in high growth developing markets, while further enhancing our industry-leading global integrated solutions portfolio."
Kerry shares are up 3.6% to €121.20 so far this morning.
Morning update
On the markets this morning, the FTSE 100 is back down 0.4% to 7,404.8pts.
Fallers so far this morning include PayPoint, down 1.8% to 933p, Glanbia (GLB), down 1.1% to €9.99 and PZ Cussons (PZC), down 1% to 189.6p.
Early risers include Stock Spirits Group (STCK), up 0.9% to 222p, Reckitt Benckiser (RB), up 0.8% to 6,371p and Hilton Food Group (HFG), up 0.7% to 1,084p.
Yesterday in the City
The FTSE 100 ended the day up 0.3% at 7,433.3pts.
Risers yesterday included Eagle Eye Solutions, up 3.5% to 237p, Bakkavor, up 3% to 139p, Science in Sport (SIS), up 2.1% to 48p, Marston's (MARS), up 1.7% to 105.8p, Carr's Group (CARR), up 1.6% to 157p and Domino's Pizza Group (DOM), up 1.5% to 318.7p.
The supermarkets showed decent gains, with Sainsbury's up 1.2% to 208.4p, Morrison (MRW), up 1% to 183.5p and Tesco (TSCO), up 0.6% to 257.4p.
Yesterday's fallers included Total Produce, down 4.4% to 110p, FeverTree (FEVR), down 3.2% to 1,399.5p, AG Barr (BAG), down 2.9% to 578p, McBride (MCB), down 2.4% to 66.4p, DS Smith (SMDS) down 2% to 358.6p as it announced the departure of its CFO, Britvic (BVIC), down 1.5% to 918.5p and Imperial Brands (IMB), down 1.5% to 1,798.6p.