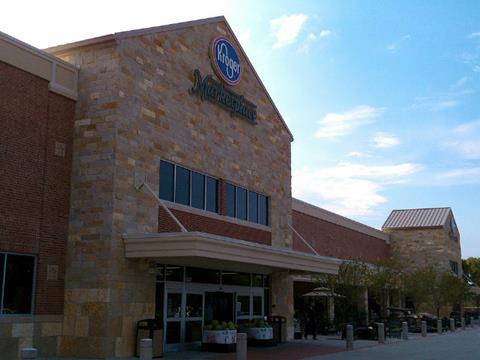 Top story
Shares in US supermarket group Kroger jumped 9.6% yesterday after it announced first quarter earnings comfortably above analyst expectations.
Fresh from signing an online supply agreement with Ocado (OCDO), Kroger announced a surge in first quarter earnings.
Net earnings rose to US$2bn in the quarter to 26 May, with adjusted net earnings of US$626m.
This compares to net earnings for the first quarter 2017 of $303m and adjusted net earnings for the first quarter 2017 of $546m.
The group said its Kroger's jump in earnings was slightly ahead of the company's internal expectations due to the great start to Restock Kroger, including process changes that led to especially strong cost controls and alternative revenue streams.
Total sales increased 3.4% to US$37.5bn billion in the first quarter compared to $36.3bn in the same period last year.
Kroger reported identical supermarket sales, without fuel, of 1.4% for the first quarter of 2018. Including Kroger Specialty Pharmacy and ship-to-home solutions, Kroger's identical sales, without fuel, were 1.9% in the first quarter.
CEO Rodney McMullen commented: "Restock Kroger is off to a fantastic start. Everything we do supports our customers engaging seamlessly with Kroger. Kroger is creating the future of retail by innovating our core business and adding exciting partnerships like Ocado and our planned merger with Home Chef.
"We are on track to generate the free cash flow and incremental FIFO operating profit that we committed to in Restock Kroger. We are confident in our ability to deliver on our plans for the year and our long-term vision to serve America through food inspiration and uplift."
Kroger did admit Kroger its net total debt to adjusted EBITDA ratio will increase throughout the year due to increased borrowings to fund its investment in Ocado, its planned merger with Home Chef, and tax payments related to the gain on the sale of the convenience store business unit.
Kroger shares jumped 9.6% to hit their highest level since January at $28.73.
Morning update
In this week's edition of The Grocer, New Covent Garden soup owner Daniels Chilled Foods has slumped to a £9.1m pre-tax loss amid plunging sales and widespread restructuring. Plus, analysis of Iceland's slowing sales, food surplus distributor Company Shop posts a significant rise in sales and profits, Ice cream giant Froneri returns to underlying profitability in its first full year of trading and more.
Check out thegrocer.co.uk/finance this morning for the full details.
Premier Foods has leapt to the defence of CEO Gavin Darby, calling for investors to back his re-election to the board after its second largest investor, Oasis Management, said it will vote against him at the group's AGM. Click here for the story.
In wider retail, House of Fraser crucial CVA vote takes place this morning, with the retailer tipped to overcome protesting landlords and win approval for the rescue package.
On the markets this morning, the FTSE 100 has rebounded 0.3% to 7,580.1pts.
Early risers include Ocado, again, up another 2% to 1,061p, Britvic (BVIC), up 3.5% to 775p and Hilton Food Group (HFG), up 1.3% to 932p.
Fallers include McBride (MCB), down 2.1% to 137.4p, C&C Group (CCR), down 1.5% to €3.17 and Premier Foods (PFD), down 0.6% to 39.25p.
Yesterday in the City
The FTSE 100 slumped 0.9% to 7,556.4pts after the Bank of England signalled an interest rate rise could be imminent.
The Bank's Monitor Policy Committee held UK interest rates at 0.5%, but a 6-3 split in the vote suggested an interest rate right could be closer than currently priced by the markets. The pound strengthened on the news, but stocks were hit.
Big consumer names hit yesterday included Sainsbury's (SBRY), down 2.7% to 623.8p, Greencore (GNC), down 1.5% to 181.6p, Tesco (TSCO), down 1.3% to 256p, Imperial Brands (IMB) down 1.2% to 2,674p and Coca-Cola HBC (CCH), down 1.1% to 2,555p.
Other fallers included Paypoint (PAY), which plunged 9.1% to 936p and McColl's (MCLS), down 7% to 200p.
In signs that the market is concerned about the shortage of UK Co2, AG Barr (BAG) fell 2% to 680p and Britvic (BVIC) was down 1.8% to 761p.
Defying market gravity was Ocado (OCDO), which jumped a further 3.8% to 1,040p to add to Wednesday's share price surge after broker Peel Hunt dubbed it the "Microsoft of retail".
Other risers included British American Tobacco (BATS), up 1.6% to 3,839p and WH Smith (SMWH), up 1.1% to 2,056p.