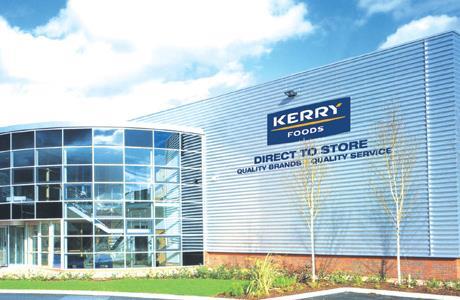 Top story
Revenues and profits were hit at Kerry Group in the first half of the year as the global closure of foodservice businesses hit its business in the second quarter.
Kerry reported revenue of €3.4bn in the first half of the year, which was down 4.3% versus the same period last year, reflecting a volume reduction of 6%, increased pricing of 0.4%, contribution from acquisitions of 1.2%, and a favourable translation currency impact of 0.1%.
Its taste and nutrition business a revenue drop of 5.6% as business volumes in the foodservice channel declined 27% in the first half of the year, with many out-of-home food and beverage outlets closed for an extended period of time.
Revenue in its consumer foods division was down 6.2% €647m, reflecting lower business volumes primarily due to the impact of a ready meals contract exit and transaction currency.
The Richmond sausage range delivered a strong performance, while the recently launched meat-free ranges under both Richmond and Naked Glory brands performed very well in the period.
Frozen meals had a good performance across the range. However, the chilled meals category was impacted by reduced consumer impulse purchases, while its 'food to go' range experienced variability in sales performance across the period.as Fridge Raiders delivered good growth in the first quarter but was challenged across the second quarter
Kerry Group reported a 17.5% drop in trading profit of €316m, with trading profit margin decreasing by 140bps to 9.3%, primarily due to the significant operating deleverage impact resulting from the sharp decline in foodservice orders once lockdown measures were introduced globally, with additional COVID-related costs being partially offset by cost mitigation actions.
CEO Edmond Scanlon commented: "The first half of 2020 has been an unprecedented period due to the COVID-19 pandemic, and I am immensely proud of the tremendous efforts of our people in supporting our customers and local communities throughout this period, aligned to our purpose to Inspire Food and Nourish Life.
"We had a strong start to the year, prior to restrictions on movement impacting business performance as we moved through the first quarter. As anticipated, we have seen a significant impact on our Taste & Nutrition business - particularly our foodservice channel, where the impact was most pronounced in April, with the channel recovering well since then. Performance in our retail channel improved in the second quarter, primarily through increased consumer demand for authentic cooking, plant-based offerings and health and wellness products.
"In spite of the challenges arising from COVID-19, we continued to make good progress on a number of fronts aligned to our key strategic priorities. Our global operations and supply chain continue to demonstrate resilience and engagement with our customers has been overwhelmingly positive, which gives us confidence in the trajectory of business recovery. We will emerge a stronger organisation, as this period of uncertainty continues to enhance Kerry's role as our customers' most valued partner."
Kerry shares are up 3.1% to €112.20 so far this morning.
Morning update
British American Tobacco has reported a 0.8% increase in revenue in the first half of the year despite a continue drop in sales volumes.
Reported revenue increased 0.8% to £12.3bn, driven by an 8.5% improvement in price mix reflecting "the strength of our differentiated brand portfolio".
Total cigarette and THP (tobacco heated products) volume declined 6.3% to 315bn sticks, with cigarette volume down 6.5% and THP volume up 9.1%.
COVID-19 led to a sustained impact on its travel retail business due to international travel restrictions, acting as a negative drag on total cigarette and THP volume of 1.1%.
Excluding GTR, cigarette and THP volume declined 5.3% against an estimated industry decline of around 6%.
BAT said that while cigarette volume in developed markets has been largely unaffected, volume in emerging markets was been impacted by government mandated factory closures and sales restrictions including in South Africa, Mexico and Argentina, as well as the severity and duration of lockdowns in a number of other markets, particularly in APME.
Reported profit from operations was up 16.4% to £5bn, with reported operating margin up 550 bps at 41.5%, as the prior period was impacted by the charge in respect of the Quebec class action in Canada.
For the full year, BAT has guided to constant currency adjusted revenue growth between 1-3%, reflecting the previously announced 3% headwind on group adjusted revenue from COVID-19 with our forecasts assuming the global recovery from the pandemic continues in the second half
Chief executive Jack Bowles commented: "I would like to thank our staff, customers, partners and suppliers for working tirelessly through this difficult period. We expect the coming months to bring continued uncertainty. Nevertheless, we will continue to invest in accelerating our strategy. Building on our excellent momentum, we are confident that we will exit this crisis as a stronger and better business."
Pet retail specialist Pets at Home Group has posted a slower first quarter after a strong end to its previous trading year.
The group said sales for 16 week period from 27 March to 16 July 2020 were down 1% with like for like revneues down 1%.
A like for like revenue collapse of 13.5% over the initial eight weeks during the lockdown period was offset by like for like revenue growth of 12.0% over the subsequent eight weeks.
Retail revenue and LFL revenue both increased 0.4%, with performance across the quarter as a whole reflecting strong merchandise sales, which mitigated the revenue impact of closing its grooming salons and sale of pets during the first eight weeks, as well as a reversal of the exceptional, brought forward demand witnessed in the closing weeks of the fourth quarter.
Online revenues grew 71%, with previous investment in capacity supporting record order volumes and a step change in participation of retail revenue from 9.8% in the prior year to 16.6% in the first quarter.
Vet Group revenue and LFL revenue was down 10.9% and 9.3% respectively, reflecting the impact of regulatory restrictions on permitted procedures during the early stages of the pandemic on joint venture fee income and customer sales in our company managed practices and referral centres.
CEO Peter Pritchard commented: "The effects of COVID-19 continue to have an unprecedented impact on all of our lives.
"In spite of the rapid, wide-ranging and devastating effects of the pandemic, we have remained open for our customers throughout the period and we are emerging as a stronger business. The inherent resilience in our pet care model and the underlying pet care market, as well as encouraging signs of increased pet ownership, all underpin our confidence in seizing the future and progressing specific, strategic priorities. The significant investment in our omni-channel business is a good example of this, representing an important milestone, not just for our business and customers, but also as part of our commitment to longer term regional job creation and retention.
"While much has changed, and continues to do so, we remain confident in the long-term sustainability of our pet care business, where the love of pets and the role that they play in our lives is only increasing."
On the markets this morning, the FTSE 100 is back up 0.4% to 6,017.4pts today.
Risers so far today include Pets at Home, up 11.2% to 285p, Bakkavor, up 5.2% to 68.4p and British American Tobacco, up 2% to 2,709p.
Early fallers include Stock Spirits, down 2.9% to 219.5p, Nichols, down 2.3% to 1,305p and Hotel Chocolat, down 1.7% to 290.1p.
Yesterday in the City
The FTSE 100 dropped back below 6,000pts for the first time since Mid-May yesterday as it dropped 2.3% back to 5990pts on fears that global cases of coronavirus are rapidly rising once more.
Nestle fell back 0.7% to CHF109.15 after posting its first half results yesterday, while AB InBev was down 0.5% to €48.23 and Danone was flat at €57.04 after their own interims.
Compass Group was up 0.4% to 1,074p despite its plunge in third quarter revenues driven by the lockdown.