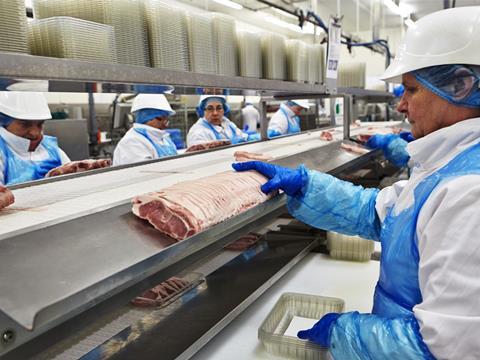 Top story
Protein supplier Cranswick (CWK) has posted first half revenue growth of just 0.6% as export sales fell back amid lower pig prices and softer international demand for pork products.
Sales in the six months ended 30 September 2018 were in line with expectations, rising 0.6% to £719.2m as rising sales of poultry, sausages and continental products offset lower sales of other pork related categories.
Total Fresh Pork revenue fell by 5.5% due to lower wholesale and export demand, with slightly fewer pigs processed as a direct consequence.
However, retail sales increased by 4.7%, underpinned by strong volume growth, as the World Cup and summer weather combined to deliver a strong barbecue season as well as good growth in added value convenience ranges. This growth was offset by lower sales of roasting joints and other more traditional products.
The average UK pig price was 8% lower year-on-year, though the UK pig price ended the period 1% higher than at the start of the period, after rising steadily through to the end of July before falling back.
Meanwhile, poultry revenue increased by 19.3% as its "ready to eat" chicken category continues to grow ahead of the wider UK meat protein sector and fresh chicken also continues to outperform, with market volumes ahead by 6.1% and 3.1% respectively.
Total export revenues fell 2.6% in the period, reflecting softer pricing in its key Far Eastern markets, albeit volumes shipped to the Far East were ahead 12.4% but dragged back by weaker pricing.
Adjusted group operating profit was up 0.7% to £44.9m, while adjusted group operating margin was in line with last year at 6.2%.
Statutory profit before tax fell by 4.3% to £42.6m, with statutory operating profit down 4.5% at £42.7m.
Cranswick's CEO Adam Couch commented: "The first half performance was in line with our expectations [and] achieved despite more uncertain domestic market conditions and softer pricing in key export markets.
"The group's capital investment programme remains firmly on track. During the period we spent a record £41 million across our already well invested asset base as we build a platform for future growth.
"The board is confident that continued focus on the strengths of the company, which include its long-standing customer relationships, breadth and quality of products, developing export channels and asset infrastructure, will support the delivery of its expectations for the current year and its further successful development over the longer term."
Morning update
William Jackson Food Group has agreed a deal to buy the UK's top-selling balsamic vinegar and premium olive oil brand Belazu.
The brand, which also sells culinary pastes and preserved lemons and is listed by Waitrose, Sainsbury's, Tesco and Ocado, had sales of £31.4m in 2017 with an operating profit of £2.7m.
The transaction marks the Yorkshire-based group's second deal since its £210m sale of Aunt Bessie's in June 2018 following its acquisition of food service ingredients specialist Wellocks.
Greggs (GRG) has upgraded its full year profit expectations after stronger than forecast trading in recent weeks.
The bakery group said improved trading performance reported in its third quarter trading update strengthened further during October and to date in November.
In the eight weeks to 24 November 2018, total sales grew by 9%, with like-for-like sales in company-managed shops up by 4.5%
The improving trends mean that in the year-to-date, total sales have now grown by 6.6% and like-for-like sales have increased by 2.5%.
Greggs said the strong trading in October and November "particularly encouraging as it builds on good comparative sales in the same period last year".
Operational costs have also been "well controlled", meaning that "whilst there is still much to play for over the final few weeks of the year" the board now anticipate that full year underlying profit before tax (excluding exceptional charges) will be at least £86m.
Treatt (TET), the manufacturer of ingredients for the flavour, fragrance, beverage and consumer product markets, has announced its full year results for the year to 30 September 2018.
Revenues rose by 11% to a new annual high of £112.2m, while profit before tax rose from £11.7m to £12.6m.
During the year Treatt completed the disposal of its non-core Earthoil Plantations business for an enterprise value of £11.3m. This provided additional growth capital and "allows us to focus on the pursuit of our 2022 strategic plan based around our core markets of citrus, tea and sugar reduction".
Treatt said: "This strong performance derives from a resolute focus on executing our clear strategy and an uncompromising commitment to operational excellence, founded on supplying high quality, consistent products that meet customer needs, engineered for optimum value".
It said its expansion plans in the US are proceeding "at pace" and it is on schedule to increase its footprint in Florida substantially. In addition, plans new UK headquarters are underway and it expects building to commence mid 2019.
CEO Daemmon Reeve said: "Last year's performance set the bar high, so I am delighted to report that Treatt's teams from across the business have built upon that performance and secured further success in the year.
"The group has had a steady start to the new financial year with a number of attractive opportunities in our pipeline of projects with both existing and new customers. We are well placed to capitalise on these opportunities with our capacity expansion in the US expected to complete in the coming weeks. Whilst still early in the financial year, the group continues to perform in line with the board's expectations for the full year."
On the markets this morning, the FTSE 100 has edged back 0.3% to 7,018.3p.
Cranswick has dropped 4.7% back to 2,738p on this morning's update, while Greggs has surged 14.4% to 1,415p. Treatt is up 3.5% to 457.4p.
Other risers include Coca Cola HBC (CCH), up 2.4% to 2,324p, Unilever (ULVR), up 1.3% to 4,252p and C&C Group (CCR), up 1.1% to €3.19.
Fallers include McBride (MCB), down 4.7% to 125.4p, Devro (DVO), down 2.6% to 170p and PayPoint (PAY), down 1.6% to 774.6p.
Yesterday in the City
The FTSE 100 bounced back 1.2% on Monday to break back through the 7,000pt barrier to close the day at 7,036pts.
There was little sharp movement across the market's major consumer stocks, but Fevertree (FEVR) regained 4.3% after a tough recent run to rise back to 2,552p.
Other risers included Premier Foods (PFD), up 3.2% to 37.5p, Hotel Chocolat (HOTC), up 1.9% to 320.5p and Finsbury Food Group (FIF), up 1.8% to 111.5p.
The pick of the FTSE 100 firms were Sainsbury's (SBRY), up 1.1% to 313.7p and Coca Cola HBC (CCH), up 1% to 2,269p, while Greggs (GRG) was up 1% before its trading update with morning and Dairy Crest gained 0.8% to 456p.
FTSE 100 fallers included Unilever (ULVR), down 1.1% to 4,198.5p and Imperial Brands (IMB), down 1.1% to 2,440p.
Just Eat (JE), dropped 3.5% to 581p, while other fallers included Majestic WINE (WINE), down a further 2.1% to 305.5p on top of last week's sharp falls, Nichols (NICL), down 1.6% to 1,430p and PZ Cussons (PZV), down 0.9% to 235p.