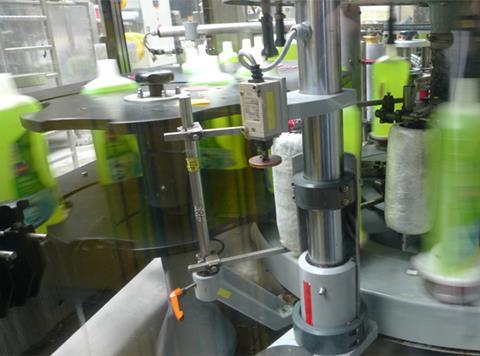 Top story
Private label household goods manufacturer McBride (MCB) has issued another profits warning on weaker than expected trading in the UK.
The group's trading update for the six months to 31 December said first half household revenues at constant currency were 1.4% lower compared to the prior year following a slowdown in the last two months of the period, especially in the UK.
Overall first half UK revenues were 8.0% lower year on year, reflecting weaker private label activity in the period.
However, its South, East and Asian geographies performed well in the half year, reporting growth versus the prior year of 15.7%, 1.6% and 10.7% respectively. France and North continued to see declines versus the prior year (6.8% and 3.7% respectively), consistent with the second half of the last financial year.
Reflecting the first half performance, McBride said its expectations for the rest of the year are reduced and we now expect full year household revenues to decline by approximately 2% year on year.
Reflecting the decision to exit UK Aerosol manufacture in the fourth quarter of the previous financial year, total group continuing revenues at constant currency were down 4.4% versus the prior year.
During the first half year, raw material and packaging costs remained largely stable and in line with expectations. Logistics costs as a percentage of revenues continued to increase, reflecting the higher distribution costs associated with our growing business in Germany. Cost improvement initiatives continue across the group and these are expected to show increased benefits in the second half year.
In the absence of significant raw material cost changes, the board now expects full year adjusted PBT to be approximately 15% lower than current market expectations, reflecting the impact of lower revenues.
Following the appointment of Ludwig de Mot as CEO on the 1 November 2019 the group has initiated a review of its strategy and operations which it expects to report on during the fourth quarter of this financial year.
The group's interim results will be announced on 20 February 2020.
McBride shares have plunged 15.5% to 67.6p on this morning's profits downgrade.
Morning update
Sports nutrition brands Science in Sports has reported near 140% year on year revenue growth in 2019 as its acquisition of PhD has boosted revenues.
Science in Sport said its 2019 results have been in line with market expectations and "show a strong performance in key growth metrics".
Sports nutrition brand PhD was bough in December 2018 and delivered £26m of extra revenues in year, with the now integrated acquisition delivering underlying sales growth of 23%.
The Science in Sport brand grew by 24% to £24.5m in the year, contributing to the brand's six-year CAGR of 25% revenue growth.
Together the brands generated revenues of £50.5m in the year, compared to £21.3m in the prior period.
E-commerce sales, a key strategic focus for the group, grew strongly, up 34% to £16.1m.
International retail also grew strongly, up 44% to £12.6m, helped by launching into Saudi Arabia for PhD and Brazil for SIS, while signing a distribution agreement in South American cycling hotbed Colombia.
UK Retail grew 8% to £21.8 million, underpinned by new distribution of SiS in Lidl, of PhD in Aldi and extended distribution for both brands in Tesco.
New products delivered 25% of total group sales growth with successful product launches including PhD's smart bar plant and SiS's football range.
CEO Stephen Moon commented: "2019 was a landmark year for Science in Sport during which we integrated the PhD acquisition as planned and continued our strategic growth focus on e-commerce and international markets.
"Our executive management team was significantly strengthened during the year which, along with important operational progress, has positioned the Group for the next stage of its growth. We remain confident of the outlook for 2020 and beyond, supported by a robust balance sheet and strong innovation pipeline."
On the markets this morning, the FTSE 100 is back down 0.3% to 7,598.2pts so far this morning.
Along with McBride, fallers include Glanbia (GLB), down 2.5% to €10.14, DS Smith (SMDS), down 1.4% to 370.3p and British American Tobacco (BATS), down 1% to 3,459.5p.
Risers include Cranswick (CWK), up 3.1% to 3,384p, Science in Sport, up 2.4% to 43p on this morning's strong sales update and PayPoint (PAY), up 1.5% to 1,058p.
Yesterday in the City
The FTSE 100 started the week on the front foot, rising 0.4% to 7,617.6pts yesterday to claw back some more of last week's losses.
McBride was amongst yesterday's biggest risers before this morning's profits warning, rising 3.8% to 80p.
Other risers included Eagle Eye Solutions, up 4.3% to 244p, Carr's Group (CARR), up 3.9% to 160p, Finsbury Food Group (FIF), up 3.8% to 101.8p, Premier Foods (PFD), up 3.5% to 38.3p, AG Barr (BAG), up 3.2% to 553p and FeverTree (FEVR), up 3.1% to 1,949.5p.
Ocado (OCDO), was also on the up, rising 1.6% to 1,280p yesterday as the market awaits news of its Christmas sales performance.
Fallers included Total Produce (TOT), down 4% to 120p, McColl's (MCLS), down 3.6% to 48.5p, Nichols (NICL), down 2.8% to 1,380p, Associated British Foods (ABF), down 1.8% to 2,575p, Greggs (GRG), down 1.6% to 2,396p and PZ Cussons (PZC), down 1.5% to 200.5p.