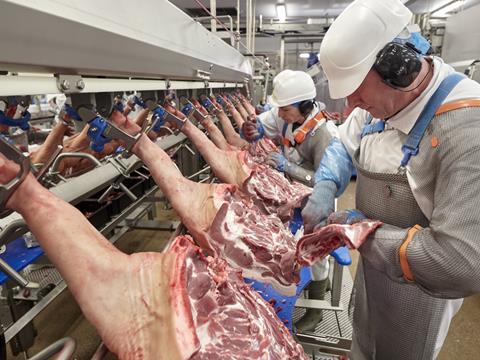 Top story
Cranswick has upgraded its outlook for 2020 as lockdown and stockpiling sent sales soaring by more than 20% in the first quarter.
The pig and chicken producer said retail demand in the 13 weeks to 27 June had been "exceptionally robust" thanks to the current shift towards greater in-home consumption.
Revenues in the quarter increased 24.8% compared to a year ago, with like-for-like growth of 19.2% after excluding the contribution from acquisitions made in 2019.
Poultry sales at the business' new Eye facility in Suffolk alongside the boost in demand "comfortably" offset lower fooodservice revenue.
Cranswick added the positive performance had continued during the second quarter but expected retail volumes to normalise through the remainder of the year as consumers gradually returned to dining out.
As a result of strong cash generation and tight working capital management in the quarter, net debt fell. The group said it remained in a "robust" financial position with committed, unsecured facilities of £200m providing comfortable headroom.
The outlook for the current financial year ending 27 March 2021 is now forecast to be ahead of its previous expectations.
CEO Adam Couch said: "Our teams across the business have responded brilliantly during these extraordinary and unparalleled times and I would like to thank them for their incredible support and hard work which has enabled us to continue to deliver premium food products with outstanding service to our customers.
"We have made a strong start to the year. Whilst we remain cautious about the longer-term economic impact of Covid-19 and the uncertainty surrounding the ongoing Brexit negotiations we are well positioned to address these challenges. Our positive momentum reflects the continued investment we make across our asset base and the quality and capability of our colleagues across the business."
Cranswick's share price has opened 4.9% higher at 4,010p this morning on the back of the upgrade.
Morning update
The FTSE 100 opened in positive territory this morning, nudging up 0.1% to 6,094.33pts.
Aside from Cranswick, other early risers include Nichols, which is up 2.4% to 1,271.8p, Greencore, up 1.4% to 122.2p, and Marston's, up 1.1% to 50.6p.
Premier Foods has started the week with heavy falls, down 5.3% to 83.2p so far. Other fallers include Bakkavor, down 3.4% to 64.7p, Science in Sport, down 3.2% to 30p, and SSP Group, down 2.2% to 235.4p.
This week in the City
It is looking a little busier this week despite it being the height of the summer holidays.
Tomorrow kicks off with the latest grocery market share and sales figures for Kantar and Nielsen. Then, around lunch time, Walmart will update on its second quarter results, along with guidance for how Asda has performed.
On Wednesday, the ONS will release the latest UK inflation statistics.
The once-again-delayed final-year results from Mike Ashely's Fraser's Group are due on Thursday.
And, finally, on Friday, there is the latest GFK Consumer Confidence index for August, as well as the ONS retail sales figures for July.