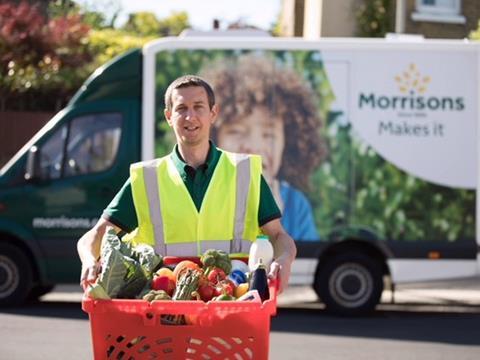 Top story
Morrisons (MRW) has pledged to expand its online delivery capacity and has guaranteed the pay of its staff amid what it called "unprecedented challenges and uncertainty" around the coronavirus outbreak.
Announcing its annual results this morning, the supermarket said it will expand its online Morrisons.com and Morrisons store on Amazon Prime Now store-pick capacity to more than 100 stores over coming weeks.
Also, it has announced a pay guarantee for sick and affected colleagues, and more flexibility around shifts and annual leave
Meanwhile, it had already pledged immediate payments for small suppliers, funded by its strong cash flow.
Chairman Andrew Higginson and CEO David Potts jointly stated: "We are currently facing unprecedented challenges and uncertainty dealing with COVID-19. Looking after our colleagues and customers is our priority, ensuring that we have a clean, safe place to shop and work.
"At Morrisons, we have a strong, experienced, and above all, determined team of the best food makers and shopkeepers in Britain. We promise to work as hard as we can for customers, suppliers, and all stakeholders to keep our shops operating as smoothly as possible. Thank you to all our colleagues for your incredible efforts so far."
It said retail like for like sales improved to flat for the first four weeks of 2020/21, and 5.0% for the first six weeks, after considerable stocking up and sales pull-forward recently.
For the full year to 2 February 2020, group LFL ex-fuel was down 0.8%, comprising retail down 1.4% and wholesale up 0.6%.
In Q4, Group LFL ex-fuel was down 2.1%, with retail down 2.2% and wholesale up 0.1%.
Total revenue for 2019/20 was £17.5bn, down 1.1% year on year, with net new space contribution flat. Total revenue excluding fuel was down 0.8%.
Morrisons said a lack of significant sporting events in the summer of 2019 coupled with "prolonged and unprecedented political debate over Brexit" damped sales momemtum amid "heightened levels of customer uncertainty throughout the year".
Profit before tax and exceptionals was up 3.0%, to £408m, helped by cost control.
Statutory profit before tax after exceptionals was up 43.6% to £435m as it made a £27m exceptional gain in the year, driven by £66m of property disposals.
Morrisons stated: "With sales on an improving trend, profit growing for a fourth consecutive year, and free cash flow continuing to be strong, we had anticipated announcing another special dividend today. Instead, during the usual process of reviewing capital allocation, we determined it would be prudent to defer the decision given current unprecedented events around COVID-19.
"This gives us maximum future flexibility around how we prioritise uses of our strong cash flow, and we will keep our capital allocation options under review."
"Morrisons is operating from a very robust financial position. We have a strong balance sheet, with low debt and a strong maturity profile."
Morning update
Tesco (TSCO) and Sainsbury's (SBRY) have both put out statements recognising the Chancellor's statement last night that the government will be "giving all retail, hospitality and leisure businesses in England a 100% business rates holiday for the next 12 months".
Both supermarkets said they are awaiting more information regarding the implementation of this policy before calculating its potential impact. Sainsbury's said its annual business rates bill is currently £567m.
PZ Cussons (PZC) has announced the proposed sale of its Nigerian dairy business Nutricima and completion of the previously announced sale of its Polish personal care brand Luksja.
The health and beauty firm has exchanged contracts for the sale of the assets associated with Nutricima's business to FrieslandCampina WAMCO Nigeria, an affiliate of Royal FrieslandCampina in the Netherlands. Completion of the transaction is subject to merger clearance in Nigeria.
In addition, PZ Cussons has completed the sale of its Polish personal care brand, Luksja, to Athens based personal care company, Sarantis Group. Sarantis will also distribute certain PZ Cussons' brands (which include Carex, Original Source and Morning Fresh) in Poland and Central and Eastern Europe.
Caroline Silver, Executive Chair of PZ Cussons said: "The proposed sale of Nutricima and the sale of Luksja are further steps forward under our 'Focus, Scale and Accelerate' strategy, as we continue to streamline the Group to focus investment on core Personal Care and Beauty brands. This will enable us to deliver higher margin earnings, in geographies which can scale, and support the return of the group to sustainable, profitable growth."
Under pressure pub companies Marston's (MARS) and Mitchells & Butler (MAB) have updated the market on the effects of the coronavirus on their businesses and their attempts to mitigate the damage.
Marston's said, although recent trading has been impacted by COVID-19, this has been marginal to date and pub like-for-like sales have been broadly flat over the last two weeks. For the 24 weeks to 14th March 2020, like-for-like sales in our pubs were 1% below last year. In Marston's Beer Company, beer volumes are in line with expectations.
However, it anticipates recent government's advice will result in significantly lower sales in the coming weeks.
As such, it has commenced a debt reduction programme, with a target to reduce debt by £200m. The company will significantly reduced capital expenditure for the foreseeable future, reduce overhead and other variable costs but also reassured tenants that we will suspend rent on a case by case basis where it is appropriate to do so.
It is also "unlikely" that an interim dividend will be recommended in May, retaining £20m in the business.
M&B said for the first 24 weeks of the year, up to 14 March, like-for-like sales were 0.9%. Within this recent trading has been severely impacted by COVID-19 and the containment measures taken by the government.
"We expect a significant reduction in our expected outturn for 2020 and, given this uncertainty, can no longer provide detailed guidance on the expected forward financial performance for the year.
"We are working proactively to protect our trading and cash flow through a number of actions including suspension of the capital programme and reduction of costs across the business."
Sports Nutrition brand Science in Sport (SIS) has posted a 23% sales increase in the year to 31 December reflecting the impact of its acquisition of the PhD brand.
Sales were up from a pro-forma total of £41m (reported £21.3m) to £50.6m lasts year, reflecting the PhD contriction and strong organic growth.
PhD delivered record revenue growth of 23% (pro forma1), and the SiS brand delivered 24% revenue growth.
Its underlying operating loss fell back to £0.3m from £2.7m, which was in line with market expectations and reflected continued investment in its online and international businesses.
Reported loss before tax was £5.1m compared to £6m last year.
The group's long-term priority continues to be further developing the e-commerce opportunity and seeking strong growth in international markets.
International Retail revenue was up 41% to £12.3m, with strong growth in existing markets in Europe and Asia, plus new territories including PhD launching in Saudi Arabia and SiS expanding into Latin America.
CEO Stephen Moon Stephen Moon commented: "2019 was a transformational year for Science in Sport as we integrated the PhD business as planned and continued our strategic growth focus on e‐commerce and international, positioning the Group for the next stage of its growth.
"Our preparations for Covid-19 disruption have been underway for several weeks and measures include buying sensitive raw materials, securing the supply chain operation, and remote working for commercial and operations staff. Costs are being managed very tightly and contingency plans are in place. We are well prepared to protect the Company and its workforce should the impact from Covid-19 become extended."
On the markets this morning, the FTSE 100 has fallen 3.5% to 5,110.2pts after yesterday's brief rally.
Risers include Marks & Spencer (MKS), up 7% to 98.7p, Sainsbury's, up 6.9% to 205.3p and Morrisons (MRW), up 5.7% to 190.7p.
Fallers so far include Hotel Chocolat (HOTC), down 14.5% to 225p, SSP Group (SSPG), down 13.2% to 183.2p, Marston's, down 10.6% to 19.8p and Greencore (GNC), down 9.3% to 90.7p.
Yesterday in the City
The FTSE 100 recovered 2.8% to close the day at 5,294.9pts after dipping back below 5,000pts in early trading.
There were some notable consumer risers, including food retailers, with Ocado (OCDO) up 10.4% to 1,361p, Morrisons (MRW) up 9.8% to 180.4p, Sainsbury's (SBRY), up 6.7% to 192p and Tesco (TSCO), up 4.3% to 225.9p.
McColl's, which has been one the market's worst hit stocks in recent weeks, jumped back up 27.3p to 19.7p yesterday.
Other risers included Bakkavor (BAKK), up 9.9% to 64.4p, Unilever (ULVR), up 9.8% to 4,092.5p, DS Smith (SMDS), up 8.1% to 295p, Reckitt Benckiser (RB), up 8.1% to 5,729p, PZ Cussons (PZC), up 6.8% to 173p, Associated British Foods (ABF), up 2.6% to 4.3% and Naked Wines (WINE) up 4.2% to 213p.
There were, however, some continued notable fallers, including travel retail players SSP Group (SSPG) and WH Smith (SMWH), which fell 33.1% to 211p and 12.3% to 905.5p respectively as the collapse in air travel continues to hammer their shares.
Other fallers included Marston's (MARS), down 21.9% to 22.2p, Cake Box (CAKE), down 17.8% to 117.5p, C&C Group (CCR), down 10.2% t 195.8p and FeverTree (FEVR), down 10% to 944p.