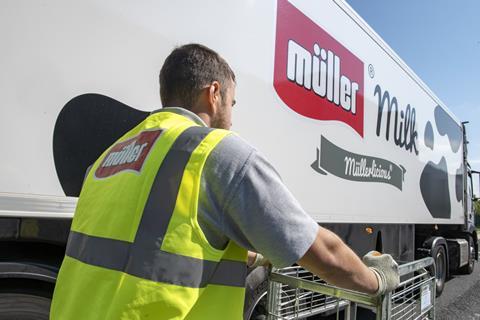 Top Story
Müller's UK & Ireland business has slumped to another significant annual operating loss, on the back of challenging conditions in the liquid milk category.

It saw sales fall by £171.5m to £1.9bn for the year to 31 December 2018, according to accounts filed at Companies House.

Müller's operating profit before amortisation and impairment of £37.9m in 2017 fell to a £17.3m loss last year as the processor continued writing off goodwill costs. The processor also reported an overall operating loss of £99.6m. However, this was an improvement on last year's figure of £132.9m, which also included significant integration costs from Müller's acquisition of the Dairy Crest milk business in 2015.

The results follow warnings by MMI CEO Patrick Müller last December that low margins had rendered the "broken" liquid milk sector "unsustainable".

Müller's performance in 2018 had been directly affected by this issue, the supplier's accounts suggested, with the liquid milk market "changing significantly due to global market volatility, decline in consumption and changes in the retail environment".
This led MMI to launch its Project Darwin cost-cutting programme in February, designed to save the business £100m over the next two years.
The programme has seen the processor rationalise the number of milk and cream SKUs it manufactures, look to renegotiate new supply contracts and led to the closure of its Foston dairy during the summer, with the loss of more than 200 jobs.
However, Müller's accounts stressed its German parent remained committed to the UK market, while a spokesman added the past year had also seen it invest "more than £100m in new capital expenditure".
This included significant investments in its Belshill dairy in Scotland and the Milk & More doorstep delivery fleet, in addition to the completion of a £50n upgrade at its flagship Telford yoghurt plant in July, which would allow Müller to boost production capacity from 300 million to 500 million pots a year.
Morning Update
UK consumer confidence has improved slightly in September, as British shoppers "kept their fingers crossed" ahead of next month's Brexit deadline.
The latest GfK Consumer Confidence Index increased to minus 12 this month, with improvements registered across all measures.
In August, confidence had slipped back to minus 14, as mounting Brexit uncertainty led to consumers feeling increasingly nervous.
September however, showed "mixed signals" as shoppers continued to feel pressure on the state of their personal finances and the general economy, GfK's client strategy director Joe Staton said.
He added: "This month, British consumers appear to be treading water during this wait-and-see run-up to 31 October.
"You can almost sense people are keeping their fingers crossed."
The index measuring people's views on the UK's general economic situation of the country during the past 12 months improved to -32, four points lower than September 2018.
Expectations for the general economic situation over the next 12 months have increased three points to -35 – eight points lower than September 2018.
Meanwhile, the index measuring changes in personal finances during the last 12 months grew to +2, which is one point higher than in 2018.
The forecast for personal finances over the next 12 months came in at +4 – a fall of one point from the measure in September 2018.
Staton said: "Since the Brexit referendum we have witnessed a long succession of negative Overall Index scores with the overall trend downwards.
"Confidence is an important indicator which typically increases as the economy expands and decreases when the economy contracts and so far, consumer confidence is holding up. We certainly have a long way to go to match the record low headline score of -39 witnessed during the early days of the last recession. But will it stay that way?"
In this week's edition of The Grocer read about fmcg businesses leading the fight among FTSE 100 companies to combat climate change, the fundraising of vegan ready-meal business The Brook and sales rising at Birds Eye and Burton's Biscuit.
Check out thegrocer.co.uk/finance for all the details this morning.
On the markets this morning, the FTSE 100 has opened the session up 0.8% at 7,409.32pts.
In a mostly green index, early risers include Reckitt Benckiser (RB) up 1.5% at 6,675.00p, Diageo (DGE) up 1.3% at 3,324p continuing on an upwards trend from last night's close.
Imperial Brands (IMB) opened 0.8% lower at 1,784.80p still in the red after slumping last night. Other minor fallers include Sainsbury's (SBRY) down 0.4% at 219.83p and pub operator Marston's (MARS) down 0.3% at 130.94p.
Yesterday in the City
Imperial Brands ended the day 13% lower at 1,793.2p each after warning investors that a "challenging" US market for vaping products and weaker than expected performance in its Africa, Asia and Australasia business will hamper full year revenue and earnings growth.
Also down, travel food specialist SSP Group (SSPG) closed 9% lower at 608p despite reporting a good fourth quarter with further progress made on its strategic initiatives.
Following its capital markets day, FTSE 250 food-to-go specialist Greencore (GNC) closed 0.5% lower at 224.40p.
Overall the FTSE 100 index closed up 0.8% at 7,351.1pts.
Risers included Diageo, closing up 1.5% at 3,282p, Reckitt Benckiser up 2.4% at 6,577p and Tesco (TSCO) up 1.4% at 241.2p.