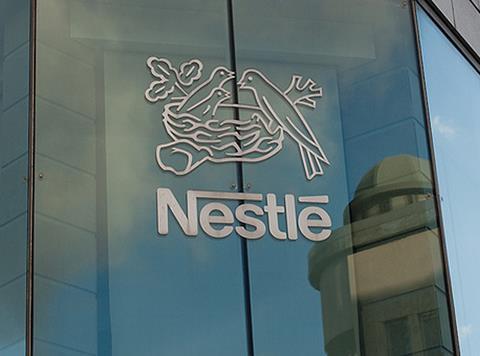 Top story
Nestlé has reported a 6.2% sales drop in the first quarter of 2020, as stockpiling in the US and Europe failed to offset a slump in the Chinese market.
The fmcg giant saw revenues fall to CHF20.8bn (£17bn) from CHF22.2bn in the same period a year ago. The company explained that acquisitions net of divestitures reduced sales by 4.7% while foreign exchange reduced sales by 5.8%.
The company, which recently acquired UK petfood business Lily's Kitchen and disposed of its US ice cream business, said portfolio management remained on track, with the sale of a 60% stake in the Herta charcuterie business to Casa Tarradellas expected to close in the first half of 2020.
The business has also decided to explore further strategic options, including a potential sale, for its Yinlu peanut milk and canned rice porridge businesses in China.
"The COVID-19 crisis continues to impact all our lives in powerful and sometimes tragic ways. Our thoughts are with all those who have been affected and we extend our deepest sympathies to those who have lost loved ones," CEO Mark Schneider said.
"Nestlé has a special responsibility at this time. Our food and beverage products help keep people healthy, provide comfort and support recovery."
He added: "Our company remained resilient in the first quarter, reflecting our diversified product portfolio and our strong local presence in 187 countries.
"However, this crisis is far from over and we will face many uncertainties in the coming quarters. We will continue to adapt quickly to changing consumer needs and to challenges in our global supply chains. Over the last 154 years, Nestlé has successfully overcome many challenges. We are confident that - together with all those who are fighting against the pandemic and its consequences - we will also overcome this one."
Nestlé maintained its original full-year guidance for 2020, as it said it was to early to assess the impact of the coronavirus crisis.
So far, the company saw an increase in demand for "essential products" including prepared dishes and cooking aids, Purina PetCare, coffee and Nestlé Health Science products. Confectionery and ice cream however posted a sales decline, reflecting reduced gifting and impulse buying.
In the first three months of the year, the company reported 4.3% organic growth supported by strong momentum in the Americas and Europe, Middle East and North Africa. In Asia and Oceania the company posted negative growth, mainly due to a double-digit sales decline in China.
Nestlé said it was committed to help its business partners and colleagues who are facing challenges due to the virus outbreak, it has extended payment terms, suspended rental fees for its coffee machines and offering free products to its out-of-home customers, with the total value of this initiative expected around CHF500m.
The company is also working to support its 200k dairy farmers around the world by "fully meeting" its commitments to buy agreed volumes in order to help sustain their livelihoods.
Morning update
UK consumer confidence has slipped to one of the lowest points in history due to the coronavirus pandemic, hovering just above the historic lows of the financial crisis.
The overall consumer confidence index score in April came at -34, just five points above the -39 seen in July 2008 according to the GfK Consumer Confidence Barometer for April.
"It is impossible to say if this is at the bottom after weeks of adjustment to the reality of lockdown life, or if further falls are to come," Joe Staton, Client Strategy Director, said.
"There is no guarantee that the fall in consumer confidence has ended and we are only five points away from the record -39 low seen in July 2008."
He added: "We are recording a three-point rise in expectations for personal finances for the next 12-months, although it is important not to attach too much significance to this.
"It's no surprise that the Major Purchase Index remains low. Despite households making online purchases of home cooking equipment, freezers, TVs, monitors and other goods, these surges in demand have not compensated for the loss of overall retail sales due to the closure of physical stores."
The index measuring changes in personal finances during the last 12 months has remained at -4, three points lower than April 2019.
When looking at the future however, consumers expect their personal finances to be worse off, with the index over the next 12 months at -14. Last year, the measure was 0.
Overall, consumers feel very negative regarding the general economic situation with expectations for the next 12 months at -56, or 22 points lower than April 2019.
Looking at the past 12 months, the index for the general economic situation took a hit in April, dropping four points to -44.
The major purchase index has remained at -52 in April, 51 points lower than a year ago, while the savings index rose one point this month as shoppers saved money by being forced at home.
Elsewhere, the Office of National Statistics has this morning announced that monthly retail sales volume fell sharply in March by 5.1%, which represents the largest fall since the series began as many stores ceased trading from 23 March following official government guidance during the coronavirus pandemic.
During the month, clothing store sales saw a sharp fall when compared with the previous month, falling by 34.8%.
Food stores and non-store retailing were the only sectors to show growth in the monthly volume series in March 2020, with food stores seeing the strongest growth on record, at 10.4%.
In the three months to March 2020, retail sales volume fell by 1.6% when compared with the previous three months, with strong declines in non-food stores and fuel.
Online sales as a proportion of all retailing reached a record high of 22.3% in March 2020 as consumers switched to online purchasing following the pandemic.
On the markets this morning, the FTSE 100 opened 1.2% lower at 5,758.63pts.
Fallers saw Associated British Foods (ABF) start the day 2.1% lower at 1,839.50p, B&M European (BME) down 2.3% at 319.90p, Britvic (BVIC) down 1.2% at 717.50p and Unilever (ULVR) down 1.9% at 4,089p.
The only food & drink riser was Marks & Spencer (MKS) up 3.6% at 94.64p.
Yesterday in the City
The FTSE 100 ended the day 1% higher at 5,826.61pts.
Risers included Pets at Home (PETS) closing 7.9% higher at 263p, Marks & Spencer (MKS) up 3.8% at 91.34p, British American Tobacco (BATS) up 1.6% at 2,940p and Diageo (DGE) up 1.1% at 2,686p.
Fallers saw Tesco (TSCO) close 2.3% lower at 234.70p, Ocado (OCDO) down 2.1% at 1,590.50p, Unilver (ULVR) down 1.8% at 4,167p and Sainsbury's (SBRY) down 3% at 198.85p.