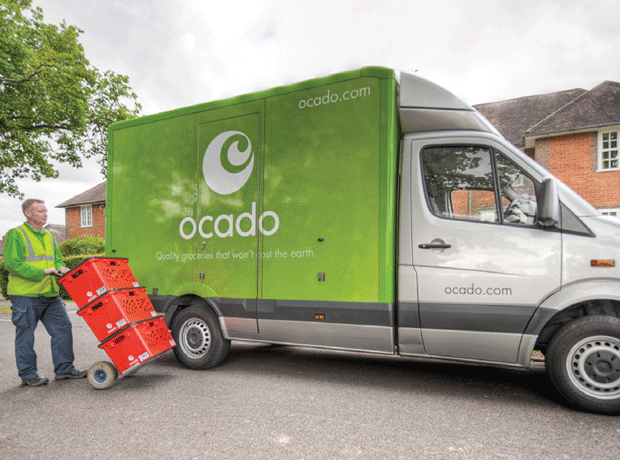 Top story
Ocado (OCDO) has signed its first long-awaited international partnership to provide its technology to an unnamed European retailer.
Ocado said it has signed an agreement with a "regional European retailer" to use Ocado Smart Platform.
"The retailer wishes to remain anonymous until it launches its online business in order to retain competitive advantage," the FTSE 250 firm said.
Ocado said it will provide the retailer its full software platform, know-how and support services "required to create an efficient and intelligent online grocery business".
However, orders will be initially fulfilled from their own manually operated centralised warehouse rather than using a new Ocado automated picking hub.
"The agreement gives the partner the right to request in the future the installation of automated mechanical handling equipment in centralised warehouses, powered by OSP technology, on terms to be separately agreed but within given parameters," Ocado added.
The retailer will pay an up-front fee to Ocado for access to OSP, together with ongoing fees that are based on the volume of products sold online.
Ocado expects the arrangement to be earnings and cash neutral in the current and 2018 financial years, and increasingly accretive thereafter.
Ocado CEO Tim Steiner said: "We are delighted that our partner has decided to adopt OSP for its online operations. This is an exciting step in the evolution of our business and in the delivery of our strategy.
"The benefits of our integrated solution are clear. As this particular retailer looks to develop its online offering the agreement we have signed provides the flexibility to expand its capacity efficiently in the future. We look forward to working closely with our new partner in the months and years ahead.
"Our discussions with other retailers across the globe are ongoing and we continue to expect to sign multiple deals in the medium term."
Ocado had previously pledged to sign its first international supply partnership by the end of 2015, but that deadline and the subsequent 18 months passed without material progress until today.
Ocado shares has jumped 5.1% so far this morning to 332p on the news - their highest level for over a year.
Morning update
Frozen supermarket chain Iceland has released its financial results for the year to 25 March 2017.
Sales for the year grew by 4.4% to £2.79bn, driven by a 2% improvement in like-for-like sales following a 2.7% like-for-like decline in the previous year.
Iceland said its strong Christmas trading performance was reflected in a like-for-like sales increase of 4.9% in the final quarter.
Like-for-like growth was principally driven by a rise in total transactions as the chain attracted new customers and re-energised dormant ones, while maintaining its appeal to established shoppers. Iceland also saw an increase in average basket values during the year.
Overall sales growth was boosted by sales generated by the 20 net new stores opened during the year, and by the net five new stores opened in the previous financial year.
EBITDA (excluding exceptional items) increased by 6.3% to £160m, driven principally by sales growth while maintaining good control of operating costs.
There were no exceptional administrative expenses during the year, compared with £9m incurred during the prior year in relation to business restructuring costs.
Iceland stated: "In a UK food retail market that has remained intensely competitive and keenly focused on price, we have sought to differentiate Iceland through our focus on frozen food, exciting innovation, great quality and outstanding value – all of which combine to give customers a compelling reason to visit our stores or website.
"An exciting programme of product innovation throughout the year has been key to driving sales. We have enjoyed particular success in frozen fish and seafood, where we have firmly established Iceland as the UK's leading specialist."
Iceland founder and executive chairman Malcolm Walker added: "The set of strategic initiatives we began in 2015, with the aim of differentiating Iceland, changing consumer perceptions and so restoring growth to our business, bore fruit in the year under review.
Like-for-like sales performance improved throughout the year to make us one of the UK's fastest-growing food retailers by the year-end… At the same time we reinforced our value credentials through a programme of outstanding value deals, made our stores more relevant and accessible to customers by extending and standardising their opening hours, and continued to open profitable new stores under both The Food Warehouse and Iceland fascias.
"All our initiatives were successfully communicated through our distinctive "Power of Frozen" marketing and PR campaign, across both traditional and social media, which is playing a significant role in changing public attitudes to frozen food, increasing appreciation of its many advantages, and identifying Iceland as the natural place to buy it.
"After a record Christmas, Iceland ended the financial year with its best-ever product offer, strengthened management, high morale and growing confidence in our ability to achieve continued growth by simply being ourselves: a unique British business focused on high quality, innovative and exciting food, with a real commitment to contributing to the communities in which we operate."
Elsewhere, The Financial Reporting Council has dropped its investigation into Tesco auditor PricewaterhouseCoopers after concluding "not a realistic prospect that a tribunal would make an adverse finding against PwC".
The FRC announced its investigation into PwC relating to Tesco's profits overstatement scandal on 22 December 2014. It said this morning it was ending the probe against PwC "and certain members", but the the investigation into "certain other members of accountancy bodies" is ongoing.
Tesco ended its long relationship with PwC in mid- 2015, naming Deloitte as its auditor to replace the 32-year relationship with PwC.
Separately, a number of Tesco execs appeared in Southwark Crown Court last week on fraud charges relating to the 2014 profits overstatement.
On the markets this morning, the FTSE 100 has opened flat at 7,545.3pts.
Risers other than Ocado include Greencore (GNC), up 1.8% to 252.9p, Premier Foods (PFD), up 1.2% to 41.5p and Applegreen (APGN), up 1.2% to 438.7p.
Early fallers include Hilton Food Group (HFG), down 3.3% to 752.6p, Kerry Group (KYGA), down 1.8% to €78.04, Science in Sport (SIS), down 1.7% to 85p and Crawshaw Group (CRAW), down 1.5% to 28.6p.
The week in the City
It's another quiet week in terms of scheduled company announcements, with newsflow this week dominated by the UK general election on Thursday.
On the market this week, only updates from general retailers AO World and Boohoo.com of any relevance in the diary.
Internationally, French spirits supplier Remy Cointreau has its full-year results on Thursday 8 June, while US drinks group Brown-Forman has its fourth quarter earnings scheduled for Wednesday 7 June.
The BRC Shop Price Index for the month is scheduled for release tomorrow morning, while The Grocer Price Index for May – which last month found a surprising dip in the rate of inflation – will be released on Friday.
Friday will also see the publication of the UK's latest balance of trade figures and industrial and manufacturing production data.