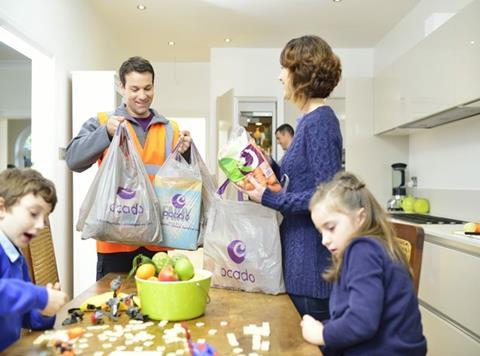 Top story
Ocado (OCDO) recorded overall sales growth of 13.3% in the first quarter to 26 February 2017, but CEO Tim Steiner warned of a "change in market pricing dynamics" hitting the industry.
Total group sales were up 13.3% to £384.7m in the quarter, with gross retail sales up by 13.1% to £352.4m. The 13.1% rate of retail sales growth was the same as the fourth quarter of its previous financial year.
Average orders per week grew by 16.7% to 252,000 driven by new and existing customers, but average order size reduced by 1.6% to £110.84 because of a reduction in multi-buy promotions and take-up of its Ocado "Smart Pass" initiative to encourage customers to shop more frequently.
Ocado CEO Tim Steiner said he was pleased "with the steady progress and growth achieved in the period, as shoppers continue to embrace our proposition for online shopping."
He added: "We believe our commitment to further improving the customer experience and service through constant innovation, supported by proprietary technology developments, will enable us to continue to grow ahead of the online grocery market, and substantially ahead of the market overall."
However, he warned that the market "remains very competitive" and he highlights "the first signs of a change in market pricing dynamics coming through."
"It remains too early to predict how this will unfold throughout the year, and in particular is dependent on any future currency movements," he said.
Despite market disappointment that yet again Ocado has failed to bring news of an international agreement, Ocado shares are up 1.6% to 262.3p so far this morning.
Morning update
Service and petrol station operator Applegreen (APGN) has announced its results for the year to 31 December this morning.
It reported a 16% increase in gross profit (up 20% at constant currency) to €145.8m. Adjusted EBITDA was up 11% to €32m (14% up at constant currencies).
Overall revenues were up 9% to €1.2bn, while like for like growth in non-fuel gross profit driven by food and stores were up 9% at constant currency.
During the year its estate grew from 200 outlets to 243 sites and it opened 32 new food outlets while expanding in the US with its Cross America and 7-Eleven franchises underpinning growth.
Bob Etchingham, CEO said: "We are pleased to report another strong set of results for the business. Our food and store sales were particularly strong in the Republic of Ireland during the year while the UK had a good performance in the second six months.
Fuel margin was impacted by the rising oil price and in Ireland by the rising proportion of fuel card of the total fuel volume. The UK's decision to exit the EU has resulted in a weaker sterling which has impacted on the consolidated euro results for the company. To date this decision has had no further impact on the business."
"We continue to see opportunities for growth across our markets and have added 12 sites since the start of the year. Our core Irish market is delivering good growth in non-fuel sales in particular while fuel margin experience has been in line with 2016. The UK has also begun the year positively and whilst mindful of the uncertainties created by the Brexit process we expect to continue to grow our operations during the year."
Applegreen will also pay its maiden dividend of 1.25c per share subject to approval at its AGM.
Applegreen shares have risen 2.8% to 428p so far this morning.
On the rest of the market, the pound has dropped to a new two-month low against the dollar, dropping to US$1.2132 on concerns over the triggering of Article 50 and Scottish Independence.
The FTSE 100 is still going strong though, up another 0.1% to 7,376.8pts.
Applegreen and Ocado aside, early risers include PureCircle (PURE), up 5.7% to 317.1p, Hotel Chocolat (HOTC), up 2.7% to 289.7p, McColl's Retail Group (MCLS), up 1.8% to 194.9p and Nichols (NCLS), up 1.7% to 1,825p.
Fallers include Marks & Spencer (MKS), down 2% to 331.2p, Science in Sport (SIS), down 2% to 80.4p and Crawshaw Group (CRAW), down 1.4% to 15p.
Yesterday in the City
It was a quiet start to the week on the stock exchange with little news flow to spark share price movements.
Tesco (TSCO) was one of the best-performing stocks, rising 1.2% to 191p, with Sainsbury's (SBRY) up 1% to 269p. Fever-Tree (FEVR) also put in a good performance, climbing 2.2% to 1,524.1p.
Unilever (ULVR) finished in the red, down 1.1% to 3,989.5p, as did Greencore (GNC), down 0.8% to 253.5p. Nichols (NICL) was down 2.7% to 1,825p, and PureCircle (PURE) slumped 4.8% to 300p.
Morrisons (MRW) fared worse than its listed rivals, falling 0.5% to 233.1p, as did Marks & Spencer (MKS), down 0.3% to 337.8p.
The FTSE 100 shook off any concern of a new Scottish independence referendum to close up 0.3% to 7,367.08 points as the big mining stocks buoyed the market.