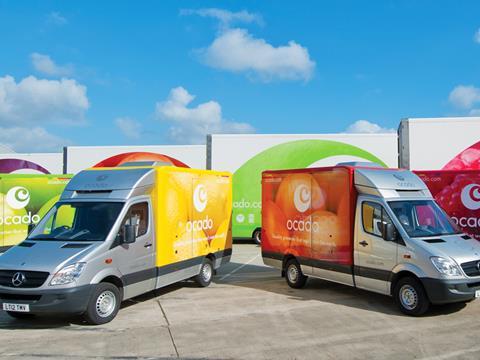 Top story
Ocado's (OCDO) retail sales have surged by more than 40% in the coronavirus lockdown period after ramping up capacity during the crisis.
Ahead of its AGM later today, Ocado said its 50:50 retail joint venture with Marks & Spencer had experienced growth of 40.4% to date in the second quarter after posting 10.3% growth in the first three months of 2020.
Ocado said its retail operations have shown "great resilience in its efforts to meet the needs of as many customers in the UK as possible".
At the beginning of the outbreak demand increased significantly, almost overnight, it said. Ocado has prioritised its most vulnerable and our most loyal customers and adapted our platform rapidly in order to meet unprecedented demand and deliver significantly more groceries to households than ever before.
Ocado said the number of items per basket appears to have passed its peak but remains high, as more normal shopping behaviours have returned, and the share of fresh and chilled products in the mix, relative to ambient, is also returning to normal.
Ocado said it has ramped up capacity significantly to meet this demand.
Mature customer fulfilment centres ("CFCs") are running at their peak and at their best ever efficiencies. For example, Erith, South East London, continues to ramp up and is currently processing 110,000 standard sized orders per week versus an equivalent number of 80,000 at the end of the first quarter.
Suspending the delivery of mineral water has, for example, allowed the group to deliver to 6,000 additional households per week.
Ocado stated: "Although we expect the long term shift towards on-line grocery to accelerate post-crisis, there remain many uncertainties about the length of the crisis, customer reaction immediately post and its long term impact on customers' disposable incomes and so we have suspended our guidance for retail revenue for 2020 until we can accurately forecast likely outcomes."
Tim Steiner, Ocado Group CEO, said: "We are facing quite a different challenge to many, as we scale up Ocado.com to play its part in feeding the nation, and as we help our clients launch and roll out their online businesses more rapidly against a backdrop of a likely long term increase in demand for online.
"Ocado remains in a strong position and while we should be grateful that our current challenges are around growth, expansion and increased demand, we have great empathy for all who are facing different challenges at this time. In retail, we are working with our small suppliers to make sure we pay them earlier than normal and we will work closely with any who are struggling".
On the solutions side of the business, Ocado pointed to a significant milestone, wit the the delivery of the first international CFCs to its international partners Groupe Casino and Sobeys.
Steiner said: "The fact that these facilities have been delivered on time in the middle of this global health crisis demonstrates the ability of the business to execute well even under the most challenging circumstances."
Ocado said it has also been supporting our partners to enable them to bring an on-line grocery service to as many customers as possible. For example, Morrisons is benefiting from additional capacity at Dordon and is increasing the use of the platform for in-store fulfilment allowing the supermarket to significantly increase online store pick capacity since the virus hit.
Morning update
McColl's Retail Group (MCLS) is looking for another new CFO after Robbie Bell has informed the board of his decision to step down as to take up the equivalent role at Holland & Barrett Retail.
A full search to identify a permanent successor is already underway and a further announcement will be made in due course. Robbie will remain at McColl's in his current role until a replacement has been appointed and a handover has taken place. The exact date of his departure will be announced once confirmed.
Bell joined the group in January 2019.
CEO Jonathan Miller commented: "I would like to thank Robbie for his contribution to McColl's during his time here and we wish him well for the future. This is a busy time for McColl's as we continue to respond to increased customer demand and keep the neighbourhood communities we serve supplied with the food, goods and services they need every day."
Bell added: "It has been a pleasure working at McColl's and I would like to thank Jonathan, the Board and all my colleagues for their support. Whilst it was a difficult decision, I am stepping down to pursue a new opportunity, and I wish McColl's every success in the future."
Premier Foods (PFD) has today confirmed that it will be delaying the announcement of its preliminary results for the 52 weeks ended 28 March 2020.
It had originally intended to release the Preliminary results on 14 May 2020 but, to ensure the Company and its auditors have sufficient time to complete the standard full year reporting requirements, the company intends now to release its preliminary results by the end of June.
As previously announced, the group's sales for the fourth quarter of its FY19/20 financial year are expected to be up 3.6% with trading profit expected to be at the top end of market expectations.
Meanwhile, Britivic (BVIC) has relayed the publication of its interim results covering the six months ended 31 March 2020.
The interim results will now be published on Wednesday 27 May 2020 rather than Wednesday 20 May as originally scheduled. This date has been agreed in consultation with auditors EY and reflects the challenges created by the travel restrictions and enhanced safe-working practices currently in place.
Yesterday in the City
The FTSE 100 ended the day up 1.7% to 5,849.4pts yesterday on hopes countries are preparing to relax coronavirus restrictions.
Risers included catering giant Compass Group (CPG), up 4.3% to 1,304.5p, McColl's (MCLS) up 3.4% to 46.6p, FeverTree (FEVR), up 3.1% to 1,700.5p, Applegreen (APGN), up 3% to 275p, British American Tobacco (BATS), up 2.2% to 3,007,5p and PayPoint (PAY), up 1.8% to 690p.
Hotel Chocolat Group (HOTC), down 8.8% to 310p after warning of the ipact of Easter closures on Monday, C&C Group (CCR), down 4.6% to 185p, Bakavor, down 2.8% to 71.6p, Marks & Spencer (MKS), down 3.9% to 87.1p, B&M European Value Retail (BME), down 2.1% to 325p and Greencore (GNC), down 1.9% to 174.1p.