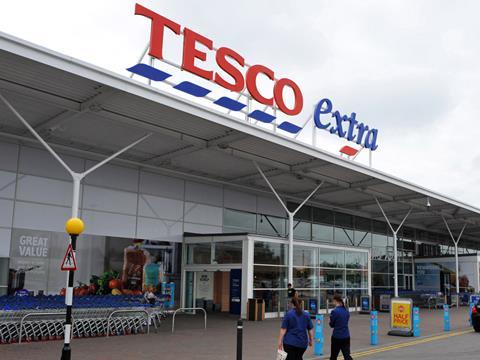 Top story
Tesco has reported first-quarter like for like sales growth of 7.9% for the Group and 8.7% for the UK, including a forecast £2bn rise in online sales which have nearly doubled since the COVID crisis began.
CEO Dave Lewis, in his last quarterly presentation before he steps down from the retailer, said like for like online sales were up by 90% in May in the UK - and up 48.5% for the quarter as a whole - as Tesco added 600,000 delivery slots in the quarter.
The current sales run-rate indicates Tesco can expect £2bn of online sales growth this year.
However, whilst Lewis said he expected Tesco's hundreds of thousands of new online customers to stay , the impact of coronavirus on stores would lead to sales being flat across the whole year, he predicted .
Lewis said he expected the costs of the crisis to be around £840m for the full year, which would only be "partially mitigated" by its £532m business rates bailout and additional food sales.
Food sales in the quarter were up 12%.
Total group sales rose 8% to £13.3bn, despite Tesco Bank revenues falling 26.5% due to a rise in the provision for potential bad debts given current macro-economic assumptions
Today Lewis also confirmed, as exclusively reported by The Grocer earlier this week, that the retailer was ramping up its move towards everyday low prices as it looks to become more competitive with Aldi and the other discounters with a recession looming.
Tesco said it Aldi price match would be extended to nearly 500 Tesco and branded products as it looked "bring even greater everyday value to customers at this challenging time. "
Lewis said: Through a very challenging period for everyone, Tesco colleagues have gone above and beyond, and I'm extremely proud of what they've achieved. Their selfless efforts, combined with our embedded strategic advantages in stores and online, have helped to ensure that everyone can get the food they need in a safe environment.
In just five weeks, we doubled our online capacity to help support our most vulnerable customers and transformed our stores with extensive social distancing measures so that everyone who was able to shop in store could do so safely.
The costs of doing this have been significant and only partly offset by business rates relief and increased volume. We see the balance as an investment in supporting our customers at a time when they need it most."
Tesco shares are up 0.7% to 228p so far this morning.
Morning update
Brewer and pubco Marston's said this morning its "transformational joint venture" with Carlsberg UK "provides strong platform for post-pandemic recovery" in the wake of a collapse in first half profits.
Its delayed interim results for the six months ended 28 March 2020 showed revenues declined to £510.5m from £553.1m in the previous year due to the COVID 19 crisis at the end of the period.
The early effects of the closure of its entire pub estate saw underling profits fall to £9.4m from £34.2m, while it posted a statutory loss of £33.2m compared to a £16.3m profit in the first half of its previous financial year.
Marston's said generally underlying trading had been solid over the first few months, after which it was hit by an adverse trading impact from the storms in February and subsequently a material impact on trading in the latter half of March as the impact of COVID-19 took hold.
Sales in the period to the end of February were broadly in line with the prior year and the circa £40m shortfall in sales arose in March.
However, it said its "transformational" sale of its brewing arm into a joint venture with Carlsberg will provide the group with significant liquidity to materially reduce debt, leaving it with "a high quality freehold pub estate well placed to recover from the impact of the current position".
The sale of its brewing arm was approved by investors on 20 June and is set to complete in the third quarter.
Marston's said it is "encouraged" by government plans to allow pubs to reopen on 4 July.
In advance of reopening, it has prepared comprehensive plans for our employees to be able to operate safely within the guidance, and for our pubs to trade efficiently and profitably given restrictions still in place.
However, it said it is clear that there will be a longer-term contraction of supply in the eating and drinking out market as a consequence of COVID-19.
It said its predominately freehold pub estate is less exposed than many of its peers to city centres where it suggests the long-term impact of COVID-19 may be more pronounced.
"Given the composition of our pub estate, together with a significantly strengthened balance sheet arising from the proceeds from the Beer Company transaction, we are well placed to fully exploit the recovery of trade over the longer term," it said.
CEO Ralph Findlay commented: "Our immediate priority is to prepare our pubs to reopen on 4 July. Whilst there is short term uncertainty as the sector emerges from lockdown, we are focussed on offering a great guest experience, synonymous with Marston's hospitality, to welcome our customers back into our pubs within a safe trading environment.
"The challenges facing the sector should not be underestimated and much rests on consumer confidence which may take time to rebuild. As the industry navigates its way out of lockdown, we will continue to urge Government for continued support for pubs and wider hospitality, through the reopening phase and thereafter through business rates relief and cuts to VAT, to protect jobs, the economy and the invaluable role the pub plays in communities nationwide.
"Looking ahead, our transformational deal with Carlsberg positions the Company well for the future. Post completion, Marston's will be a focussed pub and accommodation business with a significantly strengthened balance sheet, well placed to rebuild trading momentum and leverage the market opportunities available to us over the medium to longer term."
On the markets this morning, the FTSE 100 is up 1.1% to 6,212.1pts.
Risers so far this morning include Premier Foods, up 3.8% to 72.1p, DS Smith, up 2.6% to 328.2p and Greencore, up 2.5% to 128.9p.
Early fallers include Marston's, down 4.1% to 61.9p, Glanbia, down 1.9% to €10.31 and Hotel Chocolat, down 1.8% to 294.5p.
Yesterday in the City
The FTSE 100 ended the day up 0.4% to 6,147.1pts to stem the falls of recent days.
Risers yesterday included Pets at Home, up 2.9% to 239p, AG Barr, up 2.7% to 459p, Glanbia, up 2.4% €10.51, Bakkavor, up 2.4% to 73.2p and McBride, up 2.3% to 62.2p.
Food to go companies continue to suffer this week, with Compass Group down 3.5% to 1,074p, Greggs down 2.4% to 1,618p and Greencore down 2.4% to 125.8p.
Other fallers included Science in Sport, down 3.1% to 31p, Devro, down 3.1% to 159.2p, Coca-Cola European Partners, down 3% to $33.28 and Cranswick, down 2.6% to 3,506p after its gains earlier in the week.