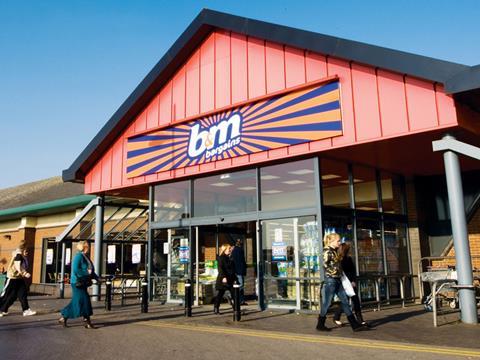 Top story
B&M European Value Retail (BME) has recorded a double-digit rise in sales and profits driven by increased organic growth and its rapid store roll-out programme.
Group revenues increased by 19.4% to £2.4bn in the year to 23 March, with UK like-for-like sales up 3.1% - an increase on the 0.9% organic growth posted last year.
Fourth quarter like-for-like sales were up 2.9%despite the negative impact of Easter trading falling into its new financial year and B&M said it had made "an excellent start to 2018".
It opened 53 new stores opened in the UK during the period, including 9 relocations to large Homestores, and 19 new stores in Germany.
B&M plans to open another 40-50 stores in the UK and 15 in Germany and today revised its UK store target up from 850 to "at least 950 stores".
Group EBITDA increased by 18.1% to £231.5m, while pre-tax profits were up 18.4% to £182.9m. Adjusted profit before tax increased by 25.6% to £190.1m.
Chairman Sir Terry Leahy, Chairman, said: "B&M has delivered further strong increases in sales, profits and cash generation whilst pushing on with rapid store expansion in line with our strategy for growth.
"There was a robust return of trading momentum during the second half which has continued into the early weeks of the new financial year, affirming that B&M's offer resonates well with customers during a period of economic uncertainty and profound structural change in retailing."
Chief executive Simon Arora added: "B&M has never been in better shape. The skill, hard work and commitment of our people have driven our powerful return to trading form; building greater stability and consistency into our operations, keeping our costs down, delivering an even more competitive, compelling offering across our ranges week-in, week-out, especially in our seasonal peak periods and importantly, helping our customers spend less at a time when general retail prices have started to rise."
The group said B&M is "at the centre of one of the most appealing sweet spots in retailing today; a winning, value-led, low cost, focused assortment offer aimed at customers who enjoy or who need a bargain".
It added: "The business has made an excellent start to the new financial year, even allowing for the helpful timing of Easter. We are confident that the first quarter as a whole will represent a period of continued strong momentum for B&M."
Morning update
Sucralose producer Tate & Lyle (TATE) has also enjoyed a bumper 2016/17 year, with a jump in profits and rising sales.
In the year to to 31 March Tate & Lyle posted a 20% increase in adjusted profit before tax to £271m with solid performance and increased margins in both its speciality food ingredients and bulk ingredients businesses.
Sales were up 17% to £2.75bn.
It reported a 5% increase in speciality food ingredients adjusted operating profit to £181m, despite North America volume growth remaining "challenging". Improved performance was driven by a £30m increase in Sucralose profit following actions taken to refocus business
Overall it saw a 22% increase in sales from new products, while the weak pound added £40m to adjusted profit before tax.
Chief executive Javed Ahmed commented: "This has been a year of strong performance. Both business divisions delivered good profit growth, with bulk ingredients delivering particularly good results, driven by excellent commercial and manufacturing performance.
"Overall, these results reflect strong execution of our strategy and continued progress towards our 2020 Ambition, and are a testament to the talent and commitment of our people. This has been a very encouraging year that reflects the steps we have taken, and continue to take, to build a stronger business with higher quality earnings, capable of delivering sustainable long term growth.
"Turning to the outlook, we are confident that the Group will continue to make underlying progress in the 2018 financial year."
Also this morning Conviviality (CVR) has reported a near doubling of sales in the 52 weeks to 30 April from £841m to £1.56bn.
Conviviality Direct sales of £1bn were up 6.4% on the corresponding period last year, driven by a 1.6% increase in outlets and an increase in sales per outlet of 4.8%.
Conviviality Retail saw sales grow 6.1% to £374m, with like-for-like sales in the second half improving to +0.5%. Conviviality Trading is up 1% to £146m.
CEO Diana Hunter said: "We have come to the end of an unprecedented year of change and I am pleased to report a strong trading performance for the group and for each of its business units. It is encouraging to see our customers and suppliers benefiting from the skills and the expertise of the enlarged group, its scale and reach and its positioning as the UK's leading drinks wholesaler and distributor.
"We have made great progress on the integration of Matthew Clark and the acquisition and integration of Bibendum PLB Group. Our focus will continue to be on improving the business and ensuring that benefits are realised from our greater scale, as we drive efficiencies for the Group and greater service for our customers."
Former Fever-Tree (FEVR) executive chairman Charles Rolls has sold £73.1m of shares via an institutional placing.
He initially planned to sell 2.5m shares, but investor demand upped his sale to 4.5m shares - 3.9% of Fever-Tree's issued stock.
The shares were placed at a price of 1,625p per share and following the placing, Rolls holds just under 13m shares,or 11.2% company's issued share capital.
Finally, PayPoint (PAY) has posted its annual results for the year to 31 March.
It said it saw "good" growth in core retail networks, with gross revenue up by 3.6% to £203.4m and net revenue up by 6.2% to £117.5m.
Operating profit grew by 1.1% to £53.3m as it made a profit of £19.5m on the sale of its mobile division during the year.
CEO Dominic Taylor commented: "We have continued to deliver a significant transition in our business to respond to the needs of our retail clients and the changing world of payments.
"Our transition has involved the sale of our Mobile business, a renegotiated agreement with our partner on Collect+ and, most importantly, launched our new terminal PayPoint One, which includes an industry-leading EPoS solution.
"Looking beyond the current financial year, I see significant opportunities for our retail services business, accelerating the growth of ATM's, parcels and EPoS and we will continue to work to build our retailer relations. Our strategy is supported by balance sheet strength and the ability to continue to make superior returns to shareholders"
On the markets this morning, the FTSE 100 is largely flat, edging up 0.1% to 7,520.4p.
B&M has slipped 1.5% to 363.2p despite the bumper sales and profits rise this morning. Tate & Lyle is down 1.7% to 776.5p, Conviviality is up 2% to 324.7p, and PayPoint is down 2.5%to 962p.
Fever-Tree has dropped 4.1% back to 1,677p on the share sale of Charles Rolls.
Elsewhere, Britvic is up another 1.8% on top of yesterday's gains to 733.5p, Majestic Wine (WINE) is up 1.6% to 376.6p and Stock Spirits (STCK) is up 3% to 164p.
Yesterday in the City
The FTSE 100 edged back towards record peaks, rising a further 0.4% yesterday to 7,514.9pts.
The City was bolstered by better than expected results from Marks & Spencer (MKS), despite a 64% collapse in annual profits to £176.4m as a costly overhaul of the business hurt the bottom line, clothing sales declined further and like-for-like food sales went into reverse.
M&S closed 1.5% up to 393.4p having hit 397p in early trading.
Robinsons owner Britvic has posted a double-digit rise in first half sales, but restructuring costs hit pre-tax profits. Undeterred, the drinks maker's shares were up 2.5% to 720.5p by close.
Other strong risers included Finsbury Food Group (FIF), up 4.4% to 117.5p, Dairy Crest (DCG), up 1.9% to 621.5p, Cranswick (CWK), up 1.5% to 3000p, Reckitt Benckiser (RB), up 1.5% to 7,741p and Booker Group (BOK), up 1.2% to 202p.
The day's few fallers included PayPoint ahead of its annual results this morning, down 1% to 987p, Premier Foods (PFD), slipped back 1.2% to 41p and Hotel Chocolat (HOTC), was down 1.4% to 383.5p.