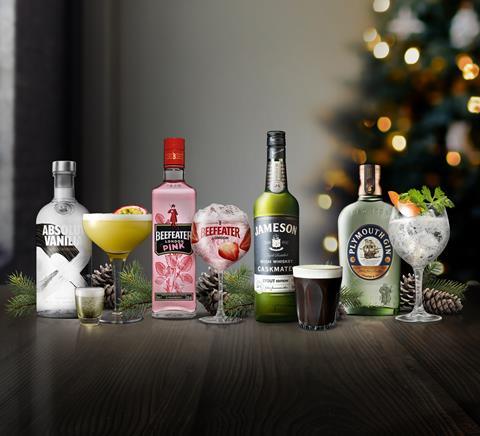 Top story
Pernod Ricard has posted double-digit annual sales growth despite "volatile" market conditions, while expanding its margin.
The groups full-year sales for the year to 30 June were up 10% organically to €12.1bn, with reported sales growth up 13% as it benefited from the dollar's appreciation against the euro.
The spirits giant saw broad-based growth across all regions with strong pricing execution.
In the Americas sales were up 2%, with strong growth in Latam led by Mexico, and North America with low single-digit growth amid stable sales in the US.
Europe was up 8% with growth led by Spain, Germany and rebound in travel retail.
Its Asia and Rest of World region jumped 17% on strong growth led by India, travel retail recovery, China and Turkey and solid performance in Japan and South Korea.
All spirits categories delivered strong growth, with its key strategic international brands up 11% led by Scotch, Martell, Jameson and Absolut.
Strategic local brands were up 10% and speciality brands by 8%. Wines saw a 2% drop, with overall soft performance mainly driven by Jacob's Creek and Campo Viejo in the UK and North America.
Growth was largely driven by pricing, with price/mix up 9% and pricing itself up 8% in the period. However, volumes remained resilient, growing 1%.
Full-year profit from recurring operations was up 11% to €3.3bn as it sustained organic gross margin and expanded organic operating margin thanks to premiumisation, revenue growth management and operational efficiencies.
The group reiterated its medium-term outlook up to 2025, aiming for the upper end of 4% to 7% net sales growth and a 50/60bps expansion in operating margin.
However, it expects a "soft" start to the current financial year, amplified by high comparatives from its 2022/23 financial year.
A number of trends will support the bottom line, including easing inflationary pressures, continued focus of revenue growth management and operating efficiencies, and retaining a marketing spend of 16% of net sales.
"Pernod Ricard once again delivered a very strong full-year performance, achieving double-digit broad-based growth in sales and earnings despite a volatile environment," commented Alexandre Ricard, chairman and CEO. "The relevance of our growth strategy, the desirability of our brands and the unwavering commitment and agility of our teams enabled us to gain share in most markets and strengthen pricing.
"Our transformational journey continues to accelerate through the deployment of tech and data-powered organisational, sales and marketing initiatives. We are making solid progress on our sustainability and responsibility roadmap to 2030.
"While the environment in FY24 remains challenging, I am confident in Pernod Ricard's ability to deliver on its medium-term objectives."
Pernod Ricard is down 3.7% to €187.15 so far this morning on the news.
Morning update
Discount grocery chain Aldi has announced it has lowered the prices on a range of fruit and veg products.
It said this morning that from this week shoppers can enjoy even lower prices on items including strawberries, tomatoes, potatoes and spinach. Fruit and veg items in Aldi's 'everyday essentials' range are included in the latest price drop, which it said has seen items fall by an average of 9%.
The move is the latest of more than 100 prices Aldi said it has cut in the past two months.
Julie Ashfield, MD of buying at Aldi UK, said: "Every week we are working hard to make new savings to pass on to our customers and help ensure we always offer them the lowest grocery prices.
"We know shoppers are having to make hard choices at the moment, so we are doing everything we can to offer the lowest prices possible. That's why shoppers continue to switch to Aldi from every other supermarket."
Elsewhere, C&C Group has announced the appointments of two new non-executive directors to its board.
Chris Browne will join on 2 October and Sarah Newbitt effective today.
C&C said Browne brings vast experience managing complex consumer-facing operations to C&C, while Newbitt brings extensive consumer goods sector and supply chain expertise, together with developing and implementing sustainability strategies.
Browne has held a number of senior leadership and executive roles within the aviation and travel industries. She served as MD of First Choice Airways and directed and managed a successful merger with Thomson Airways, before being appointed to execute a similar project for parent company TUI Group. In 2016, she joined EasyJet and served as chief operating officer until 2019.
Sarah Newbitt spent the majority of her executive career with Unilever, holding various international roles across operations and general management, and gained substantial M&A integration experience. Her most recent role was as vice president supply chain of Unilever UK&I.
Ralph Findlay, C&C Group executive chair, commented: "We are delighted to welcome Chris and Sarah to the board and look forward to drawing on their diverse and extensive public company expertise across operations, logistics, international consumer goods, supply chain management and sustainability, for the benefit of the Group in the years ahead."
On the markets this morning, the FTSE 100 is up another 0.1% to 7,479.4pts.
Risers include Nichols, up 3.8% to 1,032p, Glanbia, up 2.5% to €15.46, and Hotel Chocolat, up 2.5% to 104p.
Fallers include Naked Wines, down 1.6% to 65p, PayPoint, down 1.5% to 542p, and Just Eat Takeaway.com, down 1.3% to 1,051p.
Yesterday in the City
The major news on the markets yesterday was the quarterly reshuffle of the FTSE indices, which saw Marks & Spencer re-enter the FTSE 100 after a four-year absence.
The FTSE 100 itself rose for the fifth consecutive day, rising another 0.1% to 7,473.7pts.
Grocery risers included Coca-Cola Europacific Partners, up 2.6% to €59.00, Glanbia, up 2.5% to €15.46, Virgin Wines, up 2.2% to 47p, Fever-Tree Drinks, up 1.6% to 1,314p, B&M European Value Retail, up 1.5% to 573.8p, and Premier Foods, up 1.5% to 123.2p.
The day's fallers included Nichols, down 5.3% to 994p, Science in Sport, down 3.6% to 13.5p, Just Eat Takeaway.com, down 3% to 1,065p, Kerry Group, down 2.3% to 86p, and Finsbury Food Group, down 0.6% to 91p.