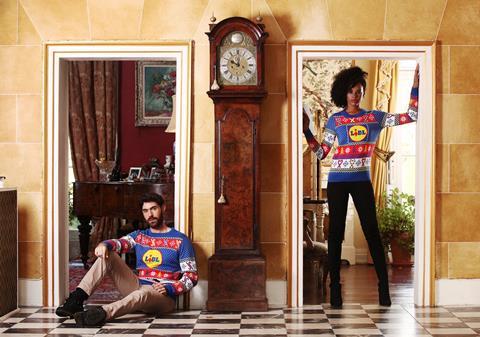 Top story
Lidl has enjoyed a record Christmas as shoppers filled bigger baskets with its Deluxe range and bottles of pink prosecco.
The discounter increased overall sales 17.9% in the four weeks to 27 December compared to Christmas 2019 to outperform its big four rivals and Aldi.
Baskets sizes over the period expanded by 24.8% year on year and households across Britain switched £34.7m of spend from other supermarkets, Lidl said in a statement this morning.
The retailer added that Christmas favourites drove spending, with more than 2.7 million servings of panettone sold and the equivalent of 7,000 glasses of mulled wine and almost 17,000 Deluxe mince pies sold every hour.
The discounter also claimed a UK first with its pink prosecco, with one-million bottles being sold in total in the four trading weeks of Christmas.
Overall, its Deluxe premium range increased sales 22% versus last year.
Growth was also supported by incentives offered on its new Lidl Plus rewards app, Lidl said.
GB CEO Christian Härtnagel said: "Despite this Christmas being a difficult time for many across the country, we are pleased to have been able to help our customers enjoy themselves by offering high-quality food at the lowest prices on the market. Our record sales and significant basket size growth just demonstrates the strength of the Lidl appeal."
The retailer also launched its first-ever branded Christmas jumper, with one being sold every minute.
For the third year in a row, the discounter ran its Christmas Eve donation scheme, which saw more 180,000 products, the equivalent of £150,000 worth of food, given to charities and those most in need. The products were donated via Lidl's Feed it Back initiative in partnership with Neighbourly. In total, the initiative has led to more than 350,000 meals being donated to charities and good causes during the Christmas period.
Härtnagel added: "I'm really proud of how our teams have worked together during this festive period. I want to extend my thanks in particular to our colleagues.
"They are the absolute backbone of our business and have remained dedicated to ensuring customers could get the products they love, in a safe shopping environment. As we look ahead to this year, we remain committed to our expansion and investment plans, offering more customers up and down the country our great quality, unbeatable value offer."
Lidl continued to press ahead with its store expansion programme, opening four new stores in December, including in Southampton and Nottingham, creating 120 jobs for communities in the process. This forms part of the supermarket's £1.3bn investment for the next two years and moves it closer to the target of 1,000 stores by 2023.
Morning update
Just Eat has once again benefitted from renewed coronavirus lockdown restrictions around the world as orders using the takeaway delivery app surged 57% in the final quarter of 2020.
It puts full-year order growth at 39% and revenues up more than 50% in the range of €2.38bn to €2.4bn.
Total orders ballooned 58% in the UK in the final three months of 2020 as the country entered a second national lockdown in November and saw restrictions tighten further ahead of Christmas.
Orders in Canada almost doubled in the period, climbing 94%, while orders in Germany were up 56% and those in the rest of the world were up 47%.
The group said it had further strengthened its market-leading positions by significantly investing in its most important countries, which led to strong and accelerating growth both in marketplace orders as well as in its delivery business.
CEO Jitse Groen said: "The fourth quarter of 2020 marks our third consecutive quarter of order growth acceleration.
"Our investment programme is very successful and has led to significant market share gains in most of our countries. The progress in the UK is particularly exciting; order growth of 58% and we have increased our Delivery Orders nearly five-fold in the fourth quarter of 2020 compared with the same period in 2019.
"In 2021, we will continue to invest in price leadership, improving our service levels and expanding our offering to restaurants and consumers."
Shares in Just Eat fell 4.6% to 8,652p despite the fourth-quarter growth.
The FTSE 100 edged up by 0.02% as markets opened, with Associated British Foods, B&M European Value Retail and Sainsbury's among the early risers.
Yesterday in the City
The FTSE 100 was down another 0.7% to 6,754.11pts as investors turned more cautious over the path of a recovery from Covid.
Vimto maker Nichols climbed 0.8% to 1,235p despite reporting a 19.3% drop in 2020 revenues as the coronavirus outbreak decimated out of home sales.
The Hut Group was also among the risers yesterday, increasing 1% to 798p after revealing a 51% jump in sales in the final quarter of 2020.
Other risers included Science in Sport, up 5.3% to 40p, Hilton Food Group, up 3.3% to 1,116p, C&C Group, up 2.7% to 249p, and WH Smith, up 1.9% to 1,591p.
Yesterday's losers in food and drink included Hotel Chocolat, Reckitt Benckiser and Fevertree, falling 4.3% to 387.5p, 3% to 6,358p, and 2.7% to 2,353p respectively.