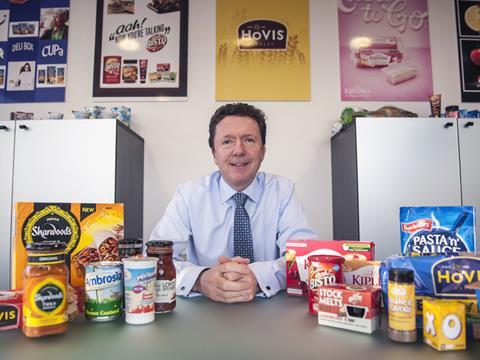 Top story
Premier Foods (PFD) has announced first quarter sales growth of 1.7% ahead of a crucial shareholder vote on the future of CEO Gavin Darby later this morning.
The Mr Kipling and Batchelors owner said sales are up 4.5% in the first six months of 2018, but the 1.7% growth in the three months to 30 June represents a notable slowdown on the 7% growth seen in the prior three months and has slipped below Premier's 2-4% revenue growth target.
The growth was driven largely by its biggest brand Mr Kipling following a brand relaunch in March.
Branded sweet treats were up 7.6% in the quarter, with the total division's growth at 5.5% as non-branded sales slipped 5.4%.
Cadbury cake sales in the UK were lower in the early part of the quarter as expected due to Easter falling in the previous quarter, while the group also exited two customer contracts.
Branded grocery sales fell 1.5%, with growth of 9.1% in non-branded grocery taking the division to just above flat at 0.2% growth.
It said Batchelors continued to display the "excellent growth trends" it has delivered over the last year, with Batchelors Super Noodles pots and Pasta 'n' Sauce pots growing by over 50% in the quarter. Nissin branded products Soba Noodles and Cup Noodle grew by nearly 80% compared to the same period a year ago.
However, sales of Bisto were slower towards the end of the first quarter as category volumes declined due to warmer weather experienced in the UK, while Loyd Grossman sales were lower due to changes in the phasing of promotional activity. Angel Delight again saw double-digit sales growth in the quarter.
The total branded growth of 1.1% brought branded growth down to 3.5% for the first six months of 2018, while non-branded growth of 4.8% brought private label growth down to 10% so far in 2018.
Premier said international sales increased approximately 4% during quarter, following a better than expected performance in the previous quarter. Taking these last two quarters together, International sales grew nearly 20%.
Looking forward, Premier said its expectations remain unchanged and progress in its key priorities will be weighted to the second half of the year.
Premier said it remains is committed to continuing its strategy of improving performance and reducing net debt by £25m per annum, while working in parallel to "identify other strategic opportunities to accelerate the company's turnaround to create value for shareholders".
CEO Gavin Darby, who has been subject to a campaign from activist shareholder Oasis Management to oust him at today's AGM, commented: "We are pleased to report another quarter of growth, with sales up 1.7% compared to last year.
"Our biggest brand, Mr Kipling, led the charge with an excellent performance on the back of its recent brand relaunch with sales up 14% in the UK. Over the last six months, we have delivered sales growth of 4.5% which goes to show that our strategy of product innovation and working closely with our strategic partnerships is delivering results. With further exciting innovation across our branded portfolio to come in the months ahead, our expectations for progress in the year remain unchanged."
Morning update
Hotel Chocolat Group (HOTC) has grown revenues by 12% to £166m in the 52 weeks to 1 July 2018.
In a trading statement this morning, the company said profit before tax for the year will be in line with market expectations.
The business opened 15 stores in the year contributing 6% to group sales year-on-year, added 200,000 new online buyers, and has developed a number of new products for the upcoming autumn-winter season.
Trading since the end of its financial year continues to be in line with management's expectations.
Angus Thirlwell, Co-Founder and CEO said: "Hotel Chocolat has had another strong year. Whilst there has been considerable recent media coverage of retail generally, we are encouraged by the performance of both our new and existing locations.
"Customers are continuing to respond well to our luxury brand and lifestyle propositions. During the recent heatwave in the UK, our new Chilled Chocolat drinks, unique Chocs to Chill, Ice Cream of the Gods and improved Cocoa Beers have been very popular."
Real Good Foods (RGD) is looking to raise £1m from shareholders to support its working capital.
The funding will replace its May 2018 loan notes via an open offer of up to 20,115,190 shares at £0.05 per share.
The net proceeds of the Open Offer will be used to provide future working capital to the group.
After the transaction its major investors Napier Brown Holdings, Omnicane and investment firm Downing could own up to 66.7% of the group and will need to sign a waiver under the UK takeover code to avoid making an offer for the rest of the shares.
M&S (MKS) has announced a strategic partnership with green energy provider Octopus to supply energy and services under the M&S Energy brand from September 2018.
The new partnership is designed to create "a more progressive, digital and commercial" M&S Energy that will "deliver growth to the M&S brand at a time of critical transformation".
The collaboration will see M&S Energy look to challenge the 'Big 6' and disrupt the traditional energy market, starting with a rebuttal of what M&S called the "traditional but punitive 'tease and squeeze' pricing policies".
Under the M&S Energy brand, M&S and Octopus will launch a responsible and transparent price model that puts customers firmly in the know, and in control.
Jonathan Hazeldine, Head of M&S Energy, said: "As we continue to transform M&S we have chosen Octopus as a new strategic partner for M&S Energy. Octopus' values of responsible and transparent pricing and digital-first customer service mirror our ambitions for the business.
"Together, we can challenge the traditional energy market and bring green energy to millions of households at a competitive and fair price. We believe they are the best partner to help transform and grow M&S Energy into a digital, progressive and commercially competitive arm of M&S."
Octopus is the UK's largest investor in solar farms. M&S Energy will offer 100% green energy to customers, in line with M&S's Plan A environmental and sustainability plan.
Finally, agriculture and engineering group Carr's (CARR) has issued a trading update for the 17-week period ended 30 June 2018.
Overall, Carr's said it is trading slightly ahead of the board's previous expectations and is significantly ahead of the prior year, across both agriculture and engineering.
UK Agriculture continues to "perform well across all areas" reflecting improved farm incomes. Feed volumes, retail sales, machinery sales and fuel sales are all ahead of the prior year. Pearson Farm Supplies, which we acquired in October 2017, has been successfully integrated into the wider Carrs Billington Agriculture business delivering sales.
Feed block volumes in the UK remain on track, Carr's said. In the USA, feed block volumes are significantly ahead of the prior year as the cattle market continues to recover. In Europe, feed block sales through its joint venture business based in Germany, Crystalyx Products, continue to grow.
On the markets this morning, the FTSE 100 has opened up 0.5% to 7,661.8pts.
Premier Foods shares are down 1.7% to 46p, Hotel Chocolat is up 3.2% to 357p and Real Good Food is up 7.3% to 11.8p.
Early risers include McBride (MCB), up 3.8% to 132.6p, Hilton Food Group (HFG), up 3% to 978p and SSP Group (SSPG), up 1.6% to 689.4p.
Fallers so far include Carr's Group, down 6.4% to 154.4p, Marston's (MARS), down 0.6% to 97.9p and Sainsbury's (SBRY), down 0.5% to 327p.
Yesterday in the City
The FTSE 100 ended the day up 0.3% to 7,626.3pts on what was generally a positive day for the grocery sector.
Dairy Crest (DCG) jumped 3.3% to 484.2p after announcing first quarter sales revenues of its four key brands - Cathedral City, Clover, Frylight and Country Life - were 6% higher than the same period last year.
Travel retail specialist SSP Group (SSPG) also rose 3.1% to 678.4p after it announced yesterday it had grown sales by 7.3% in the third quarter, with like for like growth of 2.7% in the period.
Other risers included Just Eat (JE), up 2.7% to 871p, Ocado (OCD), up 1.7% to 1,072p, Diageo (DGE), up 1.6% to 2,812p, PZ Cussons (PZC), up 1.4% to 227.2p, WH Smith (SMWH), up 1.4% to 1990p, Coca-Cola HBC (CCH), up 1.4% to 2,773p and Greggs (GRG), up 1.3% to 967.5p.
The two FTSE 100 tobacco firms fell 1.3% each, with British American Tobacco down to 3,820.5p and Imperial Brands down to 2,815p.
Other fallers yesterday included Greene King (GNK), down 5.8% to 535.4p, McBride (MCB), down 4.9% to 127.8p, C&C Group (CCR), down 2.9% to €3.42.
Hotel Chocolat was down 1.9% to 346p ahead of its trading update this morning, while Finsbury Food Group fell 1.9% to 114.3p after its full-year trading update on Monday.