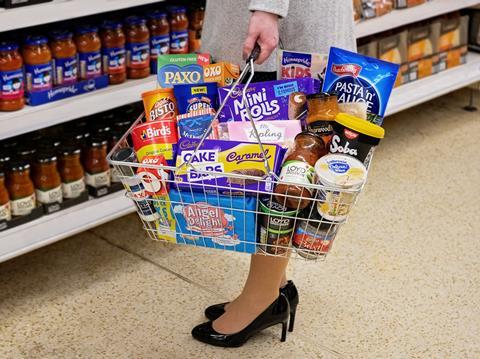 Top story
Premier Foods (PFD) has posted third quarter growth of 2.6% in its third quarter encompassing the Christmas period, with UK sales up 3.6% as its key brands gained market share.
Sales growth was driven by 8% growth in its sweet treats division, while its grocery sales grew by a more modest 0.3% as improved UK performance was offset by a "disappointing" quarter for its international business.
Seven of Premier's largest eight brands growing market share on a year to date basis.
In the Grocery business, Bisto and Ambrosia both grew sales in the third quarter, reflecting advertising investment for Bisto and continued share gains for Ambrosia. Sales of Paxo stuffing were "excellent" in the run up to Christmas while Nissin Soba noodles and Cup Noodle continued their "very strong" trajectory, growing revenues by nearly 70% in the quarter.
In Sweet Treats, Mr. Kipling recorded an eighth consecutive quarter of sales growth, with revenues up 10% as the benefits from increased marketing investment and new product launches.
Mr.Kipling mince pies sales also grew by +10% in the quarter, supported by the launch of its new mini Mr. Kipling mince pies. In total, the Group sold over 200 million mince pies during the course of 2019; a 7% volume increase on the prior year. Sales of Cadbury licensed product ranges were ahead on a year to date basis, although slightly tempered in December as lower promotional levels on cake offset the launch of new Cadbury cake mixes.
Its international business saw sales plunge 17% in the third quarter. However, with new leadership now in place, the group is implementing a revised and more focused approach in order to deliver more consistent sustainable growth, building bigger businesses in selected markets.
Its strategic review, which could involve the sale of key brands, is "nearing completion".
CEO Alex Whitehouse commented: "Our UK business has now delivered 10 consecutive quarters of revenue growth and has consistently outperformed the market. Our biggest brand, Mr. Kipling, has again been instrumental to this continuing momentum, with increased sales of 10% supported by TV advertising and new product ranges.
"Our proven branded growth model of delivering new product innovation based on consumer trends together with high quality advertising behind our major brands continues to work very well. In Q3 we doubled our UK marketing investment with more to come in Q4, along with a number of new product launches including Cadbury Crème Egg choc cakes and Mr. Kipling mini pies and tarts.
"We are making good progress towards our cost savings goals and are on track to deliver £5m savings over the next 2 years to further increase investment into the branded growth model. This performance, in our key trading period, reconfirms our unchanged profit expectations for the full year and we remain on track to meet our Net debt/EBITDA leverage target by March 2020."
Premier Foods shares are up a further 1.2% in early trading to 43.5p.
Morning update
Listed pork and protein group Cranswick (CWK) has upgraded its full year profit expectations on the back of strong Christmas trading and export growth.
The group's adjusted profit before tax for the year ending 31 March 2020 is now expected to be higher than current market forecasts.
In November the group said it had delivered a robust performance, in a competitive UK market. That performance, and market backdrop, in the UK continued over the important Christmas trading period. Revenue growth was positive across each of Cranswick's four product categories.
Export sales have continued to be "exceptionally strong" and the outlook remains positive. It said African Swine Fever has created opportunities for Far Eastern exports assuming the UK remains ASF free. The UK industry remains on high alert with intensive biosecurity protocols in place.
The commissioning of the world class £75m primary poultry processing facility in Eye, Suffolk continues to plan, with the "ramp up" phase now underway.
Meanwhile, its recent acquisition of Packington Pork "materially increases Cranswick's self-sufficiency in UK pigs processed, securing direct control over a significant part of the group's supply chain for premium pigs and further reinforcing its commitment to developing a sustainable and traceable farm to fork operation".
The Cranswick board said it is "confident that continued focus on the strengths of the company, which include its long-standing customer relationships, breadth and quality of products, robust financial position and industry leading asset infrastructure, will support the further successful development of the group over the longer term".
Sausage skin manufacturer Devro (DVO) has issued a trading update for the year ended 31 December 2019.
It said full year edible collagen volumes were flat, with the Group delivering overall volume growth of 1% in the second half.
Slightly lower than anticipated second half volumes, less favourable country mix combined with a smaller than expected FX benefit due to the strengthening of sterling means we now expect to report underlying operating profit for the year in the range of £39-£40m.
After a slower start in the first half of 2019 overall volumes in emerging markets grew 13% in the second half and 7% for the full year. Whilst overall volumes in North America grew 7%, growth during Q4 was not as strong as expected, specifically impacted by a longer than anticipated Christmas shutdown at a key customer. Market conditions in Japan and Europe continued to be "challenging".
In Europe, Devro saw weak market sentiment, with lower promotional activity due to higher pork prices and the impact of de-stocking by some of our distributor partners, which it expects to continue into the first half of 2020. As a result, overall sales in mature markets declined 3% in the year.
However, cost saving initiatives continued to "deliver well" and it is on track to achieve £7m savings in its 2019 financial year.
In 2020 it expects to achieve strong volume growth in emerging markets. In our mature markets it expects good volume growth in the North American snacking market and, despite a continuation of the challenging market conditions in Europe (particularly in the first half of 2020), overall group volumes are expected to be ahead of 2019.
In France, retail giant Casino last night announced that its fourth quarter net revenues slid back 1.4% year-on-year to €9.23bn.
Total sales went up 3.6% on an organic basis, while same-store sales rose 1.6%.
However, its French retail sales dropped 4.3% back to €4.2bn meaning that overall organic sales fell back 1.2%.
Sales at the Group's businesses in Latin America (GPA Food and Éxito) rose by 3.4% on a same-store basis and 9.2% on an organic basis this quarter. However, net sales were impacted by a negative currency effect of -6.7%, meaning overall growth of 1.7% for the division.
Casino's overall sales for the full year inched up 0.9% to 34.65 billion euros, with organic sales up 4.2% and same-store growth up 2.2 Casino Group
Full-year 2019 net sales rose 4.3% organically to €34.6bn and up by 2.2% on a same-store basis.
On the markets this morning, the FTSE 100 is back up 0.5% to 7,640.5pts.
Cranswick is up 7.5% to 3,650p on this mornings profit upgrade, Marks & Spencer (MKS) is up 2.2% to 188.1p and FeverTree (FEVR) is up 1.6% to 2,023p.
Fallers so far this morning include Devro, down 2.9% to 169.4p on this morning's update, Bakkavor, down 1.9% to 135.6p and C&C Group (CCR), down 0.9% to 381p.
Yesterday in the City
The FTSE 100 fell back by 0.4% yesterday to 7,609.8pts as a rise in the value of the pound affected the index's international stocks.
FTSE 100 groups on the slide included British American Tobacco (BATS), down 1.3% to 3,463p, Compass Group (CPG), down 2.3% to 1,926p and Tesco (TSCO), down 1.1% to 245p.
Other names falling yesterday included C&C Group (CCR), which fell 4.5% to 384.5p on the announcement of the retirement of its CEO Stephen Glancey, FeverTree (FEVR), down 4.4% to 1990.5p, McBride (MCB) down another 3% to 64p after its Tuesday profits warning and Naked Wines (WINE), down 2.6% to 221p.
Finsbury Food Group (FIF), dropped 2.5% to 96.5p after releasing its first half trading statement yesterday.
One FTSE 100 name on the rise was Associated British Foods (ABF), which jumped 4.2% to 2,661p as its first quarter sales were boosted by a return to growth in its sugar division and 4.5% growth in Primark sales driven by new space.
Also on the up were Premier Foods ahead of this morning's trading update, reising 4.4% to 42p – its highest share price since mid 2018 – McColl's (MCLS), up 3.4% to 47.6p, Glanbia (GLB), up 2.3% to €10.66, Marks & Spencer (MKS), up 1.8% to 184.1p, PayPoint, up 1.5% to 1,090p and B&M European Value Retail (BME), up 1% to 380.8p.
Bakkavor rose 0.7% to 138.2p on the back of its full year trading update yesterday, which reported "encouraging progress" made across the group.