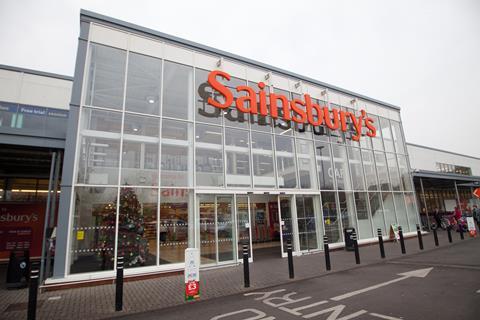 Top story
Sainsbury's (SBRY) has posted a 0.7% decline in like for like retail sales in its crucial third quarter, which includes the Christmas trading period.
In the 15 weeks to 4 January both Sainsbury's total retail sales (excluding fuel) and like for like sales (ex fuel) were down 0.7% compared to the same period a year ago.
That marks the supermarket's fifth consecutive quarter of declining like for like sales, albeit an improvement on the 1.1% organic sales fall in the third quarter last year.
Total grocery sales were up 0.4% in the period, with online grocery sales up 7.3%.
Clothing grew by 4.4%, but general merchandise slumped by 3.9%.
Total online sales grew by 5% in the quarter as, including Argos, over 20% of sales across the business started online in the period.
CEO Mike Coupe commented: "We gave our customers a great combination of quality food at good prices this Christmas and we delivered a standout performance operationally. We have a real sense of momentum in Sainsbury's and investment in our stores and improvements to service and availability have led to our highest customer satisfaction scores of the year.
"Our digital investments are also paying off and over 20% of our business was online in the quarter. Groceries Online had record order numbers throughout the Christmas period and customers are increasingly choosing to shop with SmartShop in our supermarkets. Argos had its biggest digital Black Friday to date and record sales through mobile and via Argos Click and Collect. 32 million customers shopped with us across Sainsbury's and Argos in the key Christmas week.
"The colder weather helped to deliver strong clothing sales in the quarter and our Christmas, party and gifting ranges were all popular with customers. Argos outperformed the market in consumer electronics, but the toy and gaming markets declined year on year."
Sainsbury's said retail markets remain "highly competitive and promotional" and the consumer outlook continues to be "uncertain".
"However, we are well placed to navigate the external environment and are executing well against our strategy," the supermarket said.
It admitted the general merchandise market is "challenging", though said Argos delivered its biggest ever digital channel trading day on Black Friday with 12 orders per second in the peak hour
It opened 10 Argos stores in Sainsbury's supermarkets, bringing the total to 298.
Sainsbury's shares have edged up 0.2% to 231.4p so far this morning.
Morning update
Greggs (GRG) has posted another quarter of strong organic growth to take its full year sales up 13.5% year-on-year.
Posting a full year trading statement for the 52 weeks to 28 December, the food to go stalwart said company-managed shop like-for-like sales grew by 9.2% in the full year.
In the fourth quarter company-managed shop like-for-like sales growth eased slightly to 8.7%, though this was significantly above the 5.2% growth it recorded in the fourth quarter of 2018.
It said growth continues to be driven by additional customer visits with strong demand across its traditional ranges and its widely trumpeted vegan sausage roll.
During the year the chain opened 138 new shops (including 45 franchised units) and closed 41, growing the estate to 2,050 shops trading as at 28 December 2019, 302 of which are franchised shops operated by partners in travel and other convenience locations.
In the year ahead it expects around 100 net shop openings.
Due to the continued strong trading, it expects full year underlying profit before tax expected to be slightly higher than previously stated expectations.
It said it expects a number of cost headwinds in the year ahead and expect these to be higher than we have seen recently, as National Living Wage costs increase faster than general inflation and the cost of pork continues to rise significantly.
However, it said it will seek to mitigate as much of this as is possible through business efficiency and will also ensure that prices continue to represent great value.
In the context of an "exceptional year" the board has agreed to make a special payment to employees, with all staff sharing in a one-off payment costing £7m which will be paid at the end of January.
CEO Roger Whiteside commented: "We delivered a strong finish to what has been an exceptional year for Greggs. The major investments we have made in recent years to make Greggs an attractive choice in the food-on-the-go market are delivering. Consumers are responding very positively and we have seen increasing visits from both new and existing customers.
"Our record financial performance in 2019 has enabled us to enhance returns to shareholders. I am delighted to announce that we will also be making a special additional payment to all of our colleagues across the business who have worked so hard to deliver this success in what has been a phenomenal year.
"Looking to the year ahead, we face strong sales comparatives and cost inflation headwinds present a challenge. However, with strong momentum in the business we see further growth opportunities across a number of channels as we invest in new ways to make Greggs more accessible and convenient for customers."
In recent weeks it has added further to its vegan-friendly menu with the launch of our 'Vegan Steak Bake' and its first vegan doughnut, while it pledged to continue to evolve its range to suit a broad variety of dietary choices.
Greggs also expects to scale up successful elements of its trials in the extension of trading hours and by making delivery more widely available.
Greggs shares have fallen 2.4% on the update to 2,344p.
On the markets this morning, the FTSE 100 has dropped a further 0.5% to 7,537.1p as the situation between the US and Iran intensifies.
Grocery fallers so far include Glanbia (GLB), down 1.6% to €10.04, DS Smith (SMDS), down 1.6% to 377.1p, Greencore (GNC), down 1.5% to 254.1p and Unilever (ULVR), down 1.5% to 4,225p.
The day's few risers include Hotel Chocolat (HOTC), up 4.5% to 515p, Premier Foods (PFD), up 0.7% to 37.5p and Just Eat (JE), up 0.5% to 873p.
Yesterday in the City
The FTSE 100 ended the day flat at 7,573.9pts yesterday.
Morrisons (MRW) ended the day up 1.6% to 195.5p after it posted a 1.7% organic sales slide in the run-up to Christmas, which was a less severe downturn than many analysts had been forecasting.
Ocado (OCDO) was one of the day's notable risers as it climbed 4.3% on the back off market share data that showed its Christmas retail trading growth outstripping in-store rivals by 12.5%. Retail joint venture partner Marks & Spencer (MKS) was up 2.5% to 218.4p on the strong online grocery sales momentum.
Other risers included Total Produce (TOT), up 4.2% to 125p, Associated British Foods (ABF), up 2.2% to 2,672p, Just Eat (JE), up 1.6% to 686.8p and AG Barr (BAG), up 1.6% to 580p. Tobacco giants Imperial Brands (IMB) and British American Tobacco (BATS) were up 1.9% to 1,947.2p and 1.7% to 3,406p respectively.
The day's fallers included FeverTree (FEVR), down 5.2% to 1,955p, Cranswick (CWK), down 2.7% to 3,290p, Carr's Group (CARR), down 2.6% to 151p, Premier Foods (PFD), down 2% to 37.25p, Hilton Food Group (HFG), down 1.8% to 1,082p, Britvic (BVIC), down 1.7% to 887.5p and Glanbia (GLB), down 1.5% to €10.20.