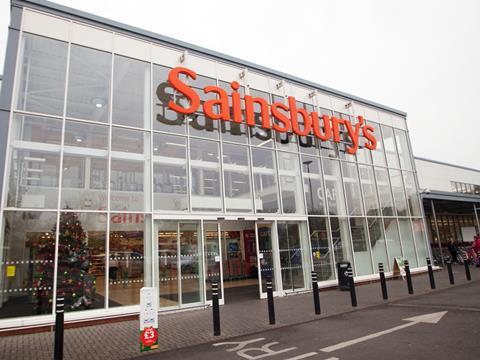 Top story
Sainsbury's has said it expects to hit the upper end of previous profit guidance after making strong market share gains in the first half as it put food "firmly at the heart" of the business.
Reporting its first-half results for the six months to 16 September, Sainsbury's said its grocery sales increased by 10.1% in the period, as it continued to prioritise value for customers and inflated prices behind key competitors.
The supermarket said this double-digit growth was driven by volume growth across both quarters driving record market share gains and consistent market outperformance.
General merchandise sales increased a more modest 1.1% as strong sales of consumer electronics and technology products were more than offset significantly lower seasonal sales, which were impacted by a wetter and cooler summer compared to a very warm and dry summer last year. 
Clothing sales fell back 8.4%, adversely impacted by a cooler summer and warm early autumn, reducing demand for seasonal items.
Fuel sales decreased by 19.6%, driven primarily by the year-on-year reduction of average pump price.
Total statutory group sales for the period were up 3.5%, with like-for-like retail sales (excluding fuel) up 8.4% after 6.6% growth in the second quarter.
That translated into a 2% uptick in retail operating profit to £485m, reflecting the strong volume-driven grocery profit growth and continued delivery of cost saving benefits, partially offset by the impact of weaker seasonal sales on general merchandise profits
Underlying profit before tax of was flat at £340m, while statutory profit before tax of £275m was down 27%, due to non-cash charges in the period and one-off income from legal settlements in the prior year.
Sainsbury's said it expects it continues to invest in its grocery offer and expects its volume performance to results in fully year underlying profit before tax of between £670m-£700m, which is in the upper half of previous guidance.
Meanwhile retail free cash flow is expected to be at least £600m, higher than previous guidance of at least £500m.
CEO Simon Roberts commented: "Food is firmly back at the heart of Sainsbury's. We've never been more competitive on price and our focus on value, innovation and service is giving more customers more reasons to shop with us.
"We know people are still finding things tough and we're working harder than ever to reduce our costs, putting the money back into our customers' pockets through lower prices on the products they buy most often. I'm pleased to say food inflation is coming down and we are passing savings on to customers. We've rolled out Nectar Prices to over 6,000 products and the vast majority of customers are now shopping with Nectar, saving over £450 million since April.
"We're ready to give customers at Sainsbury's and Argos everything they want to have a brilliant Christmas. We're helping everyone to treat themselves with fantastic value and more delicious new food than ever before. As we head into this key trading period, we are encouraged by our strong momentum and we remain fully focused on delivering for customers and shareholders."
Sainsbury's shares have jumped 4.9% on the strong first half performance to 274.5p.
Morning update
Consumer health player Haleon has posted third quarter growth of 5% driven by pricing and strong growth in oral health.
Oganic growth of 5% in the quarter consisted of a 6.6% boost from pricing, while volume/mix was down 1.6%.
Sales were down 3.3% on a reported basis to £2.8bn.
The group said it benefited from strong performance across its 'power brands', with organic revenues across key brands up 9.3% in the quarter and up 9.8% for the first nine months of its financial year.
However, its volume/mix decline reflected lower volume in North America in digestive health and 'other' driven by one-off retailer inventory adjustments and the expected decline in Emergen-C.
Excluding both factors, volume/mix would have been flat
Oral Health was the standout performer, delivering growth of 9.4%. Respiratory reflected a normal seasonal sell in, and VMS was up slightly driven by strong Centrum growth
Regionally, organic revenue in EMEA and LatAm grew 10.8%, APAC increased 5.9% and North America declined 1.5%.
For the full year the group expects organic revenue growth to be 7%-8% and adjusted operating profit growth to be 9%-11% constant currency.
CEO Brian McNamara commented: "I am pleased with our Q3 results, which demonstrate continued strong momentum across the business.
"Despite challenging markets, we have delivered another quarter of strong organic growth, reflecting the strength of our category positions and the ongoing ability of our brands to grow or maintain share.
"Our Power Brands grew ahead of the overall portfolio in the period, with all three Oral Health brands, Panadol and Centrum the standout performers. In Oral Health, innovation underpinned brand success alongside excellent execution in market.
"The productivity programme continues to progress well and remains on track, as we ensure that Haleon's structure and operations as a standalone business are optimised to deliver effectively for our customers and consumers.
"Our FY guidance remains unchanged and we expect to deliver strong growth in both organic revenue and adjusted operating profit constant currency. Whilst we are mindful of what remains an uncertain economic and geopolitical environment, we remain confident in our medium term guidance, and remain committed to drive long-term sustainable growth."
Elsewhere, British American Tobacco has announced the appointment of a new chief financial officer.
Soraya Benchikh will join BAT from 1 May 2024, succeeding Javed Iqbal, who will continue to serve as interim finance director until 30 April 2024.
Benchikh has been president, Europe at Diageo since January 2023, having joined Diageo in July 2020 as MD for Northern Europe.
She previously spent 20 years at BAT where she served as president of BAT France, area director for East and Southern Africa, and regional finance director for Europe. Earlier in her career, she worked in finance roles at General Electric and Gillette.
Luc Jobin, chair of the board, commented: "I am pleased to welcome Soraya as chief financial officer, and to the board. She brings a wealth of leadership experience and commercial acumen from across both finance and commercial roles. Soraya's excellent track record in different geographies and in depth understanding of the sector make her ideally suited for the role."
CEO Tadeu Marroco added: "Her extensive senior leadership and financial experience from a range of international fast moving consumer goods companies represents a great addition to our leadership team. I am grateful to Javed for his continued contribution as interim finance director, in addition to his ongoing role as director, digital and information.
Following the recent appointment of Dr Cora Koppe-Stahrenberg as chief people officer, Soraya's appointment is also a further important step towards building a modern organisation."
Soraya Benchikh said: "I am excited to re-join the leadership of BAT and share their passion for the transformation strategy. I am looking forward to working with my new colleagues, the leadership team, Tadeu and the board, and leverage my recent experience within broader fmcg to provide an external lens and support their efforts to accelerate BAT's strategy to build A Better Tomorrow."
On the markets this morning, the FTSE 100 is up 1.2% to 7,433.3pts on some strong corproate results.
As well as Sainsbury's, risers include Ocado, up 7.6% to 512.3p, Just Eat Takeaway.com, up 7.5% to 1,080p and THG, up 5% to 72.6p.
Fallers include Haleon, down 3% to 321.2p, Naked Wines, down 1.9% to 43.1p and Hilton Food Group, down 1.3% to 658p.
Yesterday in the City
The FTSE 100 closed up 0.3% yesterday to 7,342.4pts.
The day's risers included Glanbia, up 7.9% to €15.48, Cranswick, up 3.8% to 3,626p, Marks & Spencer, up 3.3% to 224p, SSP Group, up 2.8% to 185p, Associated British Foods, up 2.6% to 2,078p and Deliveroo, up 2.4% to 133.1p.
Fallers included McBride, down 2.1% to 42.3p, Bakkavor, down 1.8% to 86.4p, Naked Wines, down 1.1% to 43.9p, THG, down 1.1% to 69.2p and Fever-Tree, down 0.9% to 995p.