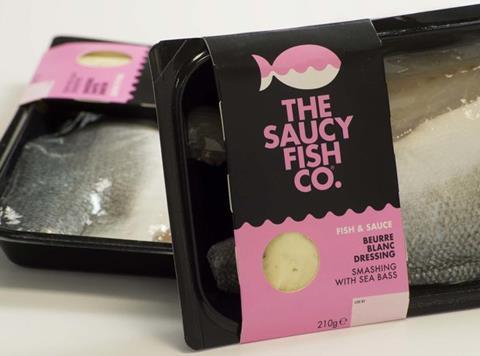 Top story
Sales jumped 25% at packaging and food processing giant Hilton Food Group (HFG) in the first half of 2018, boosted by the strong performance of recently acquired, Saucy Fish Co. maker Seachill.
The packaging specialist saw sales rise to £863.6m for the 28 weeks to 15 July 2018, with volumes up 12.7%.
Volume growth was driven by increased sales at Tesco seafood processor Seachill, up 14%, as well as international growth in Ireland and Australia.
Grimsby-based supplier Seachill was bought by Hilton in a deal worth £80m in November last year and employs more than 700 people.
Hilton beat analyst expectations, as pre-tax profits rose 20.9% to £22.3m for the period, with EPS up 10.4% to 21.2p.
Analysts said growth in Australia was also particularly pleasing, after the business absorbed set up costs from the Australian arm, before gaining full operational control of its joint venture facilities in the country in July.
There was significant cash generation and capex investment during the period, the company said, adding that it has further investments planned.
"Hilton has continued to deliver on its strategies to build a significantly bigger more diversified business," said executive chairman Robert Watson.
"We achieved strong volume and profit growth during the period including the integration of Seachill and the launch of a fresh food offering in Central Europe.
"We have further extended our geographical reach in Australia where we commenced production and took operational control of two existing facilities whilst constructing a further facility and designing a new facility in New Zealand, which further extends our geographical reach.
"We remain committed to growing our business through innovation and product development as well as continuing to explore opportunities to expand the business both at home and abroad."
The interim dividend for shareholders increased 12%, from 5p to 5.6p.
Shares rose 2.8% in early trading, to 966p on the back of the positive news.
Morning update
Consumer goods giant Unilever (ULVR) has announced plans to "simplify" its company structure with the creation of a new single holding company, ahead of its planned headquarter move to Amsterdam.
The move will reduce it from two UK and Dutch legal entities into the New Unilever NV company, through a UK scheme of arrangement and a Dutch legal merger.
In March, the group said the new holding company, New Unilever NV, incorporated in the Netherlands, would be listed in London, Amsterdam and, in the form of American depositary shares, in New York.
Farming group Produce Investments (PIL) revealed that it expects to be hit by a £16m impairment charge following intangible asset valuations.
Impairment charges for the year will be between £16m and £16.5m following the inspection of its Rowe Farming and Swancote Farm arms.
The company added that it believes earnings before exceptional charges will be in line with management expectations when it reveals its results for the year ending 30 June 2018, when they are announced on 12 October.
Overnight declines in the US and Asian markets seem to have pushed the FTSE 100 down in early trading, down 0.2% to 7,264.5pts.
Produce Investments (PIL) rocketed after confirmed it was in line with expectation, shooting up 28% to 182.5p.
Other early risers included JD Wetherspoons (JDW), up 3% to 1,298p, Devro (DVO), up 1.4% to 198p and Gusbourne (GUS), up 1.1% to 83.9p.
Early fallers include Total Produce (TOT), down 2.6% to 190p, Glanbia (GLB), down 2.5% to 14.2p, and Science in Sport (SIS), down 1.6% to 68.5p.
Yesterday in the city
The FTSE 100 stayed at an almost six month low, as it remained flat at 7,279.3pts, as Barnier's suggestion that there may be a Brexit deal in a number of weeks helped to turn around the day's trading performance.
Yesterday, Associated British Foods (ABF) said its full year outlook for the group is unchanged, with progress expected in adjusted operating profits and adjusted earnings per share.
It dropped off 0.6% to 2,257p after the day's trading, with a strong performance by Primark and grocery helping to lessen the impact of low EU sugar prices.
Other fallers over the day included Heavitree Brewery, down 4.9% to 480p, Devro, down 1.9% to 195.2p, and Hilton Food Group, down 1.9% to 940p.
Packaging giant RPC rocketed up 18% to 806p after the company revealed it was in talks with Bain Capital and Apollo Global Management regarding a buyout.
Other risers included Crawshaw Group (CRAW), up 7.5% to 3.2p, Purecircle Limited (PURE), up 4.8% to 330p, Gusbourne, up 3.8% to 83p and Fevertree Drinks (FEVR), up 3.3% to 3,956p.