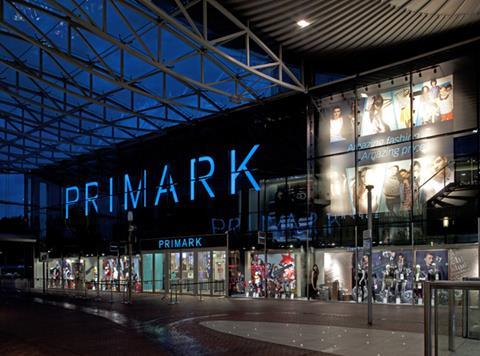 Top story
A second wave of coronavirus lockdowns has cost Associated British Foods £430m in lost sales, as Primark stores have closed across Europe.
Updating the market ahead of its AGM later this morning, ABF said it estimates the loss of sales for the periods of closure this Autumn is £430m, while the operating costs of the stores which were closed were reduced by some 25% during this period of closure.
In a small number of markets trading hours and store occupancy levels continue to be restricted and uncertainty about further temporary store closures in the short-term remains.
Across all its markets 34 stores remain temporarily closed, including all stores in Northern Ireland and Austria, and the government-announced periods of closure vary by market.
This represents 7% of total retail selling space compared to 62% when the highest number of stores were closed in November.
Stores in its major markets of the Republic of Ireland, England, France and Belgium reopened in the last week.
ABF said sales in the days since reopening in each of these markets "have once again been very strong, reflecting the excitement and appeal of the Primark offering".
It has extended opening hours during this festive season in most stores in the Republic of Ireland and England to cater for the anticipated higher customer demand.
ABF chairman Michael McLintock said: "Notwithstanding the currently announced periods of restriction, we continue to expect Primark sales and profit to be higher this financial year compared to last. We will continue to expand retail selling space."
During the early stage of its new financial year trading across Grocery, Sugar, Ingredients and Agriculture has been ahead of both expectation and last year.
ABF's forecast for UK sugar production for 2020/21 is now 0.9m tonnes, lower than previously expected and well down on last year's 1.19m tonnes, due to the severe impact of virus yellows disease on sugar beet.
"Following the UK's exit from the EU, our businesses have completed all practical preparations for the end of the transition period this month and contingency plans are in place should our businesses experience some disruption at that time," McLintock added.
ABF shares are up 1.4% this morning to 2,335.8p.
Morning update
Pets at Home has become the latest retailer to announce it will hand back its business rates relief to the UK government, at a cost of £28.9m.
It said this decision "reflects the company's guiding principle of treating all stakeholders fairly and is supported by the continuing strong performance of the business".
The aggregate result of Covid-specific costs and restrictions means that the financial impact of the pandemic on its business this year, currently estimated at over £35m, will no longer be offset by the rates relief received.
Nevertheless, it said its adaptability and recent sustained performance across the business means that it remains "confident in the strength and longevity of our pet care platform and proud to be repaying the business rates relief in full from this position of strength".
CEO Peter Pritchard commented: "I continue to be immensely proud of the tireless efforts of my colleagues across the business and the work they are doing to meet the needs of our nation's pets week after week in the pandemic.
"We were very grateful for the rates relief provided back in March during a time of significant uncertainty, which helped us to take the decision to keep our stores, online operations and veterinary practices open. Recent positive news around the launch of vaccinations for Covid-19 has led us to reassess the level of uncertainty ahead.
"Pets at Home is a robust business, both operationally and financially, with amazing colleagues, great operations, good liquidity and a strong balance sheet. Our decision today demonstrates our clear commitment to acting responsibly and treating all of our stakeholders fairly."
McBride has raised full year profits expectations after stronger than expected trading in November has boosted first half performance.
It recently stated that its full year earnings were expected to be weighted to the first half of the year, partly reflecting weak comparatives in the prior period.
In 2019, the Group experienced a weak November and December trading period, however in 2020, these months are now expected to trade "very favourably ahead of last year" with the result that the board now expects first half sales growth of approximately 2%.
This improved revenue performance combined with continued factory efficiencies, limited operational impact from COVID-19, lower than expected operating costs and input costs for certain raw material and packaging items, will see a material year-on-year improvement in first half earnings.
Consequently, the board's current outlook for the year ending 30 June 2021 is that profit before tax is expected to be at least 10% ahead of the current market consensus of £25.2m.
However, McBride did caution it remains mindful of the continued economic uncertainty created by Brexit and COVID-19, together with expected increases in certain input costs in the second half.
The Group's next scheduled update will be its half year results on 23 February 2021.
Heavy discounting enabled retailers recorded a sales uplift of 3.3% in November despite a second national lockdown, new figures by accountancy and business advisory firm BDO reveal.
According to BDO's High Street Sales Tracker, total like-for-like (LFL) sales, combined in-store and online, recorded an increase of 3.3% in November, from a negative base of -1.8% for the same month last year.
The bringing forward of Black Friday promotions into earlier weeks may have contributed to the best total like-for-like result since January and the third positive result this year.
This month's total LFL result is also the best for a November since 2017.
November saw rising total LFL sales from week one, as England settled into a national lockdown, through to the penultimate week of the month hitting a high of 8.5% in week two.
However, the final week, which included Black Friday, saw total LFLs fall by -3.8% from a base of 22.6% for Black Friday week last year.
Both the lifestyle and homeware sectors grew this month, while fashion continued to struggle.
As with the previous lockdown, non-store like-for-like sales were elevated by virtue of becoming the only discretionary channel available to consumers giving November the largest non-store result since May.
Total non-store like-for-like sales increased by +106.3% in November from a base of only +2.8% last year.
Sophie Michael, head of retail and Wholesale at BDO, said: "Retailers will need to make the most of every opportunity as lockdown lifts and the Christmas trading season reaches its zenith in December.
"While November results were promising, the figures have been heavily impacted by widespread discounting and lockdown's knock-on effect on in-store sales and strong online demand.
"As we head into 2021, more store closures are sadly imminent and brands that survive will be those that capitalise on digital channel investment and adapt their store portfolio quickly to changing consumer behaviour. The overall picture for the high street in 2020 looks bleak, but retailers have shown immense resilience, and some have even proven in the most turbulent times there are success stories to be found."
Meanwhile, the November BRC-ShopperTrak data shows that year on year UK Footfall decreased by 65.4% during the month, with a 31.9 percentage point decline from October.
Footfall on High Streets declined by 63.9% year on year. This was the worst performing location in November and the worst performing location for the fourth consecutive month.
Retail Parks saw footfall decrease by 26.8% year on year, while shopping centre footfall declined by 61.8% year on year.
In England, non-essential shops and other businesses were permitted to reopen on the 2nd December for the first time in four weeks. On this day, footfall increased by 150% compared with the previous week (25th November), and decreased -26% on the previous year.
BRC CEO Helen Dickinson commented: "Footfall plummeted once again as England underwent its second national lockdown in November. With the majority of stores closed, many missed out on the usual Black Friday boost to store visits as customers hunted for bargains online instead. Retail parks were hit less hard thanks to a higher proportion of supermarkets and other essential stores in those locations, slightly mitigating the overall drop in footfall. Now that all of retail is open again, customers can get out and do their Christmas shopping confident that stores are covid-secure and retailers are doing everything to keep them safe.
"After two lockdowns in England, and a shortened Christmas trading period, many retailers are feeling the pressure in the final weeks of the year. 'Non-essential' retailers face mounting rent bills on top of a return to full business rates liability from April 2021.
"The Government must address this by extending the moratorium on debt enforcement, giving retailers and landlords more time to negotiate, and extending rates relief for the worst affected businesses into next year. Without this, parts of the industry face the stark reality of being unable to pay their bills, resulting in further job losses and store closures, and setting back any wider economic recovery."
On the markets this morning, the FTSE 100 is up 0.7% to 6,534.7pts.
Early risers include McBride, up 9% to 71.9p, Science in Sport, up 3.7% to 35.3p, Nichols, up 2.6% to 1,170p and SSP Group, up 2.3% to 367.2p.
Fallers include Applegreen, down 2.7% to 321.2p, Finsbury Food Group, down 2.6% to 75p and Pets at Home, down 1.6% to 392p.
Yesterday in the City
The FTSE 100 ended the day up 0.4% at 6,490.2pts.
Sainsbury's jumped 4.1% to 218.6p despite agreeing to hand back £440m of business rates relief as the market was reassured the move would not hit profit performance.
Other risers included Science in Sport, up 13.3% to 34p, Marks & Spencer, up 5.3% to 142.2p, WH Smith, up 5.1% to 1,630p, Greencore, up 3.2% to 126.8p, Associated British Foods, up 2.7% to 2,303p, Domino's Pizza Group, up 2.7% to 326.8p and Greggs, up 2.7% to 1,826p.
Fallers yesterday included Hotel Chocolat Group, down 3.4% to 400p, Just Eat Takeaway.com, down 3% to 7,790p, Unilever, down 2.6% to 4,283p, Finsbury Food Group, down 2.6% to 75p and Pets at Home, down 2.2% to 398.2p.